How to Use Picture-in-Picture Mode on iPad Pro in iOS 9
Summary
The new iPad Pro has been released for a week, some of you may just get a new iPad Pro and want to enjoy its powerful multitasking features. Read this guide to know how to use Picture-in-Picture on iPad Pro.
AnyTrans is made for all iPhone iPad iPod to manage your iOS content. Download it have a try after reading this guide on how to use Picture-in-Picture on iPad Pro.
It's had been one week since the official release of iPad Pro, and the new iPad comes with the latest Apple operating system – iOS 9. As we all know that the iOS 9 includes some special features for iPad like Picture-in-Picture (PiP) for video multitasking, and this is the first time that true multitasking is available on the iPad. With its 12.9-inch display, iPad Pro will maximize the multitasking of iOS 9.
With PiP on the iPad Pro, you can watch a video while doing something else at the same time. If you don't see the PiP button on an app, you should let the developer know because developers need to enable PiP support in their apps.
Also Read: How to Transfer Data to New iPad Pro >
How to Enter Picture-in-Picture Mode on Your iPad Pro
Step 1. Launch the Apple's built-in Videos app.
Step 2. Find the video you want to play, and play the video.
Step 3. Tap the PiP button (looks like a smaller box atop a larger box with a little arrow) on the right bottom hand to enter picture-in-picture mode.

Enter Picture-in-Picture Mode on iPad Pro
How to Disable Picture-in-Picture Video on Your iPad Pro
Step 1. Launch Settings from your iPad Pro Home screen.
Step 2. Tap on General.
Step 3. Tap on Multitasking.
Step 4. Switch Persistent Video Overlay to Off.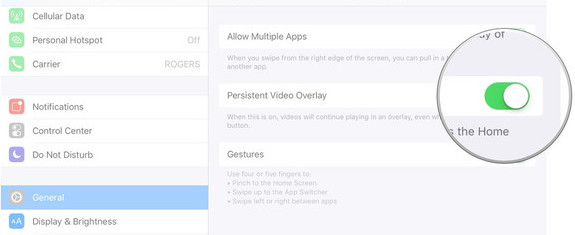 Disable Picture-in-Picture on iPad Pro
The Bottom Line
If you have not made your decision to buy an iPad Pro, here are some pros and cons for getting an iPad Pro. After getting a new iPad Pro, you should know some basic tips to maintain it for it is expensive and there is no excuse not to take care of it.
More Related Articles You May Like
Share Your Thoughts With Us