How to Use Spotlight Search on iPhone iPad
Summary
Spotlight Search is an easy tool to search through your iPhone, iPad, but do you know perfectly how to use it? This how-to tip will easily guide you to use Spotlight Search on iPhone, iPad.
Please download AnyTrans to your computer and try it out after reading this tutorial on how to use Spotlight Search on iPhone, iPad.
As an iPhone or iPad user, what do you do when you want to search for a specific app that you've buried in a folder somewhere on your device, or need the phone number of your best friend, because you just used to use Siri to call him/her and never remembered what their phone number actually is? That was why Apple brought Spotlight Search, to help users to do search on iPhone, iPad conveniently.
Previously, you'd have to swipe all the way in the furthermost left icon page to find Spotlight, on a separate page, which might make you a little confused. But now in iOS 7, Apple moved the Spotlight function to offer Spotlight searching available in any of the home pages. Before we get started to see how to use Spotlight Search, let's take a look at what Spotlight Search is at first.
(Highly Recommended: How to Organize Your iPhone Apps Better)
Definition of Spotlight Search
Spotlight Search is a tool used to search through the contacts, music, movies and apps on your iPad, iPhone or iPod Touch. The Spotlight Search screen can be accessed by swiping down on any home page on your device to reveal the search field.
Note:
Spotlight searches certain text fields in the content of your device for text beginning with your search phrase. It is not case-sensitive, so you can search using uppercase or lowercase letters and get the same results. And words without a space between them will be counted as separate words if each word starts with an uppercase letter.
Settings of Spotlight Search
You are allowed to control the specific types of content that Spotlight will search on your device and the order in which results are displayed by tapping Settings > General > Spotlight Search. If you don't want a particular kind of data searched, simply uncheck it.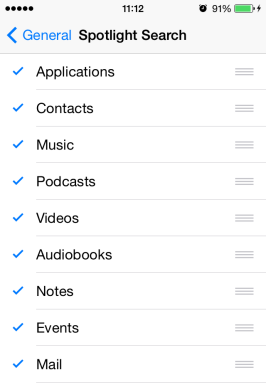 Spotlight Search Settings
How to Use Spotlight Search on iPhone, iPad
Enter the home screen.
Swipe down from the center of the screen. Be careful not to swipe from the very top of the screen, for you may pull up the new Notification Center.
Use the on-screen keyboard to search your device. Spotlight can search you Mail, Contact, Message, Music, Videos, as well as Podcasts.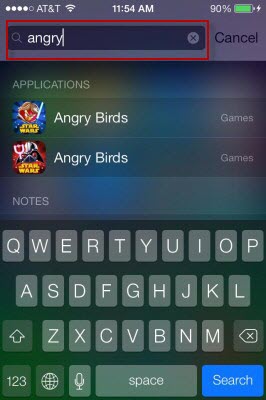 Search with Spotlight
Additional info:
Spotlight Search allows you to tactfully find and use the contents on your iPhone, iPad. However, do you know you can do much more with you device? For example, you can transfer music from iPod to iPhone easily, or you can well extend the iPhone battery life, to make it work longer for you. More useful tips on iPhone, iPad are available: https://www.imobie.com/support/daily-tips.htm
If these tips are helpful to you, please share them with more people who might be in need. Leave your comment below, and we're always happy to talk with you.
More Related Articles You May Like
Share Your Thoughts With Us