How to View iPhone/iPad Files on PC Easily
Summary
How to view iPhone iPad files on PC? This tutorial will tell you a simple way to freely view the files on PC.
Go to download AnyTrans to transfer files from iPhone/iPad/iPod touch to Mac/PC computer and vice versa. Read on this guide to know details about how to view iPhone/iPad files on PC.
Since the first generation of iPhone/iPad came into our life, they have become necessities gradually. We like to use our iPhone/iPad to take high-quality photos, watch movies, read books, deal with our business issues, write notes, and more things. Thus, it is not surprised that our iPhone/iPad has saved so much files that they may be lack of storage space to store new files one day. The common way for us to free up space is to save some files on PC as backups at first, and then delete them from iPhone/iPad later to make more room.
To free up space, Apple recommends people to backup their iPhone/iPad files by using iTunes and then delete files from devices. We have to admit iTunes is a safe and easy way to backup iPhone/iPad files on PC. However, when you want to view these files on computer for some reasons, you will be disappointed that you can't view these files until you try to restore your iPhone/iPad from these backups. All your files and settings on devices will be supplanted by what's on the backup. To help you feely view your iPhone/iPad files on PC, we show you a better way to create backups for you iPhone/iPad files on PC that you can view whenever you want.
You May Like: How to Check iPhone Contacts on PC/Mac Computer >
The Tool We Will Use
AnyTrans is a professional and powerful iOS data transfer software to manage and transfer purchased and non-purchased files on iPhone/iPad/iPod touch. It supports transferring the files like messages, contacts, music, videos, photos, notes, and apps from iPhone/iPad to Mac/PC computer as backups that you can freely view as you want, to another device without erasing the previous data. Plus, it also allows you to transfer files from computer, iTunes to iPhone/iPad. With it, you can also access to iCloud backups to preview the files like call history, notes, contacts, and then download the selected files you want to export on PC/Mac.
How to View iPhone/iPad Files on PC with AnyTrans
Step 1. Free download and install AnyTrans on PC. Connect your iPhone/iPad to PC via a USB cable.
Step 2. Choose the name of file you want to backup on PC among various categories like, books, apps, contacts and other files. Here we take books as example. Click on Books to enter its manage page.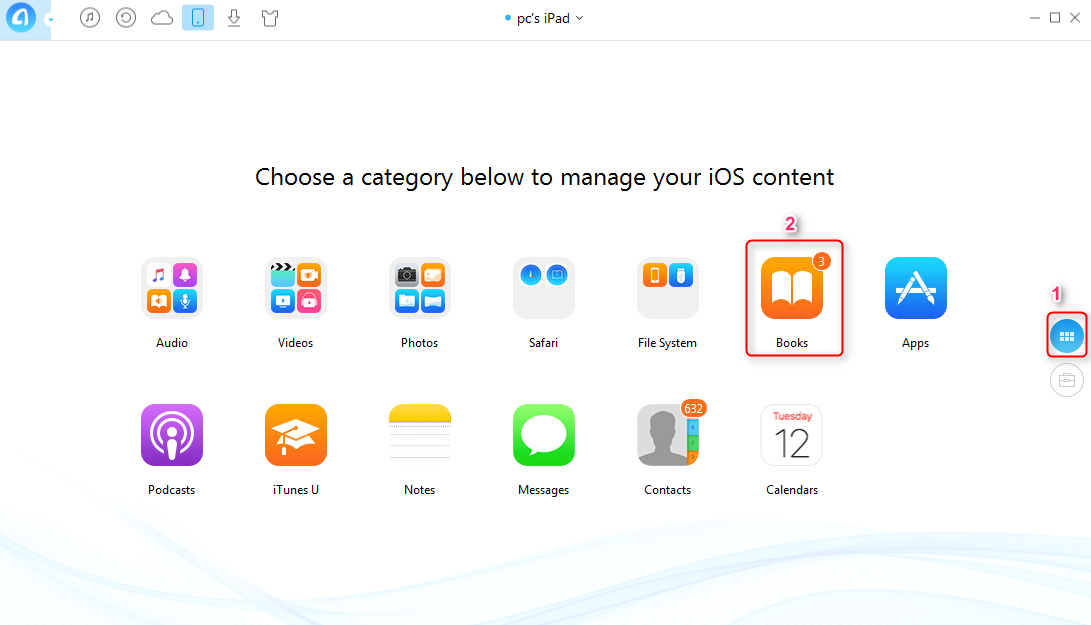 How to View iPhone/iPad Files on PC with AnyTrans - Step 2
Step 3. Choose the books you want to back up on PC, and then click on the "Send To PC" button. After transferring files like books to PC as backups, you can view them whenever you need.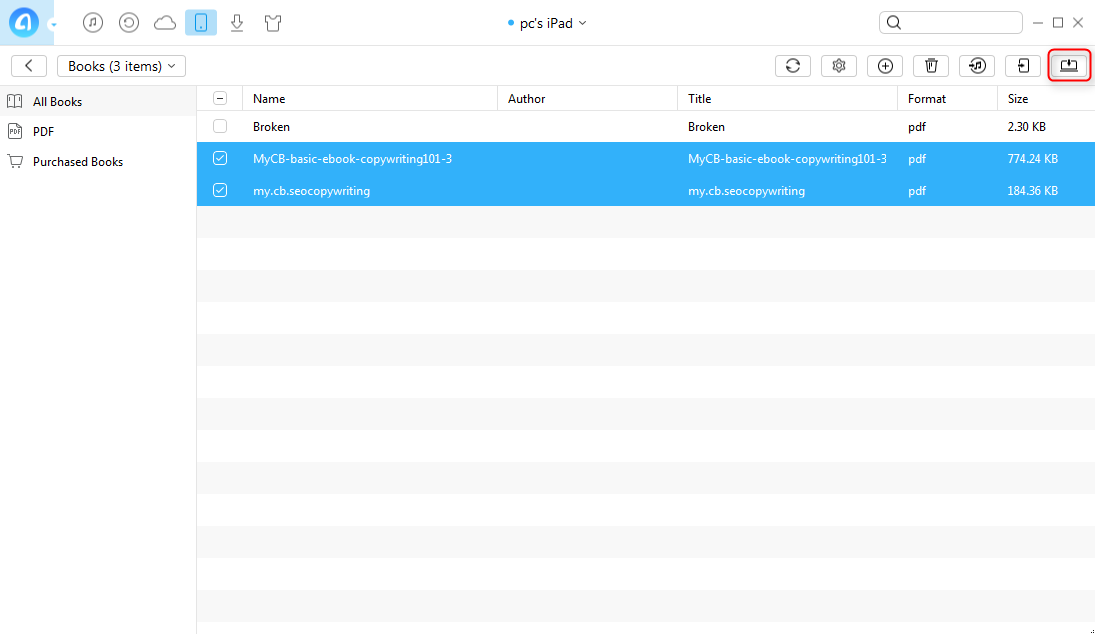 How to View iPhone/iPad Files on PC with AnyTrans - Step 3
Also Read: How to View iPhone Video on Computer Easily >
The Bottom Line
With AnyTrans, it can be easy for iPhone/iPad/iPod touch users to manage and transfer files on device than before. Why not give it a try now? For any question you have on mind, please be free to contact our support team via email. If you like this guide, don't forget to share it with your friends.
More Related Articles You May Like
Share Your Thoughts With Us