How to View the Info about Your Mac
Summary
Are you eager to know how to view the info of your Mac? This tip will tell you how to know the details of your Mac.
Download MacClean on your Mac and then clean up junk on Mac to free up storage of it. Now follow this tip to know the info about your Mac.
Hidden details about your Mac like CPU speed, RAM and storage capacity and more some other info that you may not know. For these details, you really need to have knowledge of your Mac when it comes time to troubleshoot or get help with your Mac. Fortunately, OS X makes it easy for you to find them out. Here, let's go to have a look.
Need Read: How to Speed Up Your Mac >
How to View the Info About Your Mac
1. Click on the

menu at the left top corner of Mac desktop.
2. Select About This Mac.
3. The Overview tab shows the mode, the speed of the processor, memory configuration, graphics card and serial number of your computer. If you click on system report button, the system info app opens and provides many more details about your Mac.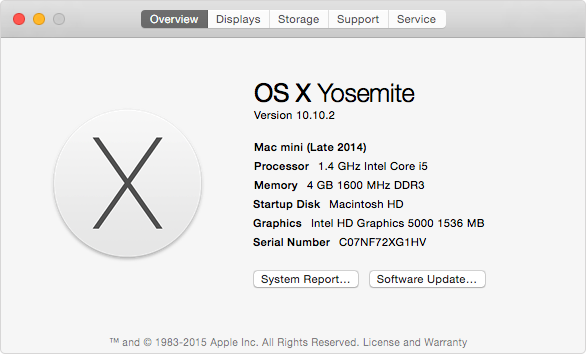 4. The Displays tab offers details about any displays connected to your Mac, whether they are internal or external. The Display Preferences button is used to customize resolutions and more.
5. The Storage tab offers details about what's on your hard drive and how much storage they take up. And how much available space you have.
6. The Support tab offers the link to Mac help, user Manual and Apple OS X Support. Thus you can get help with these links when have troubleshoot or other problem.
7. The Service tab provides the Mac's warranty and how to check its coverage status, plus info about service and support options.
You May Like: How to Clear Cookies on Mac Easily >
The Bottom Line
After viewing these info about your Mac, you will have more knowledge of your computer, when you have some troubleshoot or other problem you can get help from these info.
More Related Articles You May Like
Share Your Thoughts With Us