Summary
What can an iPhone do that an Android can't? Read on this guide to see the 6 key things that Apple's iPhone is slightly superior to Android phone.

by iMobie Follow @iMobie_Inc
#1 Android to iOS Data Transfer Tool
This powerful & 100% safe Android to iOS data transfer tool can help you transfer various types of files like photos, contacts, messages, etc. from Android phone to iPhone/iPad/iPod touch with no effort. Have a try now.

Free Download
Apple announced its final official version of iOS 11 alongside new iPhone 8/iPhone X to the public in September, following several months of testing and refinement. So, as we can see, new iOS 11, comes with lots of significant changes and improvements we've seen yet in previous iOS version as well as other operating systems, such as Do Not Disturb Driving mode, person-to-person Apple Pay, indoor maps and lane guidance, built-in screen recording, etc. Also, the new released iPhone 8 (Plus) and iPhone X employ numbers of excellent designs and advanced technologies, such as super retina display, Face ID, truedepth camera, wireless charging, etc. which greatly improved users experience.
With these wonderful features, the new iPhone 8 (Plus) and iPhone X enjoy high popularity among smartphone users, including some Android users. And here we have collected 6 key things iPhone can do that Android can't to help you judge whether iPhone is the right one for you. Just keep on to get more.
Part 1. Security
According to Mobile Threat Report, 97% of malware is written for Android devices while 0% attacked iPhone. as Android users cannot update to the latest version of the operating system as well as it's open source.
On the contrary, Apple will review all the apps and verification of the identity of app publishers. Moreover, Apple update applications faster than Android so that the vulnerabilities could be fixed in time and keep users devices in a safe condition all the time. So, if you particularly care about the security of your device, iPhone can be your only choice.
Part 2. OS Updates
This is an area where Apple beats Android. Comparing with Android's open source designation, Apple has a complete control over its operating system updates, which guarantee the quality and stability. There's no need to depend on phone manufacturers to deliver updates and patches. When Apple releases a new iOS update, all iPhone, iPad and iPod Touch users can get the update the same time, which means that any viruses, threats, or issues will be easily fixed on all iOS devices.
Part 3. Priority of The Best Apps
Apple's iPhone have the priority to install and play the newest and hottest apps. For example, the iPhone and iPad versions of Super Mario Run were released in December 2016, but it is not coming to Android until March 2017. The Instagram app even took two years to make the jump from iPhone to Android. So, if you want to get superior user experience on the hottest new apps, iPhone is just the way to go.
Part 4. iMessages
Apple brings iMessages service for iOS users to carry on conversations across all iOS devices. You can decorate messages with stickers, images, songs and more, which makes your conversions more meaningful and individual. And in iOS 11, iOS users will be able to sign in on any iDevice and have access to all of their messages via iCloud platform.
Also, a new person-to-person Apple Pay feature will be added to Messages that allows users to send money to friends and family directly through an iMessages. You can use the money you received instantly to make a purchase via Apple Pay in stores, within apps and websites.
Part 5. Do Not Disturb Driving Mode
Most Android devices are only fixed with the Do Not Disturb mode, but in the iPhone new iOS 11, an excellent mode called Do Not Disturb Driving mode is equipped to improve the safety of drivers. This mode will have the ability to sense when you might be driving and automatically mute your notifications to prevent you from being distracted by calls, text messages, etc.
In addition, you can set up your iPhone to send an automatic reply to the people trying to reach you, and they will be notified that you're driving. Do Not Disturb Driving mode is going to be a necessary and real important function in safety in our car.
Part 6. Privacy Protection
When it comes to protect the privacy of smartphone users, Apple's products are often vastly superior to Android phones. iPhone are equipped with a large amount of powerful privacy measures. iPhone/iPad/iPod itself also has numbers of features that protect users privacy information. By comparison, Android devices are a bit untrustworthy, as Android is open source operating system supports for mass customization. What's worse, some manufacturers of Android even don't support encryption features on Android devices.
Bonus Tip: How to Transfer Files from Android to New iPhone in 1 Click
With above 6 key things iPhone can do that Android can't, you may have clear that iPhone could be the only right device suit for you. If you get an iPhone one day, the first things you will have to do is to transfer your important data from old Android phone to new iPhone.
So, here we would like to share you this #1 & virus-free Android to iOS data transfer tool - AnyTrans to help you finish the transferring job with ease. With it, you can transfer almost all your files like contacts, photos, messages, etc. from Android to iPhone in just a few minutes. It is works perfectly with Samsung, HTC, Sony, HUAWEI, Motorola and more Android models as well as tablets. Now, let's start with it.
Step 1. Download AnyTrans on your Mac/PC, and then run it.
Step 2. Connect both your Android phone and iPhone/iPad/iPod touch to the computer > Choose Android to iOS Transfer and you'll see the primary window as below > Click Content to iOS mode to proceed.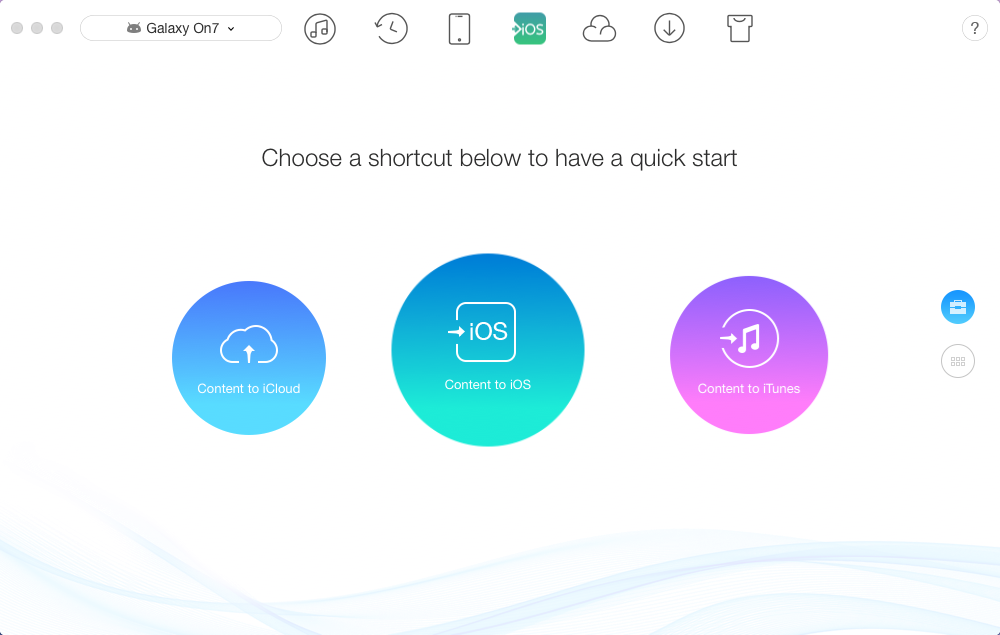 Step 3. Check your device information and click right arrow > Check the files you want to transfer to new iPhone > Click right arrow to begin the process.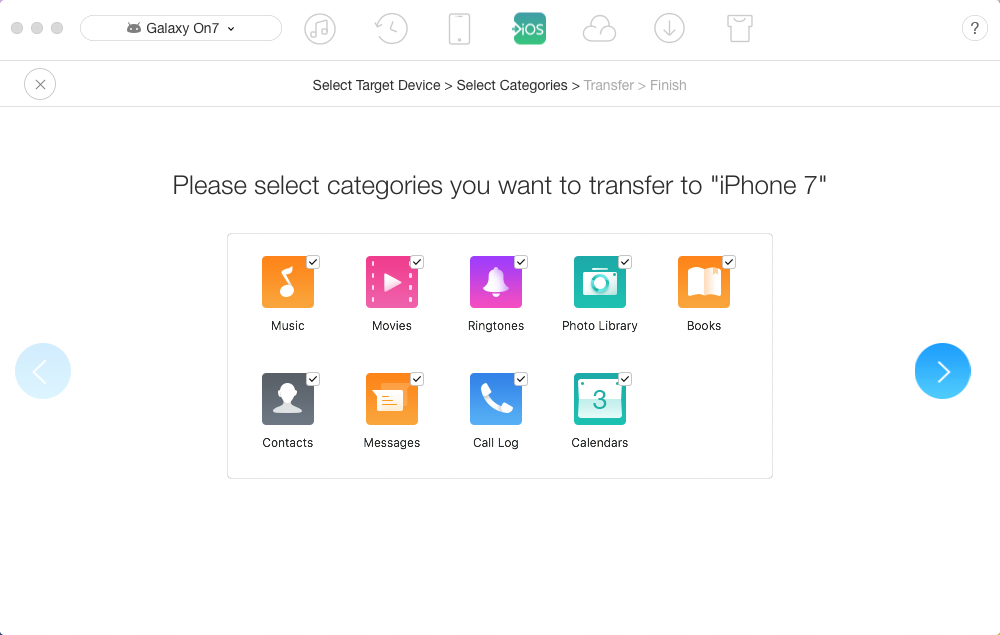 The Bottom Line
That's all about what can an iPhone do that an Android can't. If you switch to an iPhone one day, remember to go back to this article and follow the simple steps above to transfer your files from Android to iPhone without much hassle.
More Related Articles You May Like
Join the Discussion on What Can An iPhone Do That An Android Can't