[Complete Guide] What is Apple ID
Summary
What is an Apple ID? What can I do with an Apple ID? Read on this iMobie iTunes Wiki to find out everything about Apple ID.
Take a tour of this awarded software so that you can make use of it after reading this What is Apple ID article.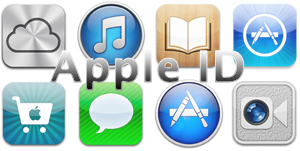 What is Apple ID
An Apple ID is your user name for everything you do with Apple: Shop the iTunes Store, enable iCloud on all your devices, buy from the Apple Online Store, make a reservation at an Apple Retail Store, access the Apple Support website, and more.
Quick Accesses: How to Create Apple ID >
How to Reset My Apple ID Passcode >
You should note that Apple IDs cannot be merged. You should use your preferred Apple ID from now on, but you can still access your purchased items such as music, movies, or software using other Apple IDs. In other word, having multiple Apple IDs doesn't mean you can use them on the same device.
Holding the same purpose like ATM, Apple has its weapon to prevent your Apple ID from being stolen. When you enter your password incorrectly for too much times, you'll get the message telling "This Apple ID has been disabled for security reasons".
Don't Miss: How to Transfer Music from iPhone to iTunes
This message means that someone was unable to sign in to this account multiple times. The Apple ID system will disable the account to prevent unauthorized people from gaining access to your information. You'll need to follow the instructions to reset your password.
Apple ID Trick
How to Create an iTunes Account without a Credit Card - In many instances, by creating an iTunes account without credit card linked, we can prevent spending the money that we don't need to pay. For example, Podcasts and iTunes U do not require an account to download, however, any other free content, including free iPhone, iPad apps and free or promotional music, videos, and TV Shows all require an account to download.
More Related Articles You May Like
Share Your Thoughts With Us