What is iTunes Home Sharing
Summary
What is iTunes home sharing and how do I use it? This iMobie iTunes Wiki page will show you better understanding of iTunes Home Sharing.
Take a tour of this awarded software so that you can make use of it after reading this What Is iTunes Home Sharing - iMobie iTunes Wiki article.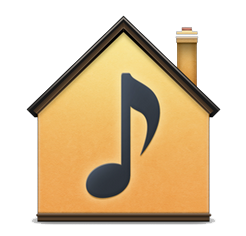 What is iTunes Home Sharing
Apple announced iTunes Home Sharing in iTunes 9 for the sake of these families that have multiple computers in a single house. It allows you to share the iTunes media libraries between up to five computers, which are sharing with the same Wi-Fi network.
With iTunes Home Sharing turned on, you can listen to music or watch movies on another computer. Or you can copy and transfer music between iPhone, computer and iPods.
Stream & Share iTunes libraries among Computers
iTunes Home Sharing helps you to stream or transfer music, movies, TV shows, apps among up to five authorized computers. To do so, you will need to Turn on Home Sharing on each computer using the same Apple ID. Once set up, all the libraries from your computers you've enabled Home Sharing on will show up in the SHARED area of iTunes: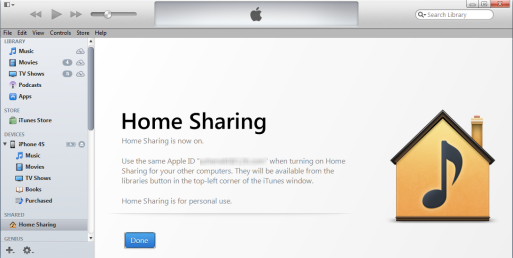 With iTunes Home Sharing, you can stream or simply drag music and videos between two authorized computers. You can also choose to have iTunes automatically import purchases you make on any of your Home Sharing computers to your own library (learn how to transfer purchases from iPhone to computer). To do so, choose the library and use the Settings button at the lower right of the iTunes window to check what you'd like copied.
Home Sharing your iTunes library with your iPhone, iPad, iPod
Home Sharing can also extend streaming of music, movies, TV shows, and more to your iOS devices and Apple TV (2nd generation). To stream music, movies, TV shows, and more to the multiple iPhone, iPad, and iPod touch devices in your family, you will need to turn on Home Sharing on the devices. You'll also need to use the same Apple ID on each device on your home Wi-Fi network.
The Bottom Line
iTunes Home Sharing usually will solve the problem if we want to play the music or videos from multiple computers on the same Wi-fi Network. But for the real music sharing, iTunes Home Sharing is too far behind to catch up with a pro-level software like AnyTrans. Apart from transferring music over Wi-fi, it also allows you to get iPod music from any computer you want. Best of all, newly added songs won't erase the original ones on your iPod. Start Taking A Tour >
More Related Articles You May Like
Share Your Thoughts With Us