What is Photo Stream
Summary
What is Photo Stream on iPhone iPad and iPod touch? Read on this Wiki page, you'll learn every detail about Photo Stream.
Download this iPhone Photo Transfer so that you can make use of it after reading this What is Photo Stream article.

Photo Stream is a service supplied with the basic iCloud which allows you to store the most recent 1,000 photos on the servers up to 30 days. When a photo is taken on an iPhone, iPad or iPod touch, with Photo Stream enabled, it is automatically uploaded to the iCloud servers.
From there, it is automatically pushed to the rest of the your registered devices. The service is also integrated with Apple TV, allowing you to view you recent photos wirelessly on their HDTV.
Must Read: How to Fix My Photo Stream Not Working on iPhone iPad >
What Do You Need to Use Photo Stream
iPhone, iPad, or iPod touch with iOS 6.0 or later;
Mac with OS X Mountain Lion v10.8.2 or later and iPhoto 9.4 or Aperture 3.4 or later;
PC with Windows 8, Windows 7, or Windows Vista (Service Pack 2) and the iCloud Control Panel 2.1 or later for Windows;
Apple TV (2nd generation) with Software Update 5.1 or later.
How Do You Turn on Photo Stream on Your iPhone iPad
Once your devices are up to date and you have set up your iCloud account, it's easy turn on Photo Stream on any of your devices. On your iOS devices, go to Settings > iCloud > Photos > Turn on Upload to Photo Stream.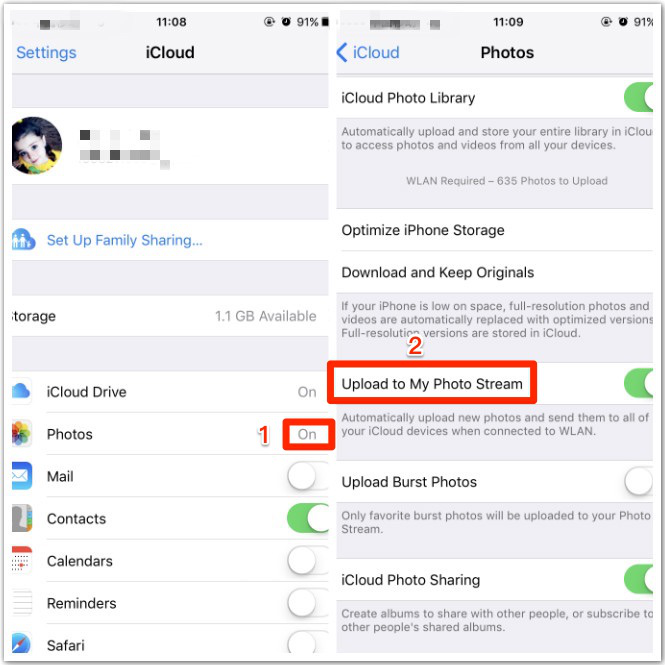 How to Turn on Photo Stream
Tip 1: Photos uploaded to Photo Stream do not count against iCloud storage.
Tip 2: Photo Stream supports JPEG, TIFF, PNG, and most RAW photo formats. Photo Stream can also work with burst photos.
When Do Photos Upload to My Photo Stream
When you enable My Photo Stream on your devices, all new photos you take or import to those devices will be automatically added to your photo stream.
On an iOS device, new photos you take will be automatically uploaded to your photo stream when you leave the Camera app and are connected to Wi-Fi. Note: My Photo Stream does not push photos over cellular connections.
Tip 3: The photos you upload to My Photo Stream are stored in iCloud for 30 days to give your devices plenty of time to connect and download them.
Important Note: If you delete some photos from Photo Stream and want to get them back, you can make it with PhoneRescue. Here is a guide about how to recover deleted photo stream photos from iPhone with/without backup.
More Related Articles You May Like
Share Your Thoughts With Us