What is Proactive on iPhone or iPad in iOS 9
Summary
What is Proactive in iOS 9 and how it works? Read this quick guide to have a overall impression on iOS 9 Proactive feature.
Download PhoneRescue to get back your lost but valued iOS data like contacts, notes, messages after reading this guide on what is proactive in iOS 9.
As we expected, Apple announced the new iPhone 6s/6s Plus at its annual launch event in San Francisco. The new iPhones come with the latest operating system – iOS 9, which brings its users a wealth of new features. One of the impressive features is Proactive - a contextual smart personal assistant. It works alongside Siri to improve more intelligent Siri responses and search results, and it goes far beyond that.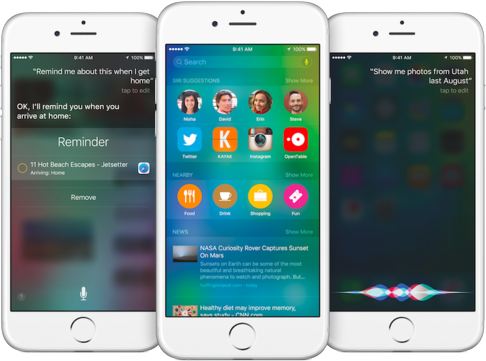 How Does Proactive Work in iOS 9
Also Read: How to Switch from Android Phone to iPhone 6s >
How Does Proactive Work in iOS 9
Contact Suggestions: It will suggest contacts based on call frequency, location and your call habits. So, if you always call someone at a certain time, Proactive will place the contact's icon in the Search screen when it thinks you may want to make a call. Moreover, if an unknown call comes in, and the number that is contained within an email you have received, Proactive will let you know who might be calling.
News Suggestions: It will offer you the trending news stories in your area based on your current location. You can swipe to the Search menu, and scroll down to read the news.
App Suggestions: Proactive also suggests apps for you. There are basically two ways for suggesting apps. In the Search menu, it will show you a list of suggested apps that you frequently use. The second way is that Proactive can automatically launch an app based on your past habits, say, if you always playing music in your wake-up time, it will automatically start playing songs at the same time in the morning. How intelligent it is!
You May Like: Best Apps for iPhone 6/6s >
What Other Things Can Proactive Do
If you receive an email containing reservation info like flight, restaurant, iOS Proactive will automatically create a Calendar event for you.
If you always write emails to several recipients, it will suggest other people you usually include in similar groups.
It also displays relevant real-time traffic updates and an estimate of how long it will take you to reach your destination.
It also provides detailed info of your nearby locations, when you access the search menu, it shows you the nearby services you may interest like parks, petrol stations, restaurants and even bakeries.
If you lost some vital data like contacts, notes, messages, calendars, call history and more from iPhone/iPad after iOS 9 update, you can download PhoneRescue to retrieve them no matter you have backup or not.
Related Reading: What You Should Do Before Selling an Old iPhone >
The Bottom Line
Want to update to iOS 9 on your iPhone/iPad? Keep in mind that updating is never out of risk, luckily, you can refer to this Possible iOS 9 update Problems and Solutions guide to get some help.
More Related Articles You May Like
Share Your Thoughts With Us