What Is Taking Up Space On My Mac
Summary
What is taking up space on my Mac? How to find large files and determine which files can be safely deleted? Let's find the answers here.
Download MacClean to analyze what is taking up your Mac storage and to remove junks and large files that you don't want. For Mac OS X 10.7+.
"My MacBook hard drive doesn't have enough space for downloading something new and I'd like to be able to see what is taking up space on my Mac and what can be deleted to free up the disk space. How can I make that?"
How to See What Is Taking Space on Mac OS X
Mac enables you to see what is taking the most of space on your Mac hard drive. And you can check Mac storage usage on the About This Mac window panel. To locate this window, you can click Apple icon on the menu bar and then select About This Mac. After you click the tab named "Storage", you can get what is taking space on your Mac.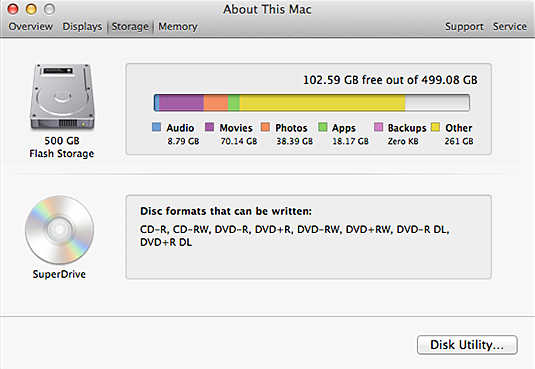 What is taking up space on Mac – from Apple Support
It shows you 6 categories with each size in this panel, including Audio, Movies, Photos, Apps, backups and one item that named "Other". The Other item is always the largest because it includes all of the files, such as system caches and app extensions, except the other 5 categories.
Also Read: What is Other in Mac Storage >
How to Clean Mac Disk Space
After knowing what is taking up the most space on your Mac, now you can start your way to free up your disk space. According to storage usage, you can pick out the largest category and remove the large and useless items in this category. Normally, the old files and duplicates are always something useless. Below we list some items that you can check to free up space on your Mac.
Old and large files.
Duplicate files.
Cache files.
Downloaded files.
Installation files.
Of course, it's hard to get out these files manually and determine what can be safely removed. So below we offer you one free cleaning tool – MacClean to easily make it. There are some features of MacClean that you may like: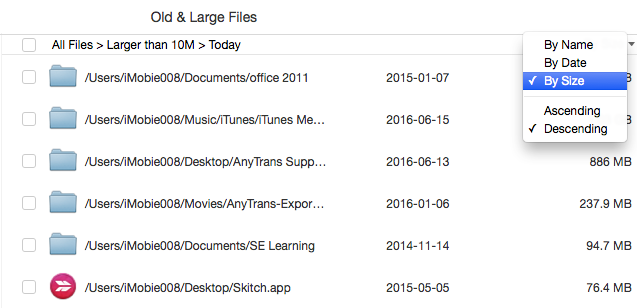 Find Large Files – Sort By Size - MacClean
Besides the features we list above, MacClean has some other features to free up your Mac space. You can free download MacClean here to discover more.
Top Posts on Cleanup and Speed Up Mac Computer
More Related Articles You May Like
Share Your Thoughts With Us