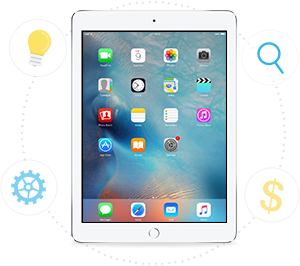 iPad Pro FAQ, Top Features, and Facts About iPad Pro Apple Didn't Mention
[Last Updated: Nov.10th, 2015]
On Sept. 9th, Apple firstly introduced iPad Pro, and said it is the most advanced and powerful iPad they have ever made. Its beautiful and large 12.9-inch Retina display has 5.6 million pixels and provides an immersive experience for content and apps. It has been passed nearly 2 month since the conference, and according to rumors, the biggest and best ever iPad will be available in November 11th.
The killer features mentioned on Sep.9th's conference make iPad Pro become one of the most expected tablets. For most loyal fans of Apple, they must have been waiting for it for a long time, and can't wait to purchase one and verify these fantastic features. While some people take a wait-and-see attitude and can't decide whether I should purchase an iPad Pro. No matter what kind you belong to, there are 12 things you need to know before purchasing it, including iPad Pro FAQ, top features of iPad Pro, and some facts about iPad Pro Apple didn't mention, so that you can know more about iPad Pro and make a wise choice.
Part 1: iPad Pro FAQ
As an Apple fan, no matter whether you will purchase an iPad Pro, here some iPad Pro FAQs you may be interested, such as, when and where will I be able to get an iPad Pro, its prices, models, etc. Here are they!
1. When and Where to Get an iPad Pro
For loyal Apple fans, the most concern is when and where the fire-new iPad Pro is available. Apple Official Website shows iPad Pro will be available in November from Apple online store, Apple's retail stores, or via select carriers and authorized resellers. There's no exact release date on Apple.com, but recently 9To5Mac reported that the exact release date is November 11th, and the accessories like Apple Pencil and Smart Keyboard will also be available for purchase on same day.
2. Available Colors
Just like iPad Air 2, iPad Pro also has 3 options of color: Silver, Gold and Space Gray. As you can see, unlike iPhone 6s (Plus), no rose gold. Maybe it will be available on next iPad Pro.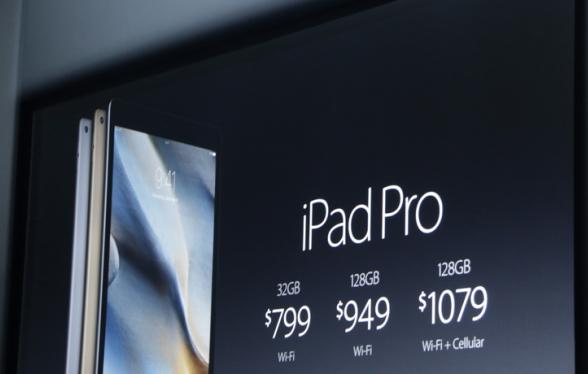 iPad Pro FAQ – Prices and Available Models
3. Prices and Available Models
As the most advanced and powerful iPad Apple has made, iPad Pro has a price tag a match. The detailed prices and model info is as followed:
32 GB mode with Wi-Fi: $799
128GB mode with Wi-Fi: $949
128GB mode with Wi-Fi + Cellular: $1079
Note: The prices listed above are just for iPad Pro, and the accessories like Apple Pencil and Smart Keyboard are not included (their prices are $99 and $169).
Part 2: Top Features of iPad Pro
After knowing the frequently asked questions about iPad Pro, you may what to know its top features that make iPad Pro become the most advanced and powerful Apple tablet.
1. A 4GB RAM Makes iPad Pro Run Fast as Most Laptops
When it comes to RAM, Apple always is not generous. Apple didn't apply 2GB RAM to Apple mobile devices until the iPhone 6s and the iPad Air 2. But with iPad Pro, Apple thankfully decided to enlarge the RAM to 4GB.
What does 4GB RAM mean? Normally, the more RAM a device has, the faster the data can be retrieved, and the smoother experience you will get. The fewer experiences of crashes you occur when you open more Apps, and the quicker to run more processor and graphics-intensive apps. All in all, you will can get more with iPad Pro, and have a better experience than ever.
Can't Miss: Tips to Make Your iPad Pro Run Faster >
2. An A9X Chip Makes iPad Pro Work Faster and Respond Quickly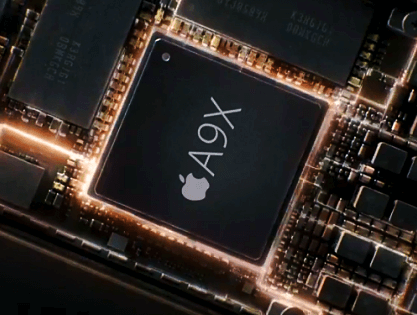 Top Features of iPad Pro – Fitted with an A9X Chip
Except installing with a 4GB RAM, the new iPad Pro is also equipped with an A9x chip. This makes it deliver up to 1.8 times the CPU performance and double the graphics performance of iPad Air 2. In other words, the iPad Pro has incredible speed and responsiveness. You can do some complex tasks like creating, rendering, and manipulating a 3D design or editing multiple streams of 4K videos quickly and smoothly.
3. Bigger, But Still Very Light
The new iPad Pro is fitted with a 12.9-inch retina display, whose size is nearly as big as a 13-inch MacBook Pro/Air. Just for the size, it is much bigger than iPad and iPad mini, but it is still very light, just weighting 1.57 pounds, which is just 32 grams heavier than the original iPad.
Anyway, it is remarkably light for a device its size. Want to own an iPad Pro, but worry about its portability? Take it easy, it is much lighter than it looks.
4. Apple Pencil Is a Stylus, But Not Only a Stylus
In 2007, Steve Jobs introduced the first iPhone, asked, "Who wants a stylus?" And says, "You have to get them and put them away and you lose them", he continued. "Yuck. Nobody wants a stylus, so let's not use a stylus." Therefore, Apple's iPhone, iPad or iPod touch doesn't have any stylus, and the users' fingers are the best pointing device. However, 8 years later, Apple has made a stylus named Apple Pencil for the most advanced and powerful iPad Pro.
Finger is nice, but it is much crappier than a stylus on graphic design, photo editing and many other content creation use cases. Therefore, Apple designed this Apple Pencil to offer users more precision on designing, drawing or other creative work. It can detect the pressure, position and tilt of the pen against the iPad Pro. Based on the pressure apply to the display of iPad Pro, you can create thin or thick lines with this Apple Pencil, even create shades. It is a stylus, but not only a stylus.
The Apple Pencil will be sold separately from the new iPad, and will cost $99. And it will be also available on same day with iPad Pro.
5. Apple Pencil's Battery Can Last 12 Hours, And Charges Fast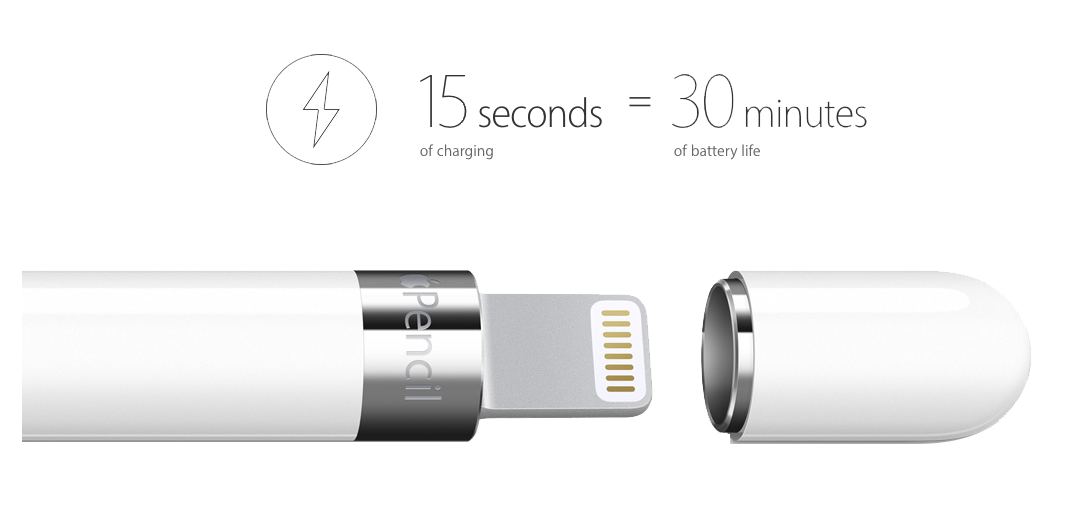 Top Features of iPad Pro – Apple Pencil Has Long Battery Life and Charges Fast
For Apple iDevice users, battery always is one of the most concern problems. People discuss it at every new device or new iOS release. Without doubt that people also care about its battery life, and want to know how long it can last. According to Apple's introduction, after charging fully, Apple Pencil can be used for 12 hours. Moreover, it also supports charging by iPad Pro's lighting port, and every 15-second charge can bring you 30 minutes usage.
You May Like:
How to Optimize MacBook Pro/Air's Battery Life >
Top 15 Tips to Save Battery on Your iPhone >
6. Smart Keyboard Is A Combination of Keyboard And Smart Cover
Except Apple Pencil, Apple also introduced another accessory – Smart Keyboard, which is a combination of Smart Cover and Microsoft Surface Keyboard. It is connected to iPad Pro with a new proprietary magnetic connector named Smart Connector, which carries both power and data. This means you needn't switch, plug, pair any more, just use it as you like. By the way, it will ship on the same day with the iPad Pro.
Absolutely, if you don't want to purchase this accessory, Apple also offers you a full-sized software keyboard, and also allows developers to change the design of the keyboard on the iPad Pro to fit with different apps.
7. iPad Pro Can Sense You are Using Your Finger or Apple Pencil on Display
On its website, Apple notes that the iPad Pro can quickly and accurately detects it is a finger or an Apple Pencil being used on the display. When the iPad Pro senses an Apple Pencil, the subsystem scans its signal at an astounding 240 times per second, giving it twice the data points it normally collects with your finger. This makes your writing or painting extremely smooth without lag, and the tiny delay between when you begin drawing and the time it shows on the screen is almost imperceptible.
Part 4: Facts about iPad Pro Apple Didn't Mention
Indeed, these killer features make iPad Pro novel and attractive, and make many people want to buy one to verify them one by one. However, some facts hide behind the iPad Pro, although Apple didn't mention on Sep.9th's conference, you need to know before making purchasing, or you will be disappointed after purchasing.
1. No 3D Touch for You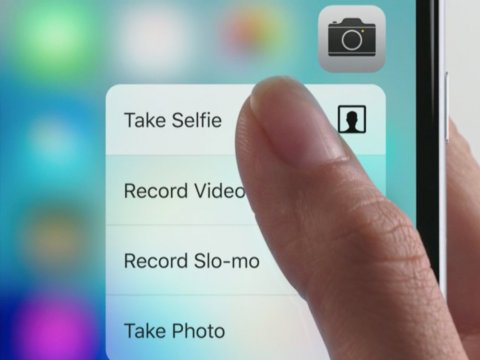 Top Features of iPad Pro – Apple Pencil Has Long Battery Life and Charges Fast
You know, 3D Touch is one of the killer features of iPhone 6s or iPhone 6s Plus. It offers users a new way to interact with iPhone. It makes your mobile device can feel how much pressure you apply to the display, and it respond you with Peek and Pop, which allows you to preview all kinds of contents without opening it. So powerful function it is!
However, there is no 3D touch for you on iPad Pro. Maybe it is available on next year's iPad Pro.
2. Apple Pencil is Only for iPad Pro
If you are painter or designer, you will know how much Apple Pencile can bring you. Drawing as you want without lag. Much easier to draw a thin or thicker line, all you need to do is controlling the pressure you apply to this Pencil. Tilting Apple Pencil to create shading effects, etc. All of them sound great and fantastic. You may want to enjoy these features on iPhone or other iPads. But the tip of Apple Pencil is not capacitive, and it won't support any iPhone or non-pro iPad model.
3. Apple Pencil Needs to be Paired with iPad Pro
About 10 years ago, any stylus can be used on any other touchscreen phone, while this doesn't suit the Apple Pencil. Even the same Apple Pencil, before using it on a specific iPad Pro, you need to pair them firstly.
4. Has a Crappy Camera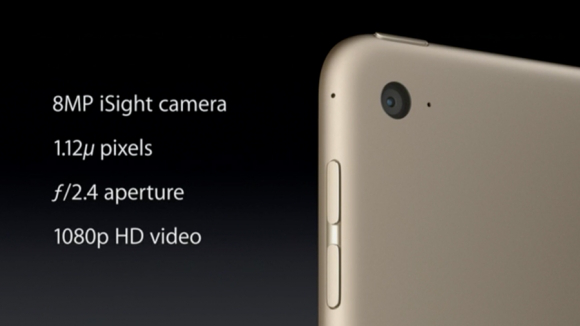 What You Need to Know About iPad Pro – Camera is Still Crappy
No matter how stupid it looks in public, people are still using their iPads to take photos and videos. Compared to iPhone, iPad has always a much crappier camera. Naturally, the iPad Pro is no different. Just like iPad Air 2, the new iPad Pro is built in an 8-megapixel back iSight camera, and a 1.2-megapixel FaceTime camera that can record 720p HD video but still does poor in selfie.
So if you want to take high quality photos with Apple devices, the iPhone 6s (plus) with the 12-megapixel back camera and the 5-megapixel camera is a better choice.
You May Also Like:
6 Ways to Transfer iPhone Photos to Mac for Backup >
Can I Delete Multiple or All Photos from iPhone At Once >
How to Transfer Photos from iPhone to Another iPhone Directly >
We just list the iPad FAQs, top features of iPad Pro, or some facts Apple didn't mention on conference. With these, you must have known enough about iPad Pro. If you are still hesitated, and can't decide whether you should get one, please move to this guide and then make a wise choice. If just make up your mind and want to purchase one, here is a full guide to upgrade to iPad Pro smoothly, like, how to set up new iPad to activate it, how to transfer contents to new iPad Pro and start to use it, how to recover deleted important contents on iPad Pro, tips to speed up and maintain iPad Pro for better work station, etc. Anyway, find and enjoy more with the iPad Pro.
Join the Discussion on iPad Pro