[Dec. 11, 2017]
As one of the great reputation iOS data recovery tools, PhoneRescue is well known among iOS users over the years. So far it has successfully saved over 5,700,000 iOS users from various data disasters happened on their iPhone/iPad/iPod touch. 
But a large number of users have access to our website via mobile phones. After they clicked Download button in our site, they found there's no PhoneRescue app installed on their device. Then where is PhoneRescue on iPhone? In the following, we will show you the answers and share you more about PhoneRescue so that you can have a better control of it.
Part 1. The Principle of Data Recovery
Before we start, we would like to share you the principle of data recovery firstly.
1. When you delete data from your smartphone or computer, the deleted files are just technically marked with deletion by the system and disappeared from your eyes. They still exist in somewhere on your device or computer.
2. Data recovery software is a tool that is capable of detecting the deleted files and gets them back.
3. Data recovery must be under the promise of your deleted files have not been overwritten by the new data.
4. Any operation like installing app will overwrite the lost data on your device, and lead to data lost eternally.
This is an objective fact, even for iOS data recovery. So, don't do any operation until all your lost data get recovered.
Part 2. Where is PhoneRescue on iPhone 6/7/8/X
Based on the principle above, to keep all your deleted data safe on device and also ensure the highest success recovery rate, PhoneRescue for iOS is a computer-based iOS data recovery tool with no mobile app.
Maybe when you searching iPhone data recovery in Apple App Store, you will get some iPhone/iPad/iPod touch data recovery applications. But I can assure you, they are not really doing the things as they described in its instruction. These data recovery applications can be roughly divided into 2 obvious types of software:
Type 1. Give you a way to contact data recovery experts. You can contact them through the APP, and they will provide you with data recovery services.
Type 2. Pretend to allow you scan the deleted data, and also offer you a Recover Now button. But when you click the button, they will tell you that the data recovery process must be completed on your computer, as the deleted data will be overwritten due to the installing operation. Then ask you to leave your email address, and send you a computer-based software.
That's why we can truthfully say that PhoneRescue for iOS is a computer-based iOS data recovery tool, no application offered. If you visit this page with your iOS device now, you'll receive $10 discounts when you Get PhoneRescue for iOS (Only for mobile users).
Also, you can read on to learn more about PhoneRescue for iOS like how to use it, how to recover all deleted files in 1 click and how to recover certain type of data (photos, messages, contacts, etc.).
If you view this page with your computer, just Download PhoneRescue for iOS on your Mac/PC now to scan and find out deleted files on your iPhone/iPad/iPod touch directly.
Part 3. Top Features You May Don't Know about PhoneRescue for iOS
PhoneRescue for iOS is specially designed for iOS users to recover multiple types of iOS data like photos, contacts, messages, videos, music, notes, calendar as well as other up to 31 file types. Except the widest coverage of files and the world's top success rate, PhoneRescue for iOS also equipped with some other outstanding features.
1. 3 different recovery modes to ensure you recover what you want, under any conditions.
From iOS device directly (even with no backup):It helps you scan and find out every piece of lost data you want from your iPhone/iPad/iPod touch, and securely get them back in minutes.
From iTunes backup: It allows you to get everything from your iTunes backup, even it is damaged or encrypted.
From iCloud backup:It enables you to view and manage everything existing in your iCloud backup. No need of a blind full restore. Not erasing any existing data.
2. Unlike traditional iTunes or iCloud way, it will keep all existing data safe on your iPhone/iPad/iPod touch. No wipe and replace needs.
3. Preview and select the deleted data, iTunes/iCloud backup data before recovering. In this way, you can choose the files you prefer most to recover, but not all files. Save storage space.
4. The ONLY software allows you to recover deleted data to device app directly for instant use, just like they were never deleted. Also, you can extract them to your Mac/PC in favorable formats for further use.
5. Recover favorite app data is no longer impossible. All your app data like WhatsApp, LINE, Kik, etc. will be easily retrieved.
6. iOS Repair Tools mode makes it easier and safer to repair iOS devices when your dead iPhone/iPad/iPod touch from black screen, white screen and Apple logo or restarting loop. Just one simple click is needed.
Part 4. Quick Guide: How to Use PhoneRescue for iOS
To help you recover your deleted files in a more quick and simple process with PhoneRescue for iOS, we would like to share you some basic recovery steps in the following. We will take Recover from iOS device mode for example. If you prefer to get back your lost files from backup, then refer to:
How to Recover Deleted Files from iTunes backup >
How to Recover Deleted Files from iCloud backup >
Step 1. Get PhoneRescue for iOS on your Mac/PC computer.
Step 2. Launch PhoneRescue for iOS on your computer > Connect your device to the computer > Choose Recover from iOS Device mode > Click on Right Arrow.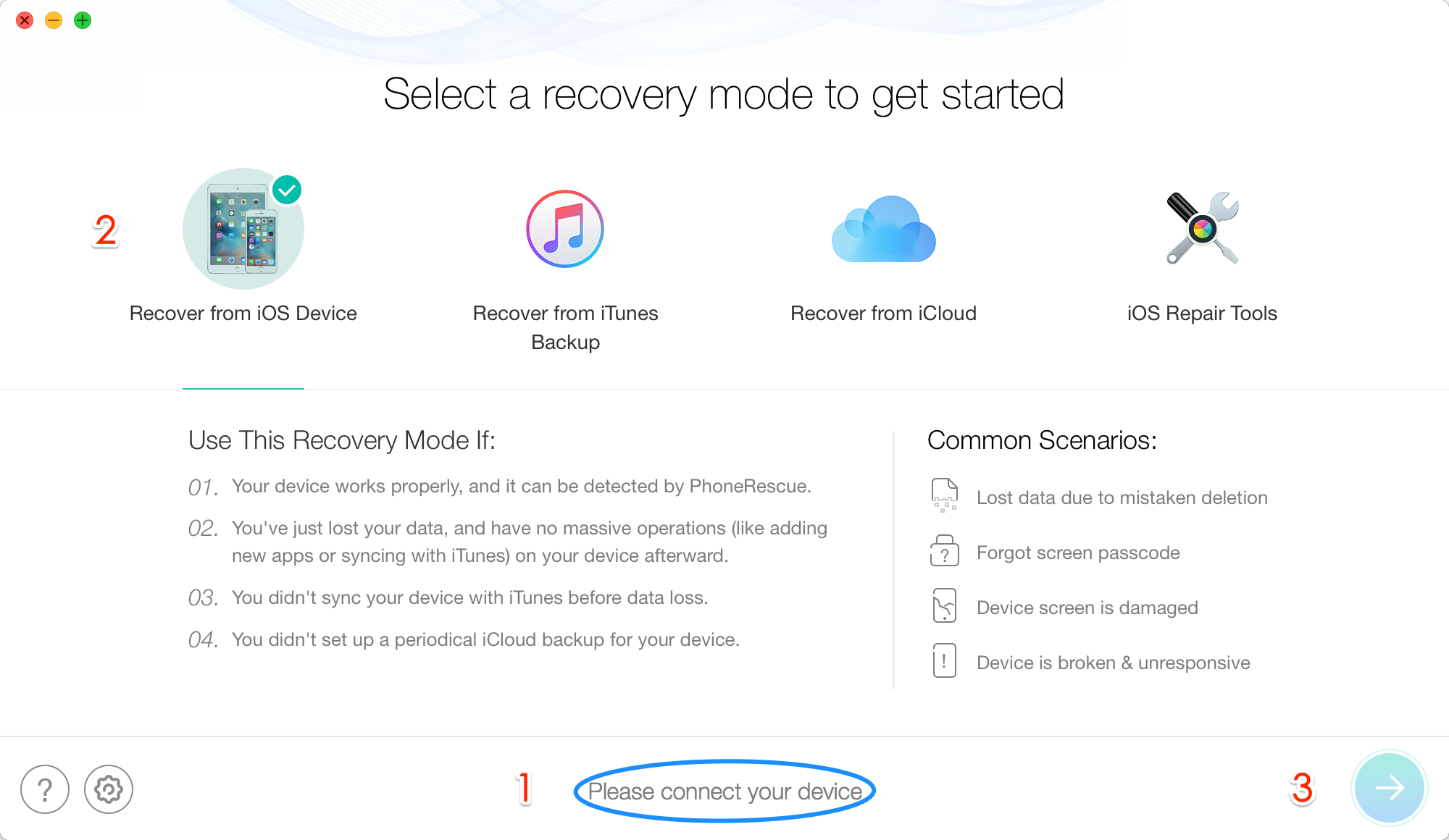 Step 3. Check the file categories you prefer > Click OK button to scan the deleted files. By default, all categories will be selected. You can uncheck Select All option and then choose the data based on your needs.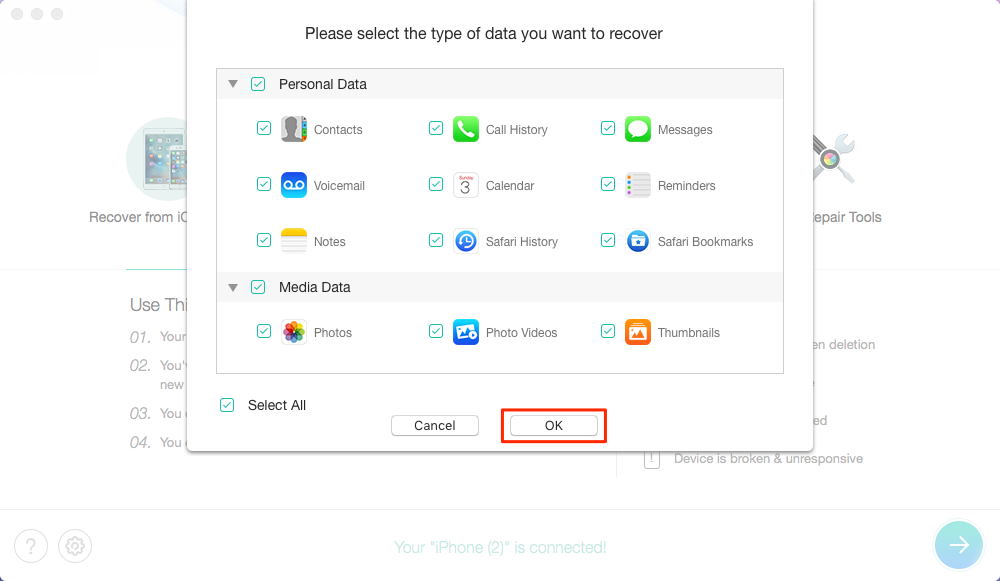 Step 4. Preview and select the files you want to recover > Click 

 button (Recover to Computer) or 

 button (Recover to Device) to recover the selected files now.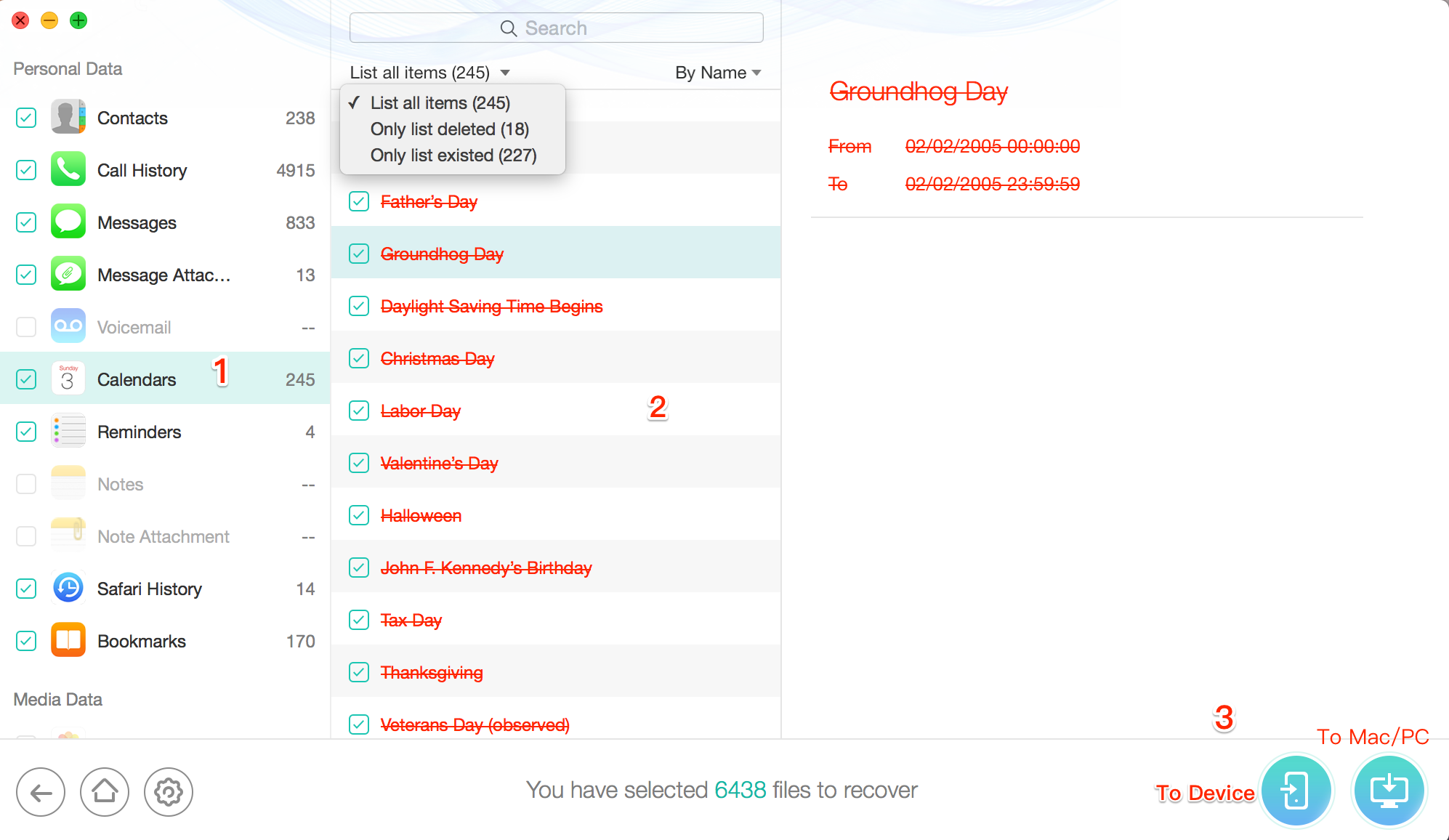 To Recover Certain Type of Data (click to check the detailed guide):
The Bottom Line
Remember that stop any operation once you deleted or lost data on your iPhone/iPad/iPod touch. Just turn to PhoneRescue for iOS to recover them right away in case they will be overwritten and become unrecoverable. Meanwhile, if you will meet any trouble when using PhoneRescue, contact us via email or leave your comment below section. We will reply you soon.
Where is PhoneRescue on iPhone 6/7/8/X