Why Is My iPhone So Slow and How to Fix It
Summary
Why is my iPhone so slow and keep freezing? Read this guide to know why, and get the methods to fix your slow iPhone, no matter 4/4s/5/5s or 6/6s.
Try this iOS cleaner to speed up your slow iPhone by cleaning junk files on your device after reading this guide - why is my iPhone so slow.
"After I installed iOS 9 on my iPhone 6 it has been slow, but now its frozen and has been frozen for 12 hours" – Laurits questioned on Apple Forum.
Just like the above user said, your iPhone or iPad may be so slow when downloading apps or connecting to Wi-Fi, or keep freezing without error alert after updating to iOS 9. Below, we list some factors that could lead to this issue, and offer you some basic tips to fix your slow iPhone/iPad, no matter old iPhone 4/4s/5/5s or new released iPhone 6/6s and iPad Pro.
Don't Miss: Basic Tips to Speed Up iPhone/iPad/iPod touch after iOS 9 Update
Why is My iPhone So Slow
1. Bad/slow network connection (Wi-Fi or 3G).
Bad Wi-Fi/3G connection could slow down some apps on your iPhone, such as safari and online games. Of course, it also results in a slow speed to download apps, videos and pictures from the Internet.
How to Fix:
Seek for some stable/fast network connection.
Restart your iPhone or "Force" restart your iPhone.
Reset network setting.
Force restart your iPhone: hold both "Power" and "Home" Button at the same time for seconds to turn off your iPhone and then hold "Power" to turn on.
2. Too many old/outdated apps on your iPhone.
Outdated apps would run slowly or abnormally if the iOS operating system on your iPhone doesn't support them. And this problem mainly happened after you upgraded iPhone to a new iOS and didn't update your apps.
Don't Miss: iOS 9 Update Problems and Solutions
How to Fix:
Update your apps to the latest version.
Delete unwanted apps on your iPhone.
3. Too many apps run in the background.
iOS apps, such as Twitter and Skype, can run in the background on iPhone/iPad and receive/download information from the Internet. If there are too many background apps activities on your iPhone, you device may run slowly.
How to Fix:
Turn off Background Apps Refresh.
Turn off Auto-Update and stop downloading apps update automatically.
4. Too many apps run at the same time.
Running too many apps at the same time would run out of RAM on your iOS device and slow down your iPhone/iPad/iPod touch. This problem often happen to some old iOS devices, such as iPhone 4/4s with 512MB RAM.
How to Fix:
Close unused apps on your iPhone.
Restart your iPhone or "Force" restart your iPhone if your iPhone is stuck.
5. No Enough Free Space on iPhone.
You may have run out of your iPhone storage. Then, you have no space to store the apps/files and even cookies/caches that you want or need to download from Internet. In this situation, your running apps may be frozen, or you can't download some big files, such as videos and apps.
How to Fix:
5 ways to free up iPhone space
Remove the "Other" on your iPhone
6. Too many junk files and caches.
Your app could be running so slowly if there are too many junks or history caches this app created. For example, safari would be slow if it created so many website history and junk files.
How to Fix:
Delete history and junk files by logging into the app you want to clean.
Delete "Documents and Data" on iPhone.
1-Click delete all junk files/caches on iPhone with PhoneClean. (PhoneClean app clean functions require the version of your iPhone operating system is earlier than iOS 8.3.)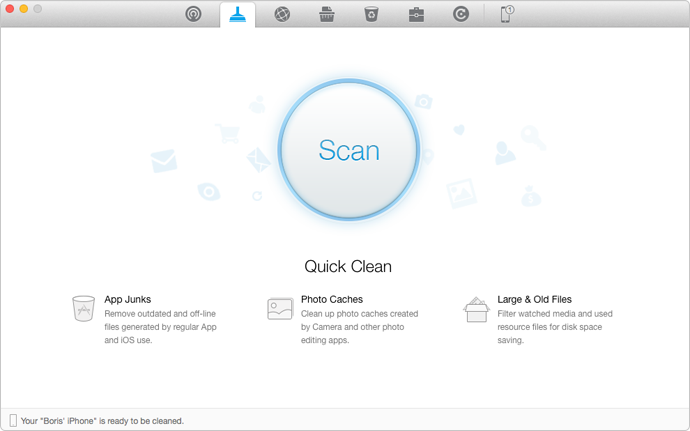 Scan and Clean Junk Files with PhoneClean
Related Guide: Remove App Caches on iPhone with PhoneClean
7. Your iPhone is too old or a little damaged.
The iOS devices with small RAM and old processor have limited power, especially when running some new Apps, and in the latest operating system. Of course, one damaged iphone also be one dead or slow iPhone.
How to Fix:
Upgrade to iPhone 6/6s (Plus).
Fix hardware problem or change a new iPhone if possible.
The Bottom Line
You may have learned something about why your iPhone is so slow after reading this guide. Just try the methods above to speed up your slow iPhone. And if you are using old iPhone, you may be interested in: should I upgrade to iPhone 6s/6s Plus, what to do before selling old iPhone.
If you find this guide is helpful, please share it will your friends, and welcome any comments here about iPhone speed problem and tips to speed up slow iPhone.
More Related Articles You May Like
Share Your Thoughts With Us