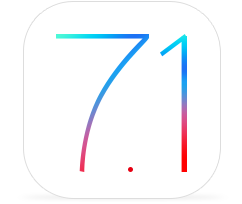 Behind the magic of every iOS updates are a set of beautiful and brilliant features, but are you ready for the latest iOS 7.1? Check out how will iMobie solutions work for you:
Upgrade Your PhoneClean
To Get Sufficient Storage Enjoy AnyTrans Giveaway
To Put Everything in Order Share Your Clean Result to
Win $50 iTunes Gift Card

As iOS 7.1 has been just released, there is a massive rush to download and install it at the first time. One major problem that not every user is fully ready for or made aware of is the installation of iOS 7.1 requires more than 2.5GB storage available. Do you have that much free space?
With the growth of the use of time, your iPhone or iPad may unknowingly load up with a large number of long-term caches, temp and junk files generated by many Apps or failed iTunes syncs. Most of these file are useless and what's worse, they may devour memory resource and slow down iPhone when launching Apps.

Still consider Apple iOS the most intelligent mobile operating system? Not until you get warned by a message saying there is not enough available storage to download these items. Learn what is the Other on your iPhone >
PhoneClean removes the burden of cleansing all kinds of junks and frees up the users to focus on enjoying the time with their iPhones and iPads. Scanning and cleaning the deepest corners on every iPhone or iPad, involves dozens of data analyzing technologies as well as an array of iOS tuning practices.

Want to know all PhoneClean mysteries?
Upgrade Now To The Current Version 3.3.0 >

Conventional iPhone, iPod media management with iTunes was a labor-intensive process that required to absurdly overwrite old songs and tediously sync again. Even you just want to add one single track. What's worse, in every major upgrade like the iOS 7.1, you may risk losing all songs, movies and other media files just because carelessness.

iMobie AnyTrans is the very program offering iPhone, iPad and iPod management all in one program. Now you can put music, movies, apps and any other type of entertainment file directly on your Apple devices, including iPhone 5s, iPad air and all Apple iDevices made since the original iPod, iPhone and iPad.