PodTrans
Resource
On this PodTrans resource page, you will find some graphic materials for your posting and writing. Because all images are hi-def graphics, so it may take a little bit time for page loading. We'll greatly appreciate your patience and please don't hesitate to contact us if you need more materials.
1. PodTrans supports All generations of iPod shuffle, nano, classic and iPod touch
2. PodTrans will detect your device and show device information on Summary page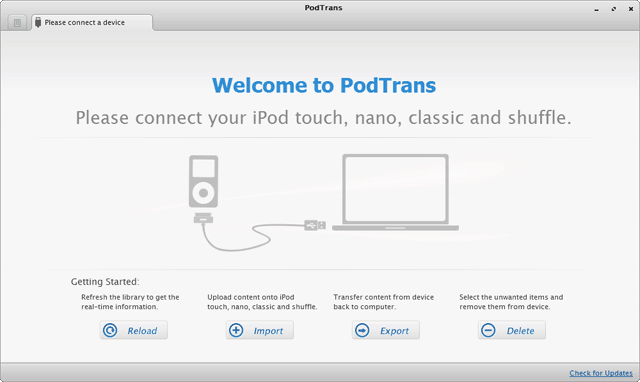 With PodTrans, you can:
Transfer iPod shuffle, nano, classic and iTouch music, videos, podcasts, iTunes U, ringtones to / from computer.
Instantly sort out files by checking particular criterions in the Smart Filter window.
3. Import and Export Music to / from iPod nano, shuffle, classic and iPod touch
As the native iPod manager program, iTunes did an excellent job to keep your devices well-organized. However, iTunes also has plenty of limits that keep you from enjoying music freely. Now with PodTrans, you can transfer music from whichever computer or iTunes library onto iPod at will.
The main purpose of PodTrans is to recover music library from iPod onto computer hard drive. Once you music collection lost due to hard drive failure or switch to a new computer, it seems the only way you can get your music back is transfer them from iPod onto computer.
4. Smart Filter Will Help You Find Music in Seconds
To pick up songs from the library, you can use PodTrans Smart Filter feature to locate them. You can narrow down the search scope to particular Genres, Artists, Albums, and PodTrans will display music based on your selection.
5. One-click Free iPod Music Transfer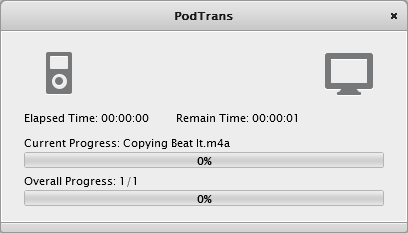 Click Export and set the destination for your music; click OK to start transferring music from iPod (iPod nano, shuffle, classic and iPod touch) to computer. Regularly PodTrans will transfer over 7000 songs in only about 25 minutes, but the transferring speed also depends on USB cable, computer hard disk format, as well as other external factors.
Before leaving this page, please consider below carefully selected daily tips