What is Reduce White Point in iPhone and How to Use it
If you are interested in Reduce White Point function, this guide will give you some information. After reading this guide, you will know what is Reduce White Point in iOS 13/12/11 and the way to enable/disable it.

Joy Taylor
Last Updated: May. 15, 2020
iOS 9/10/11/12 Update Tips
Every major iOS upgrade always brings a lot of new cool features & improvement to users and that is why users are always eager to upgrade to the latest iOS. In this fall, iOS 12 is coming soon. Today, we will talk about one improved iOS setting called Reduce White Point. Let's first have a brief introduction about this function and then see how to use it.
What is Reduce White Point
The Reduce White Point was first released with the previous iOS 7.1. You can access it in Accessibility. Many users do not know this setting until others mention it. So what is Reduce White Point?
You may have noticed that at first you may be fond of the bright colors of your iPhone/iPad screen, but after some time, it may cause eye strain and you will feel uncomfortable. And the Reduce White Point can help with that. It will reduce the intensity of bright colors to make the screen insipid. In this way, it will become easier for your eyes. Besides iOS 10 and iOS 11, iOS 13/12 also enables users to adjust the intensity of bright colors.
When you turn on Reduce While Point on iOS 13/12/11/10 devices, the screen will turn pale, so you may wonder: Does it also can save the battery life? The answer is No. It just reduces the uncomfortable glare white colors, which means it doesn't reduce the brightness of display. If you want to learn some tips to extend battery life, you can refer to this guide: Top 16 Tips to Save Battery on iPhone/iPad >
How to Use Reduce White Point
Step 1. Go to Settings app > Tap on General.
Step 2. Tap on Accessibility > Choose Display Accommodations. (For iOS 9 and previous version, tap on Increase Contrast)
Step 3. Turn Reduce White Point on/off. You can also adjust it by dragging the button.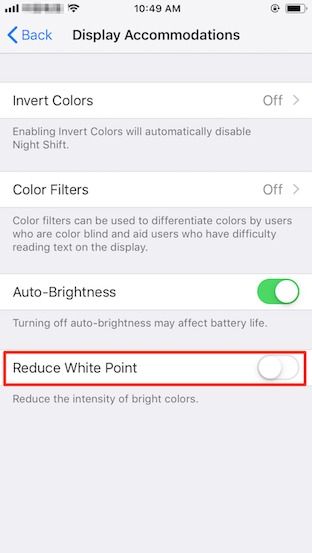 Reduce White Point on iPhone iPad in iPhone
The Bottom Line
Hope this guide can help you fix some iPhone Reduce White Point related questions. If you think this guide is helpful, please share it to help more people. And now have a free try on AnyTrans, it will not let you down.