AppTrans
Overview
The Only App Transfer for Moving Apps among iPhone & iPad
Thinking about getting an iPhone 6s and want to transfer Apps from old iPhone to the new one? AppTrans is an all-new solution to transfer Apps among all iOS devices.
Prepared with three transfer modes, AppTrans outruns iTunes & iCloud by providing you with plenty of options to keep all App data, game records and even personal settings (Only works for iOS 8.2 or lower version).
Transfer Apps Games among iPhone, iPad, iPod touch without iTunes or iCloud
One-click to Transfer Apps among Multiple iOS Devices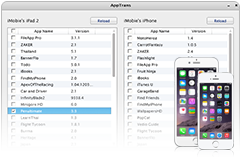 Just finished half of a giant game and want to continue it on other device? Now you can rely on AppTrans because it is made to transfer Apps among any iPhone, iPad and iPod touch.
In fact, so far there is nothing similar with AppTrans, which can directly copy and move your Apps among multiple iOS devices. This straightforward device-to-device App Transfer will save you both time and effort.
Provides with Three App Transfer Modes in all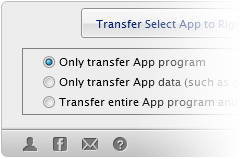 Unlike other ordinary iPhone App Transfers, AppTrans is well-prepared with Three Transfer Modes, which allows you to keep all App data, game progress and records. Even the App personal settings will be preserved.
The more options you get during the App transferring progress, the more comfortable you'll feel after moving Apps and games across devices.
Transfer iPhone iPad Apps without iTunes or iCloud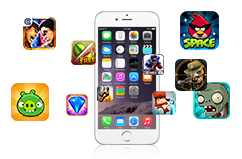 iTunes will fill up your hard drive with tens of gigabytes of Apps that can easily be downloaded from App Store. But with AppTrans, you can immediately copy iPhone, iPad and iPod touch Apps without backup them onto iTunes first.
AppTrans also comes in handy if you are out of network connection to process the iCloud backup. Another difference between iCloud is that transferring Apps through AppTrans, you can keep everything intact.
Transfer iPhone iPad Apps at Blazingly Fast Speed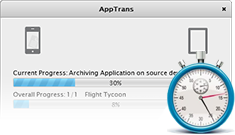 As iPhone 5 introduced the Lightning connector, AppTrans also takes advantage of this fast data connection technology. That's why you will feel this iPhone App Transfer is impressively fast.
Moreover, via bypassing backup Apps to iTunes or computer, AppTrans accomplishes the transfer process on the fly. It's One-stop solution to copy your Apps to anywhere you want.
What Customers Say
AppTrans is really helpful because it gives me an option to move my apps from iPhone onto iPad while keeps everything it saved.
- Doug Smith
Even though iCloud can download apps to several devices at the same time, I still need AppTrans, which offers much more flexible options.
- Joanna Topolsky