Summary
This post aims at telling you why does iPhone randomly vibrate and how to fix iPhone vibrates randomly issues. Follow us and know more.

by iMobie Follow @iMobie_Inc
AnyTrans – Excellent iOS Data Transfer
After getting to know how to fix iPhone vibrates randomly, free download AnyTrans so that you can use it to manage contacts, messages, music on iPhone iPad.

Free Download
Q: Please help! My iPhone keeps vibrating and it just wouldn't stop. Why does my iPhone randomly vibrate and how to fix it? Any help is appreciated.
An Email from One iPhone User
Even though issues of iPhone randomly vibrates don't always happen, but it is indeed troublesome. Luckily, this is not hard to fix. Before fixing the issue of iPhone vibrates randomly, let's first know why iPhone randomly vibrates.
Why iPhone Randomly Vibrates
There are several possible factors that would lead iPhone randomly vibrates issues, these two are the most common reasons.
1. iPhone gets wet.
2. iPhone is being charged with a broken USB.
How to Fix iPhone Vibrates Randomly
Now you may have figured out why your iPhone vibrates randomly, try solutions below and they might be helpful.
Solution 1. Fix iPhone Vibrates Randomly by Drying iPhone
If your iPhone vibrates because you have dropped it to water, then quickly get it outside as quick as possible. Dab as much water as you can, use some clean tissues to clean the surface. Many users have tried to put wet iPhone into dry rice for about two days, it turns out to be a great success. Rice can absorb the moistures inside. Don't use hair dryer to dry your iPhone, this could ruin your iPhone completely.
Solution 2. Fix iPhone Vibrates Randomly by Changing the USB Cable
If your iPhone vibrates randomly while charging, then it is the charging cable to be blamed. Try another charging cable and see if your iPhone still vibrates randomly.
Solution 3. Fix iPhone Vibrates Randomly by Force Rebooting iPhone
Press Power button and Home button or Power button and Volume Down button (for iPhone 7 and later) until Apple logo appears. You should know that a force start could be helpful to solve majority of iPhone issues.
Bonus Tip: How to Manage iOS Data with Ease
For iOS is a relatively closed system, users can't put information to iPhone from computer or copy data from iPhone to computer, that what makes it hard to manage iOS data.
Even though managing iOS data can be done via iTunes or iCloud, it is still a troublesome work. To start with, iTunes and iCloud are hard to operate and they confuse many people. What's more, both iTunes and iCloud can't cater all people's needs. For instance, iTunes only allows people to backup data and restore devices via previous backup, you can't just transfer certain data to computer.
Here we will show you a better way to manage iPhone data – AnyTrans. Now, let's see what it can do for you.
Category Management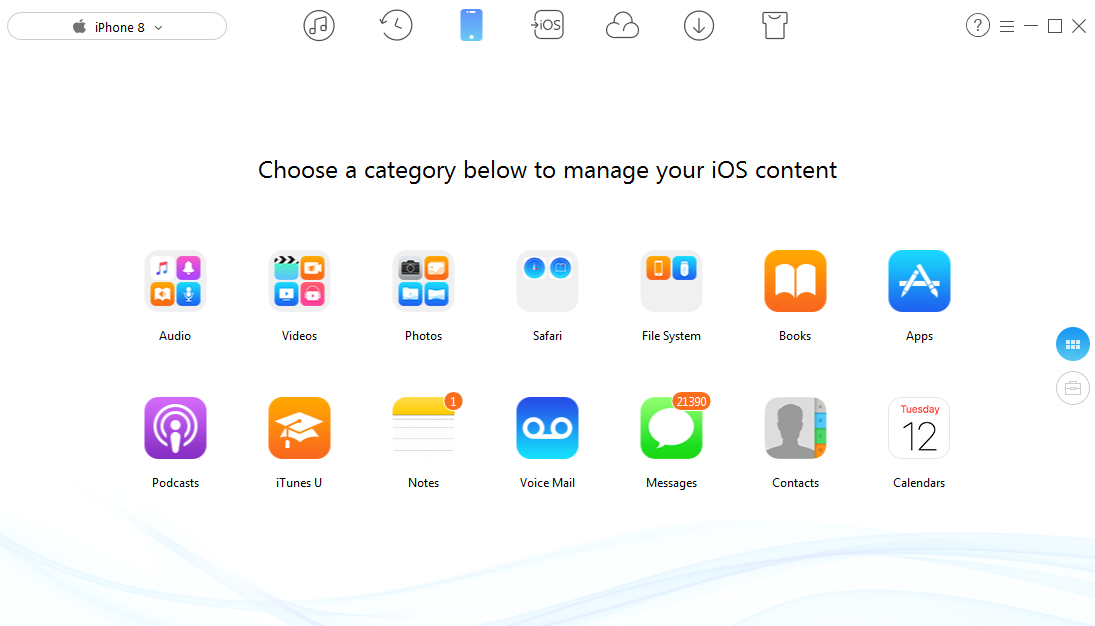 How to Get Free Ringtones on iPhone – Step 1
As is shown in the picture, AnyTrans basically supports all kinds of iPhone data ranging from music to calendar. With AnyTrans, you can easily transfer data from iPhone to computer or add content from computer to iPhone. It is also supported to transfer data from iPhone to iTunes or even iCloud.
One-Click Management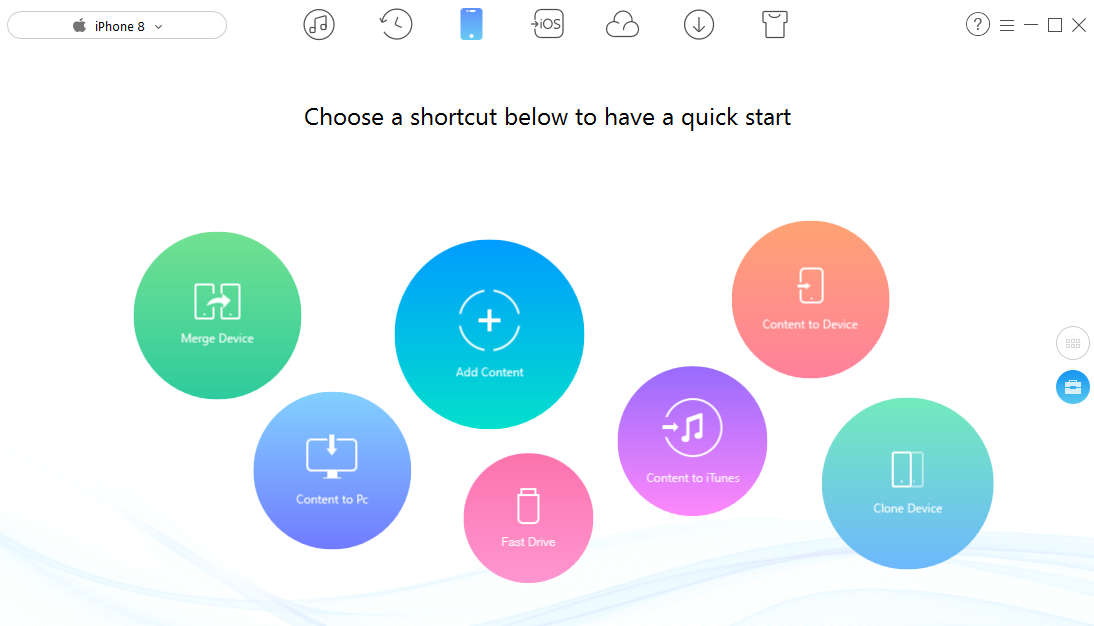 AnyTrans Overview - One-Click Management
If you need to batch operate your data, one-click management is what you need to turn. It offers you fast channel to Add Contents to iPhone, Transfer Content to Computer, Add Content from iPhone to iTunes/iCloud. If you want to transfer content from iPhone to iPhone, iPhone Merge and iPhone Clone feature could do you big favor. Know More About AnyTrans >
There are actually more in AnyTrans waiting to be explored. Free download AnyTrans and get more.
The Bottom Line
That's all for why iPhone vibrates randomly and how to fix it. We also introduced you one easy-to-use iOS data manager. If you find this post helpful, please share this post with others. Any questions or comments, please leave them in the comment column. By the way, as you can see, AnyTrans is such a powerful iOS data manager, why not download it and have a try?
More iOS 11 Upgrade Related Articles: