How to Fix iPhone Not Vibrating
Summary
iPhone won't vibrate in silent mode? Follow this guide to get the full list of solutions to iPhone not vibrating problem.
PhoneRescue enables you to get back deleted, lost, or disappeared iOS data and files quickly, from device itself, iTunes backups, and iCloud backups.
Vibration definitely is a great and convenient feature on iPhone, or all phones. In many situations, we need set iPhone in silent mode, to not bother other people, or some things, such as in meeting, in sleep, in the library, and more. However we would not like to miss some important calls, messages, or others, either. At this moment, turning iPhone to vibrating would be the best option.
But recently, many users have emailed us complaining about their iPhone doesn't vibrate any more, especially for many of people who just upgraded iPhone to iOS 11 beta. Actually many things could lead to iPhone not vibrating, but also many solutions can fix this problem. So to help all with it, we will list all solutions one by one in the following.
Solutions to iPhone Not Vibrating
Here we collect five solutions to help you with problem that iPhone won't vibrate in silent mode,
Solution 1. Check Whether Vibrate is Enabled on Silent/Ring
In many occasions, you may just forget to toggle on the vibration feature. To turn on Vibrate, go to Settings > Sounds > Turn on the two toggles, "Vibrate on Ring" and "Vibrate on Silent". Vibrate on Ring feature will enable iPhone to vibrate on ringing mode, and Vibrate on Silent feature will make iPhone vibrate on silent mode.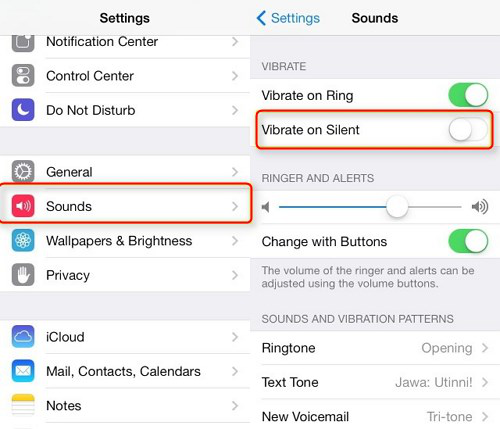 Fix iPhone Not Vibrating - Solution 1
Solution 2. Force Restart iPhone
Hard resetting is always the most common way for many iPhone iPad problems. It same goes for iPhone not vibrating issue. To force restart iPhone, go to press "Home" and "Sleep/Wake" buttons simultaneously. For iPhone 7 and iPhone 7 Plus, please hold "Volume Down" button and "Sleep/Wake" button > Hold them for nearly 10 seconds until the Apple logo appears.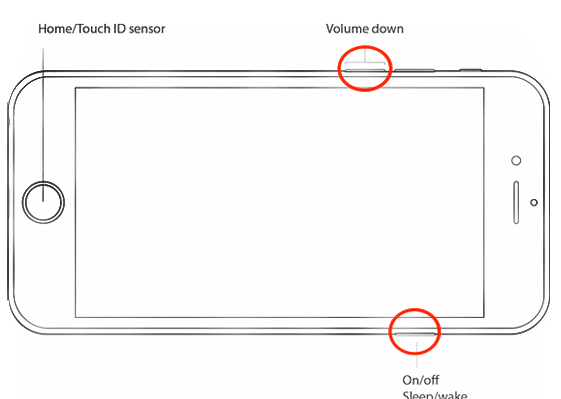 Fix iPhone Not Vibrating - Solution 2
Solution 3. Update iPhone to the Latest iOS Version
iPhone running an old iOS version will also lead to iPhone not vibrating in silent mode. For this situation, you need to keep your iPhone in charge and Wi-Fi connected, and upgrade it: Settings > General > Software Update > Install Now.
Solution 4. Turn off Do Not Disturb
There is another feature on iPhone - Do Not Disturb, which also can be the reason why vibration does not work. Many users just do not know. If you enable it, calls, alerts, and notifications that you get while your device is locked will be silenced. You need turn it off, or schedule a time or choose who you'll allow calls from.
To disable this feature, you have two ways to go,
1. Swipe up from the screen to the Control Center > Tap on the moon logo. It will turn off the Do Not Disturb feature.
2. Go to Settings > Tap on the button next to Do Not Disturb > Make sure of turning off the Manual and Scheduled options.
Solution 5. Reset All Settings
If none of above methods works, you can consider to reset all your iPhone settings to fix it. To reset all settings, Settings > General > Reset > Reset All Settings > Enter the passcode > Lastly, tap Reset All Settings again to confirm the action. Once you tap, the device will restart automatically.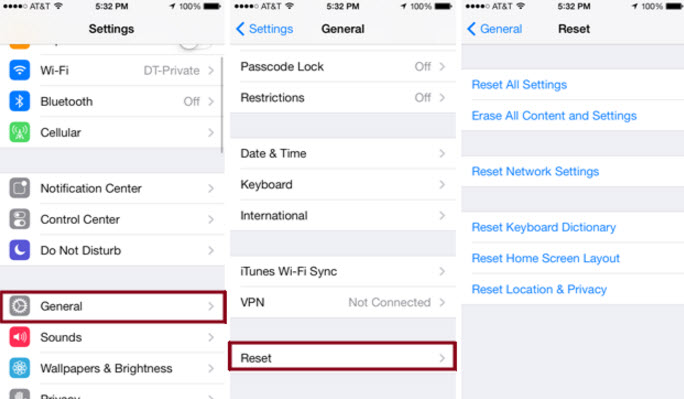 Fix iPhone Not Vibrating - Solution 5
The Bottom Line
With these five methods, you can totally fix iPhone not vibrating problem easily. If you have any question about them, or have another new and possible solution, please leave you messages in the comments. By the way, for more iPhone related problems and issues, you can refer to this guide to get solutions: The Most Common iOS 11 Beta Update Problems and Solutions >
More Related Articles You May Like
Share Your Thoughts With Us