Explain iOS 11 Safari Experimental Features and How to Enable It
Summary
Want to know what the iOS 11 Safari Experimental Features are? And how to enable it? Check this explanation guide to grab every detail about Safari Experimental WebKit Features.
AnyTrans, as the best iOS data manager, provides you three ways to transfer Safari history in iDevice, iTunes backup, and iCloud backup to new iPhone 8/X. Ensure you a much more smooth iPhone 8/X upgrading.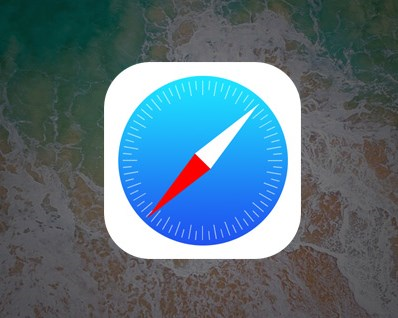 iOS 11 Safari Experimental Features
Even though iOS 11 has been launched for a period, there are still many hidden features in iOS 11 awaiting us to find and enjoy. In the last daily tip, we have just shared how to scan documents in iOS 11 with Notes app. And in this article, we are going to focus on another iOS 11 feature discovery - Safari Experimental Features, also called Safari WebKit Experimental Features. What are they? Can the iOS 11 Safari Experimental Features explained? Don't worry. Here are the answers in the following content.
Explanation Of iOS 11 Safari Experimental Features
Safari Experimental Features in iOS 11, also named Safari WebKit Experimental Features. Basically it is designed for all developers, allowing them to debug web experiences within their apps, and showing how serious Apple treat them. Surely, as a normal iOS 11 user, you can also get some knowledge of these features. Apple aims at obtaining feedback from developers and users who are taking part in the development process.
iOS 11 Safari Experimental Features, actually consist of 11 features, and they will be explained one by one below:
Constant Properties - Constant properties are initialized at the time of creation and cannot be reinitialized, in other words, new values cannot be pushed. A constant property can be merged, concatenated, combined, zipped, sampled, filtered, and transformed. This iOS 11 Safari Experimental feature prevents you from changing settings in web pages with settings. In other words, preventing website modifications or the changing of their "properties" after they've loaded.
CSS display: contents - The CSS display property specifies the type of rendering box used for an element. It gets rid of HTML from websites but keeps CSS contents for the looks. Also its intelligence enables to scan HTML to make sure of that the minimum CSS can be displayed while stripping the website of its contents.
CSS Spring Animations - This feature emulates website animations as if it is spring, with it websites are season-aware. It works similarly to changing the device date to April in the northern hemisphere.
Link Preload - It is mainly for preventing pre-loaded resources from getting cleared once parsing is done. Link Preload also addresses the memory issues that were found to clear preloaded resources in the previous version.
Remove Legacy WebRTC API - With it, web developers can check whether their websites conform to the latest specifications.
Secure Contexts API - Prevent man-in-the-middle attackers from accessing powerful APIs that could further compromise the victim of an attack.
SubresourcIntegrity - Enable browsers to verify that files they fetch are delivered without unexpected manipulation. It works by allowing you to provide a cryptographic hash that a fetched file must match.
Viewport Fit - Determine how content is laid out and where text wraps on the web page. The viewport can be larger or smaller than the visible area.
Web Animations - Allow disabling and enabling of all web animations, capable of speeding up web browsing by 1.04998%.
WebGPU - Provide hardware GPU acceleration for mobile websites. If your device doesn't have a GPU, it tried to connect to the nearest free GPU wirelessly within a range of ~4cm.
Async Frame Scrolling - Make an iframe scrollable on iOS, or more smoothly.
How to Enable iOS 11 Safari Experimental Features on iPhone iPad
Step 1. Launch Settings.
Step 2. Scroll down to find Safari, and tap it.
Step 3. Scroll down to click Advance option.
Step 4. Then you will see the Experimental Features > Tap it.
Step 5. Toggle on the Safari Experimental WebKit Features you want.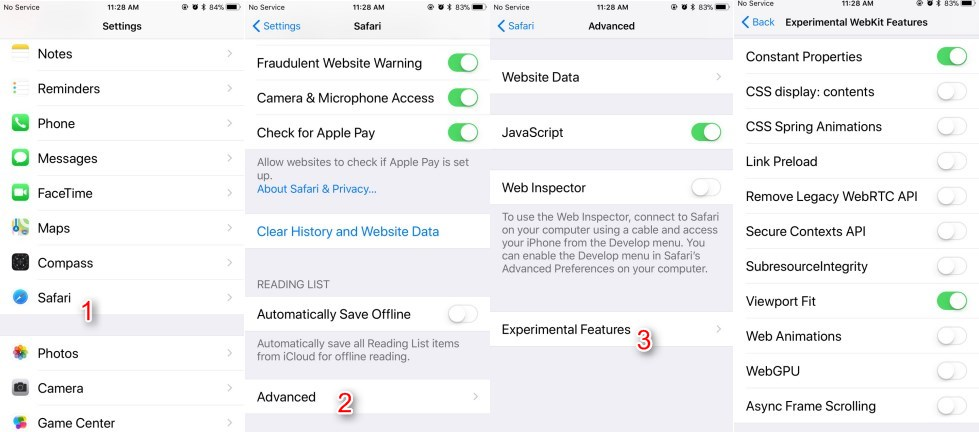 How to Enable iOS 11 Safari Experimental Features
The Bottom Line
These are all words about iOS 11 Safari Experimental Features. If you find something new about them, you can tell us with messages in the comments, and we will update them as soon as possible, helping more people. Thanks.
More Related Articles You May Like