Summary
This guide will show you how to fix iPhone calendar not syncing with iCloud/Gmail/Outlook. You can check the solutions to see if they are working for you.

by Thea Follow @iMobie_Inc
AnyTrans® for iOS - Best iPhone Data Manager
After fixing your iPhone calendar not syncing issue, you can have a try on this iPhone data management tool to manage and transfer your iOS content in an easy and smart way.

Free Download
Nowadays, more and more businessmen and career staff like to use iPhone Calendar app to make daily schedules and some important upcoming events, let alone those people with poor memory. Calendar plays an important role in their working life. Besides iPhone calendar, you also use other calendar service, such as iCloud calendar, Google calendar, and Exchange calendar, etc. And you must always sync your iPhone calendar with these calendar services. This brings your life a lot of convenience. However, sometimes, you may come across an annoying issue that is iPhone calendar not syncing at all. No matter iPhone calendar not syncing with iCloud, not syncing with Gmail, or not syncing with Outlook, which will be very depressing.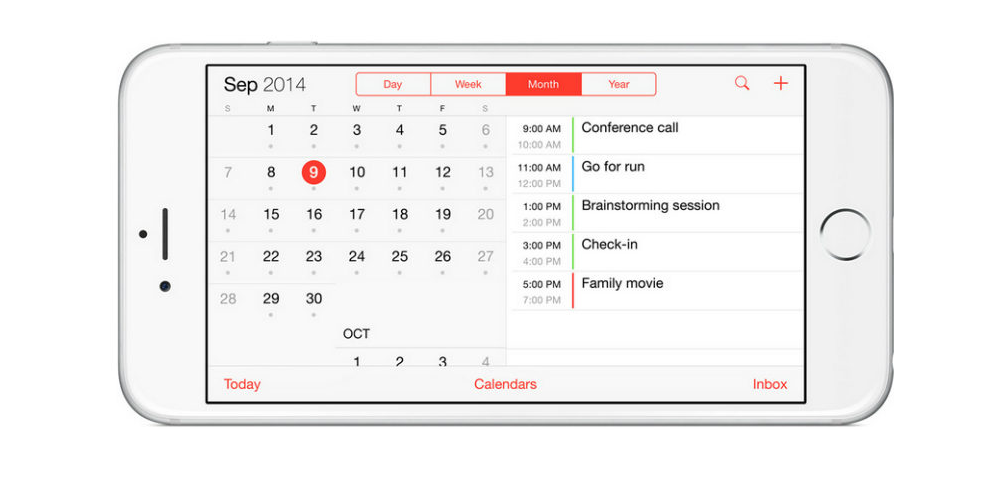 This guide is going to share you some potential methods about how to fix iPhone calendar not syncing with iCloud/Gmail/Outlook. Let's see in 3 parts.
Part 1. iPhone Calendar Not Syncing with iCloud
1. Make sure the switch for Calendar is turned ON. You can check this by going to Settings > Apple ID > iCloud > Calendars.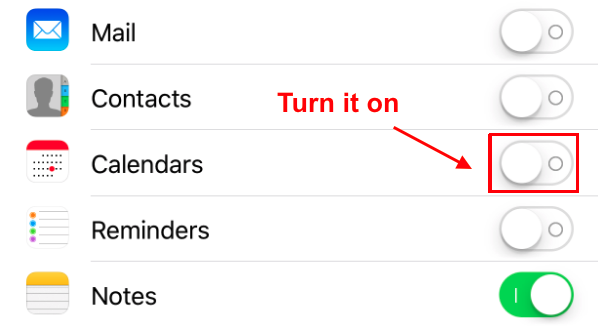 2. Refresh your iPhone calendar. In the Calendar app, go to Calendars and drag the screen down for a refresh.
3. Reboot your iPhone. Hold down Power & Home button simultaneously.
4. Sync All Events by going to Settings > Calendar > Sync > Tap on All Events.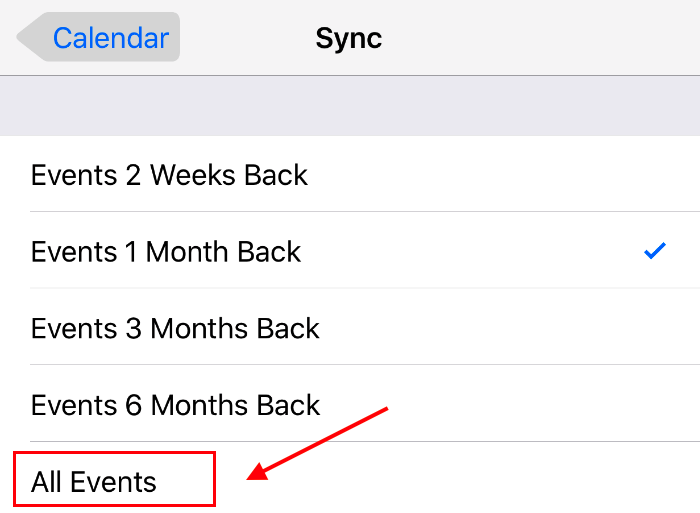 5. Use AnyTrans for iOS to manually sync iPhone calendar to iCloud.
1) Download and Install AnyTrans for iOS on your computer, connect your iPhone with USB cable.
2) Go to the category page and select Calendars.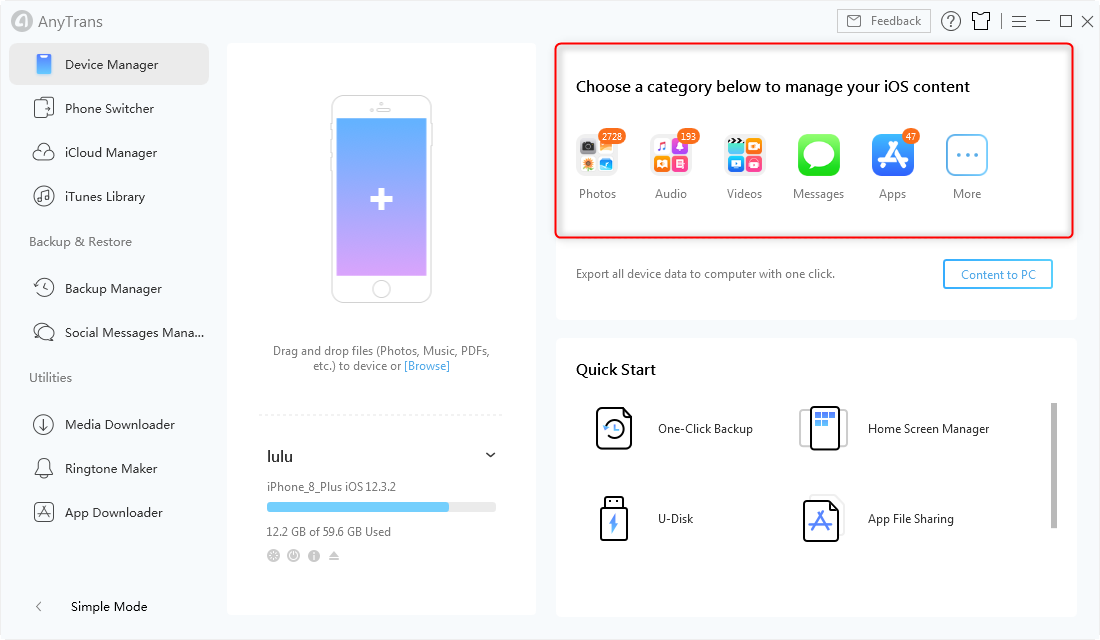 Note: To let AnyTrans for iOS detect you calendar data on your iPhone, you need to disabled Calendar on your iPhone at first.
3) Select the calendar you want to sync and click the To iCloud button to sync selected calendar event to iCloud.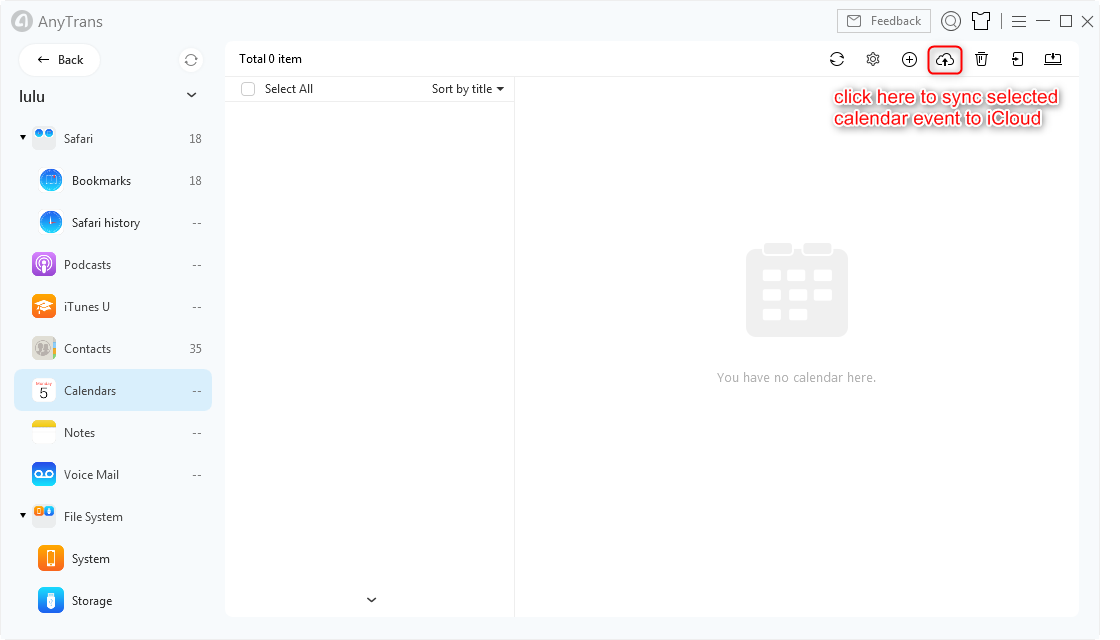 You can also use AnyTrans for iOS to sync other kinds of iOS data to iCloud, like photos, notes, contacts, etc. Besides, it even allows you to sync data from one iCloud to another iCloud account directly.
Part 2. iPhone Calendar Not Syncing with Gmail
1. Also check if you enable Calendar on your iPhone. Go to Settings > Mail, Contacts, Calendars, select your Google account. Make sure that the Calendars option is enabled.
2. Set up Fetch feature. Go to Settings > Mail > Account > Fetch New Data, tap on your Gmail account and tap on Fetch, you can choose the frequency: Every 15 Minutes, Every 30 Minutes, Hourly or Manually.
3. Set your Gmail calendar as Default calendar. Go to Settings > Calendar > Sync > All Events. Then go back to Calendar, tap on Default Calendar and select Gmail calendar as default.
4. Re-add your Gmail Account. You can remove your Google account from Mail, Contacts, and Calendars, and then re-add it. But notice that if you do this, everything will get reset.
Part 3. iPhone Calendar Not Syncing with Outlook
1. Tyr to install and use Outlook app on your iPhone.
2. Syncing iPhone calendar to Outlook by using iTunes. Disabled Calendars on your iPhone, open iTunes on your computer and connect your iPhone. Click your device and click "Info" > Click Sync Calendars with and select Outlook.
3. Also try to set the Exchange Calendar as the default calendar on your iPhone.
4. Well, some users suggest just upgrade to new iPhone. This really works for many users.

The Bottom Line
That's all for how to fix iPhone calendar not syncing issue, if you meet one of these three conditions, you can try out the methods mentioned above. Hope this guide is helpful for you. By the way, when facing iPhone calendar not syncing with iCloud, don't forget to have a try on AnyTrans for iOS.
Join the Discussion on iPhone Calendar Issue