How to Make Google Maps Default on iPhone
Summary
When upgrading to iOS 10, you have no idea of how to make Google maps default on iPhone. Eager to know how? Read this tip and grab this skill within simple steps.
As a professional iOS data transfer tool, AnyTrans also works as a great video downloader to help you quickly download your favorite videos from YouTube, Vine, Break, Dailymotion, etc. for free.
I have just upgraded to iOS 10 and it seems Apple has removed the ability to switch from Apple Maps to a third party map app as the default app when clicking address links from iCalendar, etc.
Is there a way to set a third party app as the default app to launch when clicking address links from other apps? Please help.
Although Apple maps has made a lot of improvements to be better, it still has many bugs. So many iPhone users turn to Google maps as their default choice. Besides many other Apple users get used to Google maps. When using Apple maps at first time, there are lots of dissimilarities and dissatisfaction.
However, the problem can be solved if we set Google maps as default maps on iPhone. But how? Luckily, we can make make Google maps default on iPhone with a easy trick described in the following, which just needs a few simple steps.
Also Read: How to Transfer App Data to New iPhone >
How to Make Google Maps Default on iPhone
Step 1. On your iPhone tap on any address to make the operating system launch Apple maps app. You can use the following address as well. If it doesn't work in Safari then copy and paste it in Notes app and try again.
Apple
1 Infinite Loop
Cupertino, CA 95014
408.996.1010
Step 2. When in Apple Maps tap on the 'Car' icon to tell the app to start routing.
Step 3. Now on your screen you will see three tabs. One of them should be for 'Apps', tap on it.
Step 4. From the list of apps select the Maps application you want to use instead of Apple Maps. Simply tap on the Route button located next to it. On this screen you will also get a list of related apps that are available in the App Store.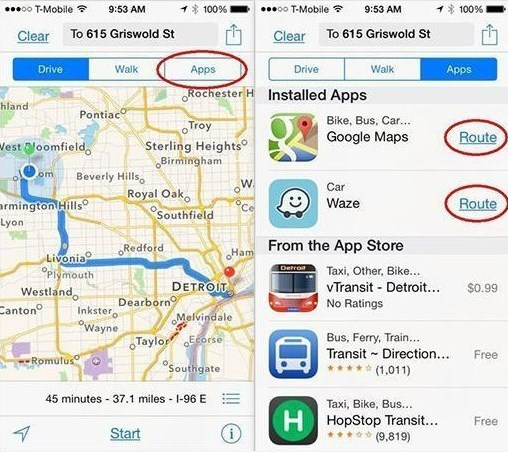 How to Make Google Maps Default on iPhone
Once you are done with the steps above your iPhone will always launch Google Maps whenever you tap an address. And this tip works for iPad, too.
This tip just works for setting Google Maps on iPhone with iOS 8, or previous versions; For iOS 9/10, there is nothing we can do to change iPhone default map app for now. But if you have or find one, please share with us in the comments.
You May Like: How to Import Google Contacts to iPhone 6/6s >
The Bottom Line
With these 4 steps, you can totally figure out how make Google maps default on iPhone. If you have any question when applying this method, you can leave messages in the comments below.
More Related Articles You May Like
Share Your Thoughts With Us