Summary
This post offers some tips to fix "can't delete apps on iPhone iPad after iOS 11 update". Just read it to know how to delete iOS 11 apps on iPhone, also suitable for deleting apps on iOS 10.

by Tom Follow @iMobie_Inc
PhoneClean - Smart iPhone Junk Cleaner
Download PhoneClean to quickly delete Apps and remove junk files on your iPhone iPad or iPod touch. Supports iOS 11/10.

Free Download
After updating to the new released iOS 11, users reported they couldn't delete apps on iPhone iPad. "I cannot delete apps from iPad Air 2 after updating to iOS 11. Tried to delete using iCloud but that didn't work either."
Actually, it's one of common iOS update problems you may meet after updating to iOS 11 or iOS 11.0.1. And in previous iOS 10, some iPhone users also got the similar app deleting issue. So, what if you got this issue in iOS 11 or iOS 10, how can you delete apps on iPhone iPad? Below we summarize some tips to help you get out.
Can't Miss: How to Delete Apps on Mac >
If you update your iPhone iPad to the iOS 11 and meet problems, you can refer to this guide to find solutions: 30 Common iOS 11 Update Problems and Solutions >
How to Fix iOS 11/10 Can't Delete Apps on iPhone iPad
1.Delete Apps on iPhone 6s/7.
You may have found you can't delete apps easily on your iPhone 6s, iPhone 7 or other devices with 3D-Touch feature. Because when you press an app, it brings you to 3D touch menu, instead of showing you the "X". In this situation, just gently put your finger on the icon without pressing down to delete or move apps.
Don't Miss: 3 Ways to Delete Apps on iPhone 7 in iOS 10
2.Remove Built-in Apps
Usually, we can tap and hold on apps to remove the apps on our iOS devices. And iOS 11 & iOS 10 enable us to remove some built-in apps. But you should know there are still some default apps that you cannot delete, including Messages, Phone, Settings, Safari, Clock, Camera, Photos, App Store, Health, Wallet and Find iPhone.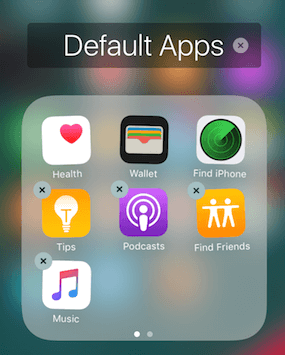 Remove Built-in Apps on iOS 11/10
3.Delete Waiting Apps
Sometimes, your apps may be stuck on waiting when you install or update it, and you cannot delete it. For this issue, you can refer to: how to remove waiting apps on iPhone.
4.Restriction for Deleting Apps
If you don't allow "deleting apps" on Restrictions, nobody could remove apps on your device. You can go to check whether you allow "deleting apps" by going to Settings > General > Restrictions.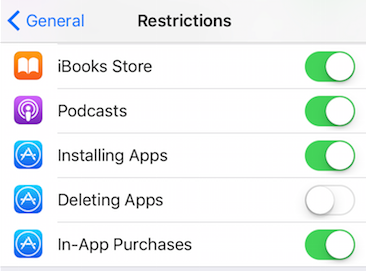 Restrictions of Deleting Apps – iOS 11/10
You May Like: Forget Restrictions Password on iPhone iPad
5. Other Methods
You can try some basic tips to fix your "iOS app deleting" problems, such as restart your device or Force-Restart, restore your device and delete iPhone iPad apps with iTunes.
Also Read: How to Delete Voicemail on iPhone 5/5s/6/6s/7/8/X >
6. Remove Apps on iOS 11 by Settings
You can remove apps on iOS 11 devices by Settings. Go to Settings > General > iPhone Storage, find the app you want to remove and tap on it, tap "Delete App".
Remove Apps on iOS 11 by Settings
7. Remove Apps on iOS 11/10 with PhoneClean
If all above methods can't help you delete apps on your iOS device, you can have a try on PhoneClean. This tool enables you 1-click remove multiple apps on your iPhone X/8/7/SE/6s/6/5/4. Below are the steps that you can follow to manage your iPhone storage and delete apps with PhoneClean.
Step 1. Download and install PhoneClean on your computer.
Step 2. Connect your iOS device to computer with cable, run PhoneClean and click Toolbox > App Clean.
Remove Apps on iOS 11/10 with PhoneClean - Step 2
Step 3. Select the unwanted apps, and click Trash icon on the top right corner to remove the selected apps from your iPhone.
Remove Apps on iOS 11/10 with PhoneClean - Step 3
The Bottom Line
If these tips don't work on your issue, you can post yours on the comment section for help. Besides deleting apps, we provide you with some other tips to free up space on your iPhone iPad. And you can use some professional iOS app uninstallers. For example, PhoneClean is featured with app uninstaller.