New Michael Jackson Albums Now Hit iTunes
Summary
Two new Michael Jackson music collections hit iTunes - 'The Indispensable Collection' and 'The Ultimate Fan Extras Collection' have nearly 270 songs between them.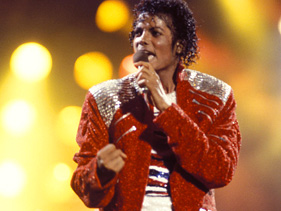 Image Credit: Ebet Roberts/ Redferns
Well, if your Fourth of July soundtrack is typically heavy on Michael Jackson, you're in luck, because iTunes has just revealed two massive compilations of MJ's finest, including re-mastered versions of his iconic Off the Wall solo debut, mega-smashes Thriller and Bad, as well as live tracks, remixes and rarities that pull together just about all the known MJ ephemera in the universe.
Must Read: How to Transfer Music from iPhone to iTunes >
The first one, The Indispensable Collection, which goes for $69.99, contains all of Jackson's solo albums (Wall, Thriller, Bad, Dangerous, HIStory -- Past, Present and Future Book 1, the Blood on the Dancefloor remix compilation and Invincible), which have been mastered for iTunes, as well as the 16-track 1988 Live at Wembley collection.
If those 104 tracks aren't enough, you can try the $79.99 162-track The Ultimate Fan Extras Collection, which pulls together all the extras from previously released Jackson reissues, plus demos, rarities and alternate versions of songs.
Essential iTunes Tip
The iTunes keeps all your songs, albums, and music videos in one place assuming they will be safe and sound forever. Until one day you found your computer got a sudden and severe breakdown, and all your iTunes content saved there was lost. Learn How to Transfer Music from iPod to iTunes >
Why You'll Need an Alternative to iTunes
Every type of media content is handled differently by iTunes: Keynote files are handled via apps file sharing, music, video and photos have to be synced, books can be dragged and dropped, etc. How many times do you have to delete everything and re-sync music because iTunes got confused about whether it had synced to that particular device before. Find Best iTunes Alternative - PhoneTrans >
PhoneTrans Screenshot
PhoneTrans V3.4.9 Now Supports iTunes 11.0.4
Price and Availability:
PhoneTrans is 100% freeware and no ads or any fees involved. Check for details and Download >
Related external source
Apple - Apple Inc. designs and sells consumer electronics, computer software, and personal computers. The company's best-known products are the Macintosh line of computers, the iPod, the iPhone and the iPad.
CNet - CNET (stylized as c|net) is a tech media website that publishes news articles, blogs, and podcasts on technology and consumer electronics.
A news article via MTV.com.