Dramatically Speedup on PhoneClean - Up to 80% Faster Speed
Summary
iMobie Inc., an innovative iPhone iPad software developer, today issued PhoneClean 2.2. As the world first iOS cleaning utility, this top-notch iPhone Cleaner software achieves up to 80% scanning and cleaning speed.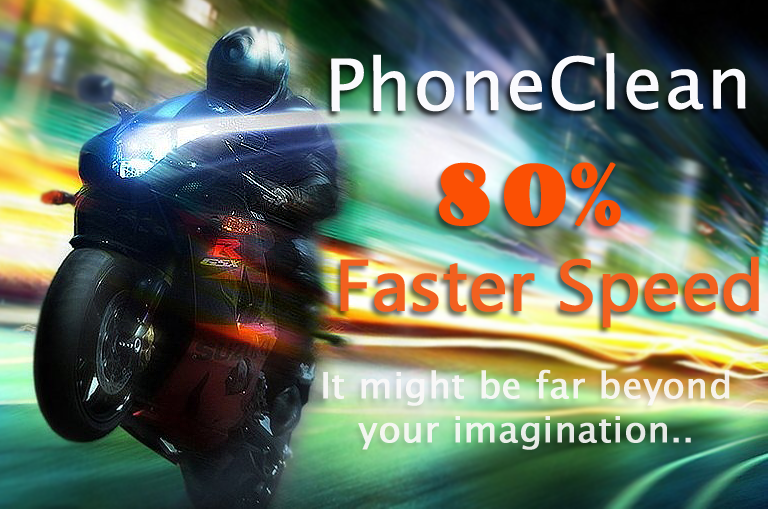 PhoneClean, uniquely designed to reclaim more free space on iPhone, iPad, today got an overall optimization to achieve up to 80% junk file scanning & cleaning speed. With the release of version 2.2.0, it reaches to a new high level that gives the iFans such a free yet high-efficiency iPhone, iPad, iPod touch cleaning solution.
Don't Miss: What Is Other on iPhone >
"Previously PhoneClean got a review from Yaara Lancet, an editor from MakeUseOf.com, 'After 7 minutes, PhoneClean informed me that I could save 1.02 GB.' It shocked me a lot", said by Frank, the CEO of iMobie Inc., "It means our PhoneClean has wasted so much valuable hours. That's the root reason why we want to deliver this round of prominent speedup."
How Does It Make Users Feel Different
According to one personnel from PhoneClean development team, they've been working on optimizing PhoneClean V2.2.0 for several months! In this version, PhoneClean digs deeper in iOS and follows a better sequential logic to scan the accumulated junks on your iPhone, iPad. As a result, it is now able to achieve a dramatic speed-up - 80% faster than before! Start Taking A Tour >
PhoneClean Highlight 1 - Free Up Space on iPhone iPad
When processing complex calculations and data exchanges, iOS Apps will produce temporary files, which will be rarely used again once they fulfilled the statistical purposes. These one-off data are supposed to get removed as soon as you quit the Apps. But in fact, some Apps will leave them behind even risking swallowing free space on your devices. Now with PhoneClean, you can quickly find and remove them to reclaim more space on your iPhone and iPad.
PhoneClean Highlight 2 - Make iPhone Run Faster
The cache and off-line files include images, snapshots, video/audio media info, etc. which are created to speed up files access temporarily. But over time they may occupy over 1 Gigabyte space absurdly. Every time initiating an App, you have to wait for a long time to let it load these data. PhoneClean safely deletes them so as to slim your Apps and keep your iPhone iPad running fast. The speedup could be fairly significant on iPhone 3GS and iPhone 4.
PhoneClean Screenshot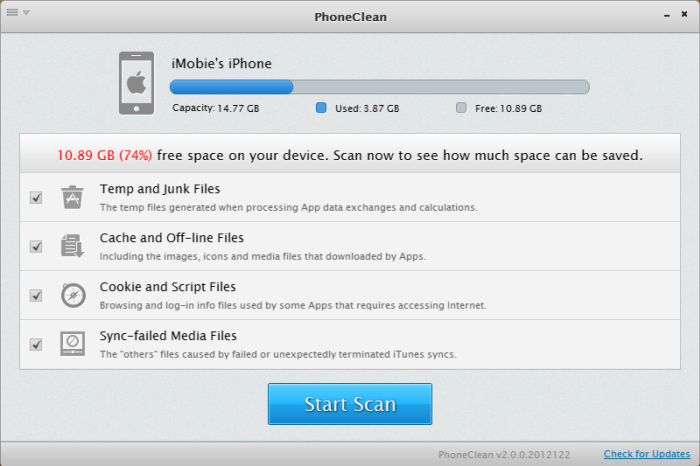 Dramatically Speedup on PhoneClean
Price and Availability:
PhoneClean is 100% freeware and no ads or any fees involved. Check for details and Download >
About iMobie, Inc.
iMobie Inc. was established at the end of 2011, and located in Tianfu Software Park (China), a place gathered great many talented software engineers. The brand name iMobie is from I'M Optimistic, Brave, Independent & Efficient, which represents the main characters of their teammates. On the early stage of iMobie, they focus on developing iPhone, iPod, iPad transfer, manager and maintenance software for making iFans Mobile Digital Life easier.
Related external source
Apple - Apple Inc. designs and sells consumer electronics, computer software, and personal computers. The company's best-known products are the Macintosh line of computers, the iPod, the iPhone and the iPad.
CNet - CNET (stylized as c|net) is a tech media website that publishes news articles, blogs, and podcasts on technology and consumer electronics.