Why iOS 10 Data Lost Issue Matters
Selena Larson @CNNTech reported that Apple users who were quick to download its latest iOS 10 software were subject to a major bug that left their iPhone temporarily useless. Whether you've met any iOS 10 problems or not, please note that by their nature, your iPhone may also be in danger of missing data after updating to iOS 10, or setting up your new iPhone 7 (Plus) through restoring from iCloud backup. If you want to have a try on iOS 11, you can follow this guide to find solutions when you meet any problems.
Although many users believe their iPhones are 100% safe for iOS 10 update, thousand of iOS data disasters occur everyday and countless vital data are missing forever. To minimize the risk & cost of such miseries, we prepared a full range of iPhone Data Recovery solutions for smoothing your way of iOS 10 / iPhone 7 Upgrade. Read on to find what you need to know.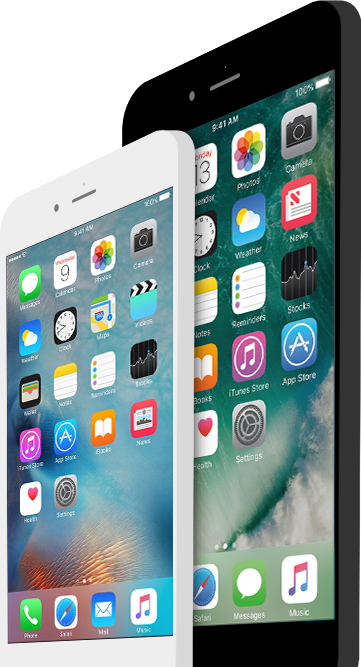 Music & Movies
The iCloud backup includes only the information of your purchased content, but not your purchased item itself. If you find your music other media content are missing after updating to iOS 10 or restoring your iPhone from iCloud backup, try the following approaches to find them back.
For iTunes Synced Content:
1. Connect your iPhone to the computer > Open iTunes;
2. Click the Device tab on the top of iTunes > Click Summary;
3. Preset the settings before syncing your music and movies;
4. Click Sync to start transferring your files to iPhone.
5. Check backup by tapping Settings > iCloud > Storage > Manage Storage, and then select your device. You should see your latest backup listed.
For Purchased Content:
When restoring from an iCloud backup, your device will automatically download the purchased content from iTunes Store, App Store or iBook Store. Sometimes (rarely) you may find your purchased music or movies are missing, check their availability in iTunes / App / iBook Store to see if they are still available for download in your territory.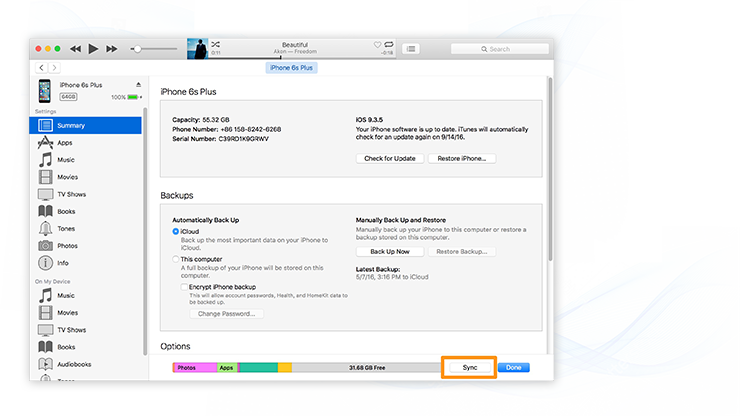 Photos & Albums
Don't be panic if you found your photos and videos are missing after updating to iOS 10 or restoring your iPhone from iCloud backup. As in iOS 8.1 or later, with iCloud Photo Library option enabled, your photos and videos are stored in iCloud. Although they aren't included in iCloud backup, you can re-download them from the remote server without much effort.
How to Turn on iCloud Photo Library:
1. Check iOS version of your iPhone, iPad, or iPod touch is up to date;
2. Make sure the Wi-Fi connection is stable and the signal is robust;
3. Enable iCloud Photo Library by going to Settings > iCloud > Photos, then turn on iCloud Photo Library;
4. Make sure you are on a WiFi connection and tap Back Up Now;
5. Check your backup by tapping Settings > iCloud > Storage > Manage Storage, and then select your device. You should see your latest backup listed.
How iCloud Photo Library Works
iCloud Photo Library automatically and simultaneously keeps your photos and videos synchronized between multiple of your devices. Your photo/video collection uploads / downloads to/from iCloud each time your device connects to WiFi and your battery is charged. And the speed depends largely on your Internet speed.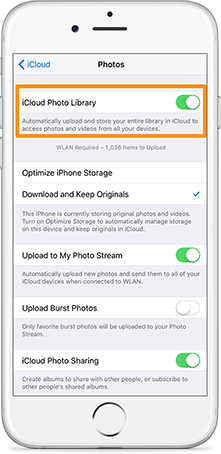 Messages
iCloud backup covers your messages, like the iMessage, SMS, MMS and the pictures/videos attachments, which will be downloaded to your iPhone during the restoration process. If you look for some message threads that are missing after restoring from iCloud backup, it's probably caused by the mistakenly deletion before your iPhone backed up to iCloud. Try the following commercial software to retrieve your deleted messages from iPhone.
How to Retrieve Deleted Messages from iCloud Backup
1. Choose an iPhone Data Recovery Software by referring to this review;
2. Download PhoneRescue and installed it on your computer;
3. Choose the Recover from iCloud option;
4. Log in Apple account to access and download your iCloud backup;
5. Scan your iCloud backup to find your missing messages and their associated attachments;
6. Choose the message you'd like to recover and click Recover.
How Does PhoneRescue Work
Why PhoneRescue can find and recover your lost or deleted messages from iCloud backup? Here is the myth: a deleted message file is usually not immediately overwritten on your iPhone disk, but more often has its entry deleted from the file system index. For example, you deleted a message on your iPhone, the data actually is still stored on the device, but you cannot see it through iPhone interface. If the iCloud afterward created a backup for your iPhone in this situation, the deletion of your message can be easily reversed.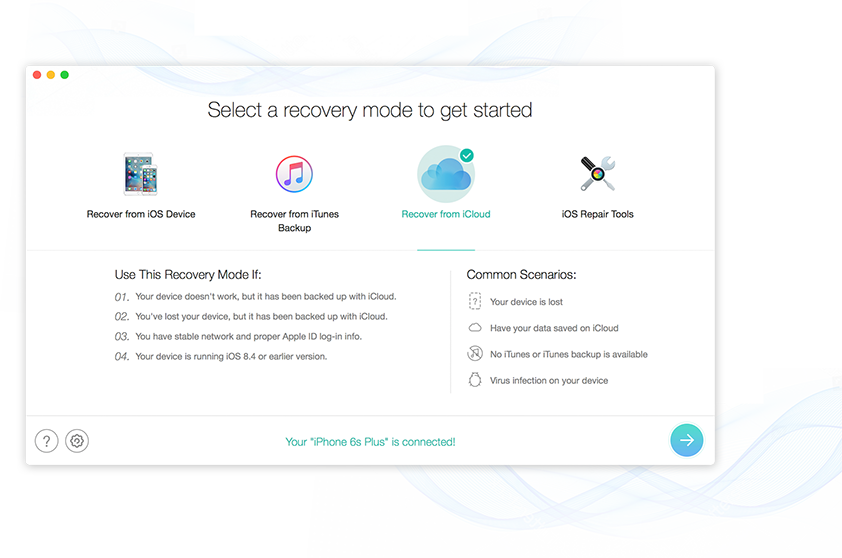 Contact & Calendar
The restoration of your Calendar and Contact data from iCloud backup runs precisely and automatically, you even won't notice how it occurs. In case you find your Calendar and Contact data are missing (probably it is due to the incomplete iCloud backup for your device), follow the suggestions below to recover your missing Calendar and Contacts with no efforts.
Quick Solution:
If you failed to get your Calendar and Contact data after restoring your iPhone from iCloud backup, an alternative solution is to transfer Calendar or Contact from your old iPhone to new iPhone. Here are the detailed steps:
1. Download an iPhone data transfer software named AnyTrans;
2. Connect both your old iPhone and new iPhone to your computer;
3. Open AnyTrans > Choose the iPhone you'd like to transfer your contact;
4. Choose Merge Device option;
5. Choose Message > Start transfer.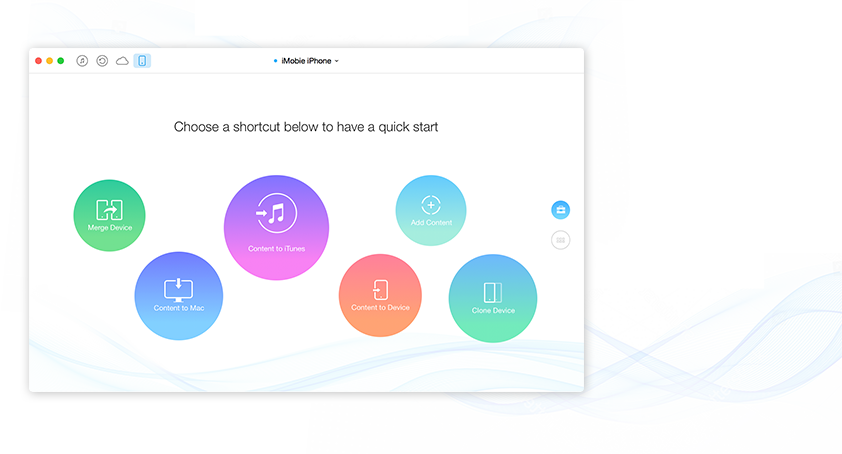 Mails & Notes
Apple doesn't include your Mail data in iCloud backup, neither in iTunes backup. The reason is quite plain to see: it's hard to estimate storage usage as the email quantity and file size is uncertain. The good thing is, iCloud backup has your email account info (both Apple's iCloud email account or other email servers), which makes your device retrieve any email messages available from iCloud or other email service providers.
Quick Tips:
1. If you set up your device to store Notes data in iCloud (Settings > iCloud > Notes), iCloud sends those notes to your device after the restore process is complete.
2. Notes data stored by a third-party service (Microsoft Exchange) isn't saved to iCloud. Consult the provider of that service for information about how to retrieve the data.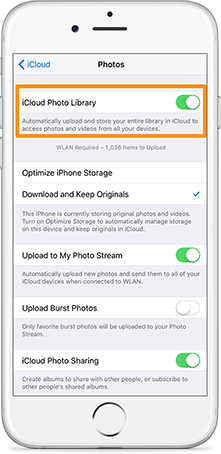 App Data & Settings
In conjunction with device storage, iTunes syncing, App Thinning and other app backing up and syncing technologies, iCloud hardly migrates your app data and settings precisely. How to troubleshoot missing app data and settings on your iPhone after restoring from iCloud? Here are few know-hows you can refer to.
Quick Tips:
1. When you restore your device, iCloud downloads your apps from the App Store and restores their data.
2. Data for some third-party apps might need to be downloaded again from the app provider.
3. Apps that Apple or the app provider removed from the App Store cannot be restored or downloaded.
4. Apps that weren't backed up to iCloud, but are still available in the App Store, can be downloaded again.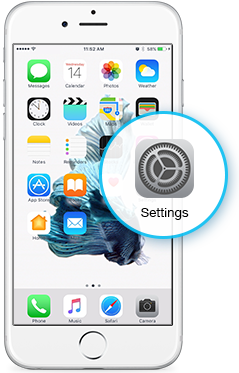 iCloud Drive
Firstly it's recommended to learn about how to back up your Pages, Numbers, or Keynote or other iOS files to iCloud drive first, as the iCloud drive is not your default app after updating to iOS 10.
Quick Tips:
1. If you're using Documents in the Cloud, open the app on your iOS device and look for your documents.
2. If you're using iCloud Drive, go to iCloud.com and open the iCloud Drive app.
More iCloud Drive Tips: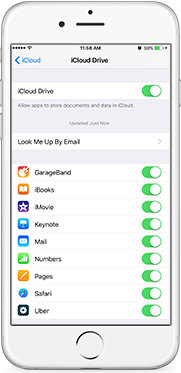 Bonus Giveaway
Find you are in need of PhoneRescue – the commercial iPhone data recovery software mentioned in above post? You're lucky today! Now you can get PhoneRescue, worth $49.99, for completely FREE! Limited-time Giveaway offer will end soon on September 18, 2016 [EXPIRED]. Hurry up to get your free copy and save big today!
Your License Code: MKN7-7Y6A-YUCM-APEL-SPRF
Click Here to Free Download PhoneRescue >