How to Delete Duplicates in iTunes on Mac
Summary
A lot of duplicates exist in your iTunes on Mac? Take it easy and read this post to remove all of them in iTunes and free up your Mac storage.
Free download MacClean to find and eliminate useless duplicate files on your iMac/Macbook, no matter they are songs or some other types of files.
Generally speaking, iTunes media files always take up much storage on Mac. In order to free up Mac space, you are suggested to remove unnecessary duplicate songs and movies in iTunes and keep your media library clean.
Must Read: Delete Duplicate Songs in iTunes on Mac/PC with AnyTrans
The traditional way to remove iTunes duplicates is using one default feature of iTunes application – Show Duplicates items. But you have to manually delete duplicates one by one after you find them. So in this post, we offer another method for you to automatically find and clean up the repeated songs and videos in iTunes.
Related Article: How to Delete Duplicate Files on Mac
Method 1. Find and Delete Duplicates in iTunes 11/12 Using iTunes Default Feature
If your iTunes application on Mac have updated to Version 11+, you can use the method Apple supported to show all duplicate items in your iTunes library. And then manually delete unwanted ones.
Step 1. Run iTunes on Mac, and click View > Show Duplicate items.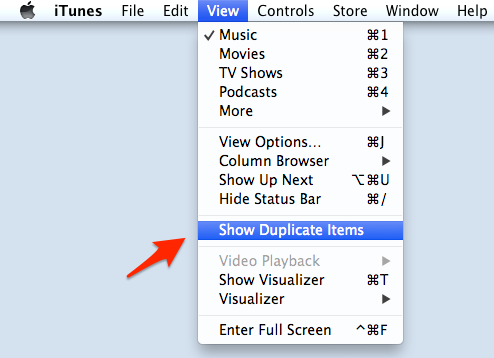 Show iTunes Duplicate items in iTunes 12
Step 2. The same duplicates will be listed together so that you can delete them easily. Choose unwanted duplicates and right-click your mouse to delete them.
Method 2. Automatically Remove Massive Duplicates in iTunes Library
All iTunes media files, such as songs and videos, are saved in iTunes Media folder on Mac. So if you want to delete massive duplicates in iTunes, you can use MacClean to automatically remove the original duplicates ones in the folder and then update your iTunes library.
Step 1. Find your iTunes Media folder location.
Open iTunes on your Mac, click iTunes > Preferences > Advanced. Then you can get the location of you iTunes Library on Mac

Find iTunes Media folder location on Mac
Step 2. Automatically delete the duplicates in iTunes Media folder with MacClean.
Free Download MacClean to your Mac > Install and open it.
Click Cleanup Tools > Duplicates Finder > Customer Folder.
Drag/drop iTunes Media folder in it > Click Scan Files.
Auto-select duplicate items and delete them by clicking Remove button.
Related Guide: How to Delete Duplicate Files on Mac with MacClean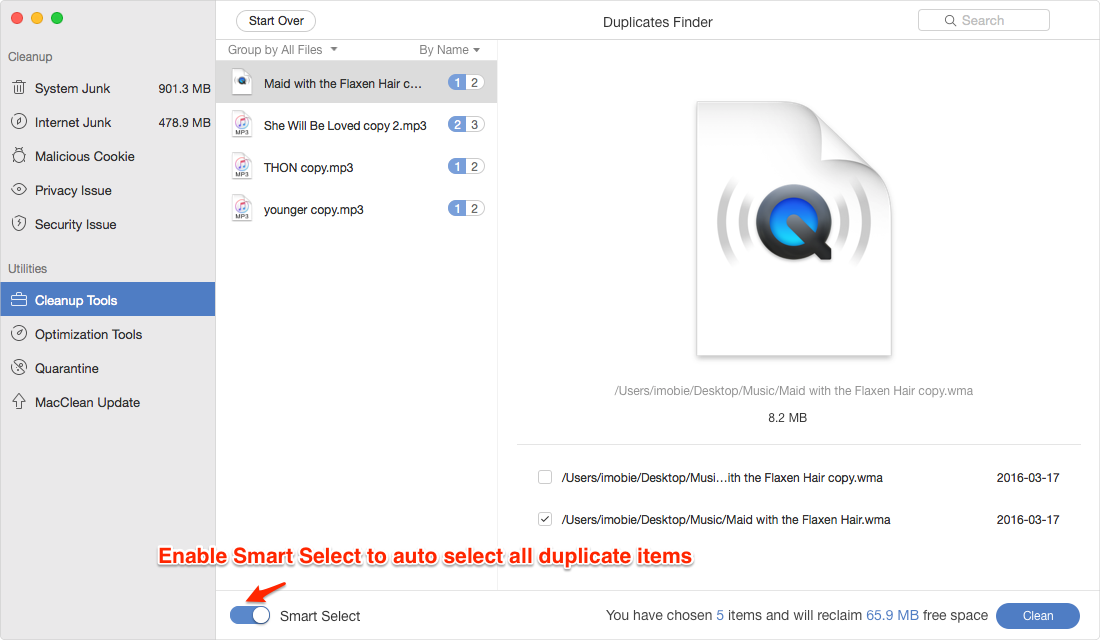 Automatically delete duplicates in iTunes Media folder
Step 3. Update your iTunes library.
All the media files without originals in iTunes will get exclamation marks when you want to play it. Now let's update the links and completely delete duplicates in iTunes.
Select all items and delete them but keep files in iTunes Media folder.

Keep files in iTunes library

Update iTunes Library by directly drag and drop "iTunes Media Folder" to iTunes.
The Bottom Line
Besides finding duplicate songs and videos in iTunes, MacClean can also pick out other kinds of duplicates on your Mac, no matter media files or Office documents, and no matter where they are on your computer. Why not download MacClean and have a try. Welcome any comments about cleaning iTunes duplicates, and your suggestions are important to us.
Top Posts on Cleanup and Speed Up Mac Computer
More Related Articles You May Like
Share Your Thoughts With Us