How to Transfer Music from iPod (touch) to Mac
Summary
This guide tells you a detailed tutorial to help you transfer music from iPod to Mac, no matter you are working with iMac, Mac Mini or Mac Pro, And this method also applies to iPhone and iPad.
Free download AnyTrans, and then follow this guide to transfer music from iPod or iPod touch to Mac mini, iMac and MacBook with a few clicks.
Apple introduced the first generation iPod Classic on October 23, 2001, with the slogan "1,000 songs in your pocket". From then on, people tend to upload every piece of music on iPod for listening on the move. The only pity is that an iPod is the terminal device serving merely as a portable media player.
Sometimes it could bring about extremely anxiety if you find no way to get music back from iPod to your Mac. Even though unlike the Windows, probably a Mac computer will never need a reformatting, the frequently hardware upgrade may cause you lost the music collection on your Mac too. So at this moment, as mentioned, you'll anxiously need a solution to help you transfer music from iPod back so that you can rebuild your music collections on your Mac, or restore iTunes library. Here is the solution!
Don't Miss: How to Transfer Music from iPhone to Mac Computer >
The Tool You'll Need
AnyTrans for Mac is everything you expected to get your music back from iPod to a Mac computer. Offering a fast and all-around solution to help you rebuild or merge music library from iPod nano, iPod touch, iPod classic, iPod shuffle, etc, AnyTrans for Mac carefully takes all your digital property into account, e.g.:
1. When transferring music from iPod to your Mac, it perfectly keeps all your personal data like ratings, play counts, tags, artworks.

2. AnyTrans for Mac does great in managing your iPod music, in case of any data on your iPod (touch) or your iTunes library, it also supports transferring music between iPod and iTunes library.

3. AnyTrans also allows you to transfer music from iPod to new iPod in just three clicks.

4. Besides music, AnyTrans also supports other iOS contents like, photos, videos, Audio Books, TV Shows, contacts, text messages, etc.

5. And AnyTrans supports all the models of Mac, like iMac, Mac Pro, Mac Mini, etc.
Start Trying AnyTrans for Mac Now >
How to Transfer Music from iPod to Mac/iMac/MacBook
1. Open AnyTrans for Mac > Connect your iPod to the Mac computer.
2. Click the Music tab on the homepage.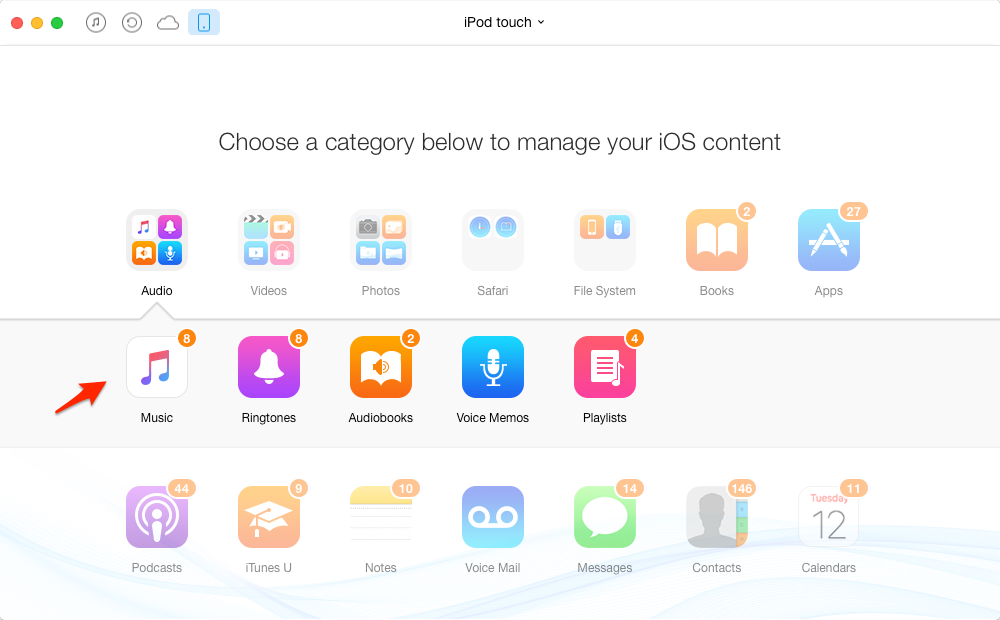 How to Transfer Music from iPod to Mac with AnyTrans – Step 2
If you are working with an iPod touch (from the old iPod touch 1 to the latest iPod touch 6), you need to click Audio firstly before click Music tab on Homepage of AnyTrans.
3. Preview the songs you want to transfer, click the To Mac button on the top-right to transfer your music from iPod or iPod touch to Mac.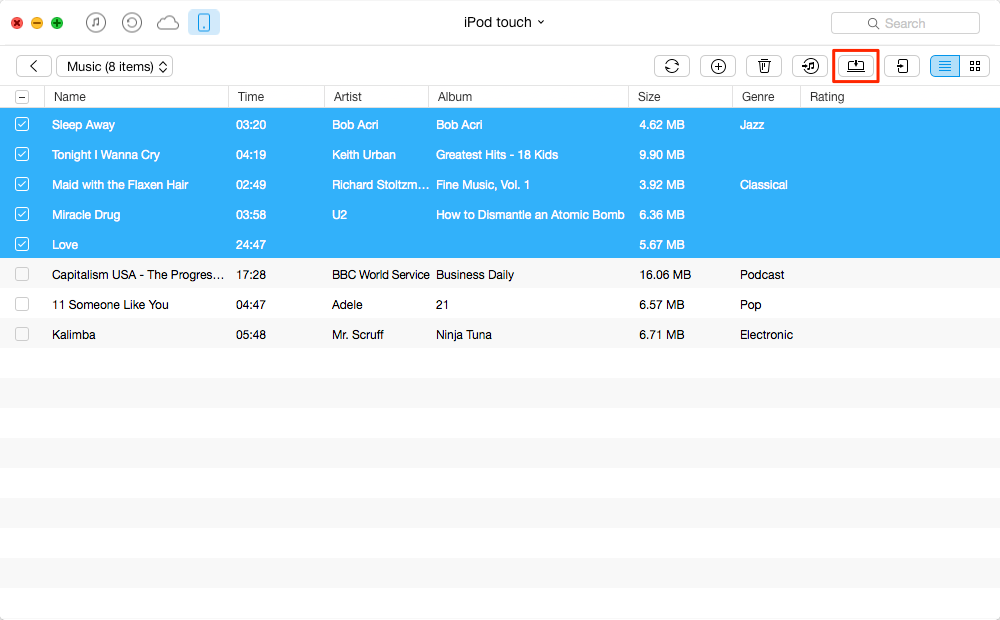 How to Transfer Music from iPod ( touch) to Computer Mac – Step 3
More iPod Music and Mac Related Articles You May Like:
More Related Articles You May Like
Share Your Thoughts With Us