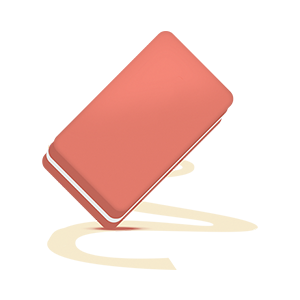 5 Things You Should Do Before Selling Your Used iPhone 5/5s/5c/4/4s or 6 (Plus)
[Last Updated on Sep. 13, 2016]
You may want to sell your old iPhone 6/6s/5/5s/4/4s and plan to upgrade to the new iPhone 7 that will his the stores this September. Or you are not satisfied with Apple products or services, and want to switch iPhone 5/5S/6 (Plus) to one easy-to-use Android phone. Whatever the reasons, there are some things we think you should do before putting your used iPhone to the market and selling it.
Step 1. Backup Data Before Selling Your iPhone
To save your valuable and important info/data, you are suggested to backup your iPhone to iTunes/iCloud or transfer some important files from used iPhone to computer before selling it.
1. Backup all data and settings on your iPhone
If you want to upgrade to new iPhone 6/6S (Plus), before selling your old iPhone, you'd better backup your iPhone to iTunes or iCloud, which is good way to save all of your iPhone data and setting. In addition, you can move all of this data and setting to your new bought iPhone by simply restoring from iTunes or iCloud.
if you are planning to switch iPhone to Android, backing up iPhone with iTunes or iCloud seems useless because Apple doesn't provide the way to access iPhone backup data, which means that you can't preview data on iPhone backup and get backup data to one Android phone. Although some iPhone backup extractor tools can extract files from iOS backup, they can't directly transfer files/data to Android, too.
2. Transfer important files/data to computer
Actually, you may found that not all of the data on iPhone are useful except some media files (such as songs, photos and videos) or some important private info/data (such as contacts, messages and notes). In this situation, you can use some iPhone transfer tools, such as AnyTrans (Supports 20+ iOS files), to extract specific data from iPhone to computer or another iOS device.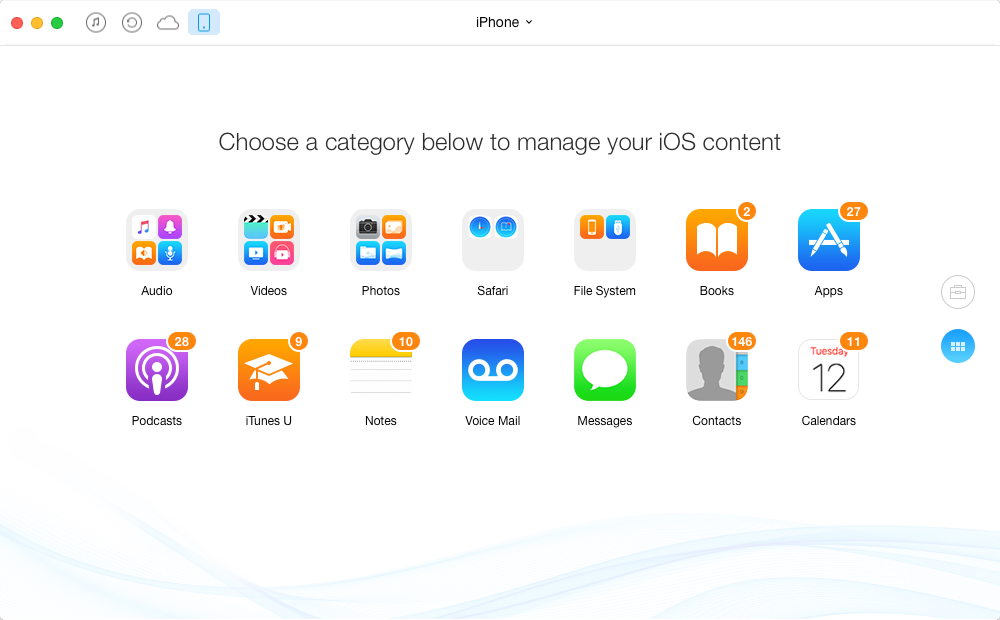 Transfer Important Data to Computer Before Selling iPhone
Related Tutorial: Backup iPhone to Computer with AnyTrans
Step 2. Erase All Content and Settings on iPhone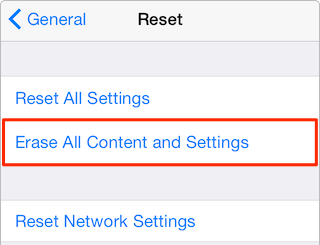 Erase iPhone Before Selling
After backing up everything important on your iPhone, now you can start your step to wipe out all of the data on you iPhone, which is one good way to ensure none of your personal data is illegal accessed/stolen when you don't know what kind of person the buyer is.
Erasing everything on an iPhone is super easy, just tap Setting > General > Reset > Erase All Content and Setting. In this process, you may be required to enter your passcode and Apple ID password.
Note: You'd better connect your iPhone to a charger when erasing your device if your iPhone is too old – It may take a long time.
After erasing, you can use PhoneRescue for iOS to check whether there is some personal info (such as call log and messages) that you can recover from your erased iPhone. And if you find some data you have deleted, you can try PhoneClean to wipe out these personal contents and information permanently.
Also Read: How to Recover Deleted Photos from iPhone 6/6s (Plus) >
Step 3. Remove Your SIM Card from iPhone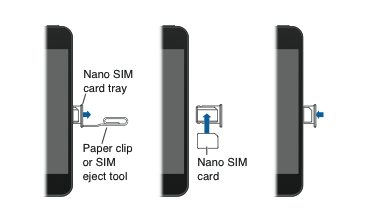 Remove SIM Card from iPhone - Apple.com
For people who using GSM network (AT&T, T-Mobile), their customer information is stored on the removable SIM card. There are also a part of CDMA 4G users who using SIM Card. So if you want to sell old iPhone, remember to move your SIM card from your old device to the phone you are using now, and transfer all network data and contacts on SIM Card to your new device.
It is very simple to remove SIM card from one iPhone by using an SIM eject tool or just a paper clip as shown to the right.
Step 4. Call Carrier to Deactivate Your iPhone
For people who using CDMA network (Sprint, U.S.Cellular and Verizon), it seems a little complicated to remove carrier information from used iPhone before selling it. Because you have to call your carrier and tell that you want to remove your iPhone from your account.
Below are the customer service numbers of some popular carriers:
Sprint: 888.211.4727
Verizon: 800.837.4966
Verizon: 800.837.4966
AT&T: 800.331.0500
T-Mobile: 877.453.1304
Step 5. Organize Accessories and Clean Your iPhone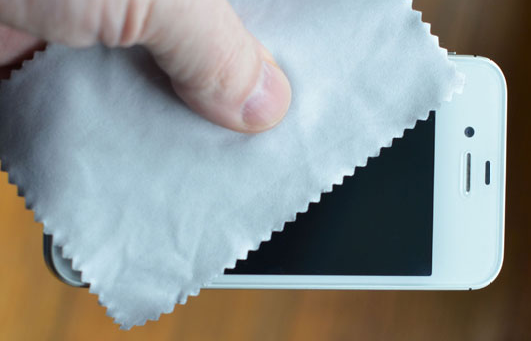 Clean iPhone Screen with Soft Cloth - everythingiCafe.com
Before selling iPhone, you should prepare/collect all accessories you can access around your iPhone, such as cable and charger. In this way, you can make your customer happy by quickly offering the accessories that he/she wants.
Additionally, one cleaned iPhone always fetch a better price, so you are suggested to do some cleaning before selling iPhone. It is a simple process to clean your iPhone – turn off your iPhone, unplug all cables, remove the dust inside the ports and wipe iPhone screen/surface with a soft, lint-free cloth.
More iPhone Related Articles