PhotoTrans
Guide
Online Guide
PhotoTrans is your handy iPhone photo transfer software, which is made to transfer, organize and showcase your photos between iPhone, iPad and computer. Read on this PhotoTrans online guide, and you'll get to know how to use it with easily and pleasantly.
For a quick PhotoTrans tutorial, please refer to this YouTube video:
Part 1: Welcome to PhotoTrans
Open PhotoTrans and you'll see its Welcome interface: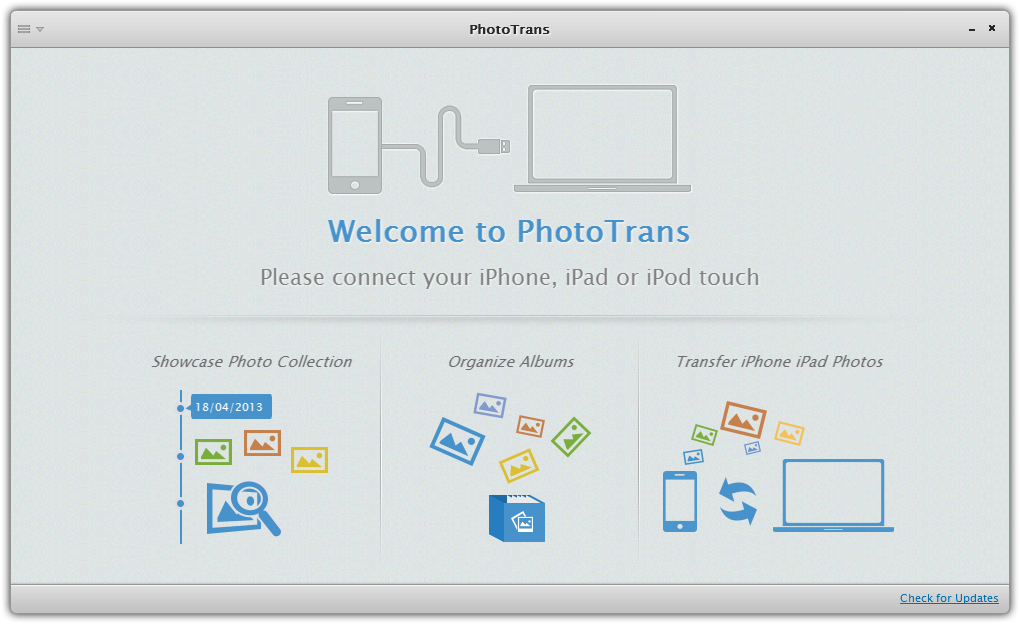 Now connect an iOS device (iPhone, iPad, iPod touch). Wait a second and PhotoTrans will show you the storage condition of your device. If PhotoTrans cannot find it, please check if your iTunes has been installed properly or give the full pack version a try.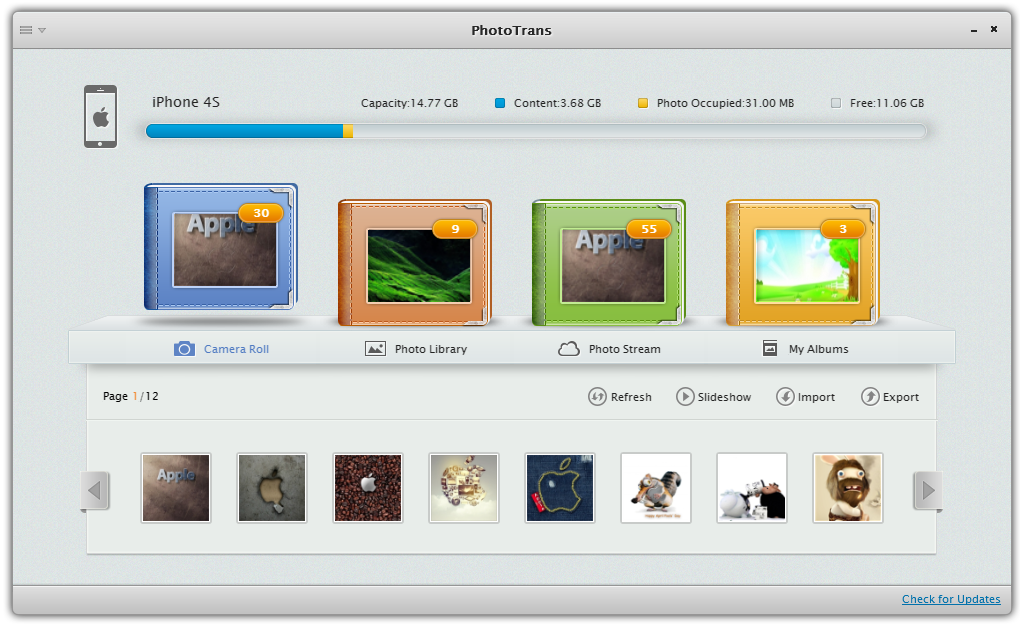 Quick Tip 1: How to Export Photos from Device to Computer
On the home screen, click Export: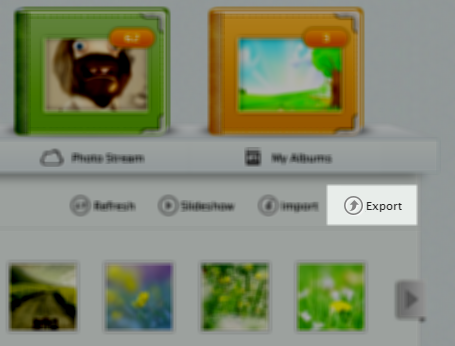 Select the photo library you want to export > Browse the destination folder for the output photo > Click OK to start: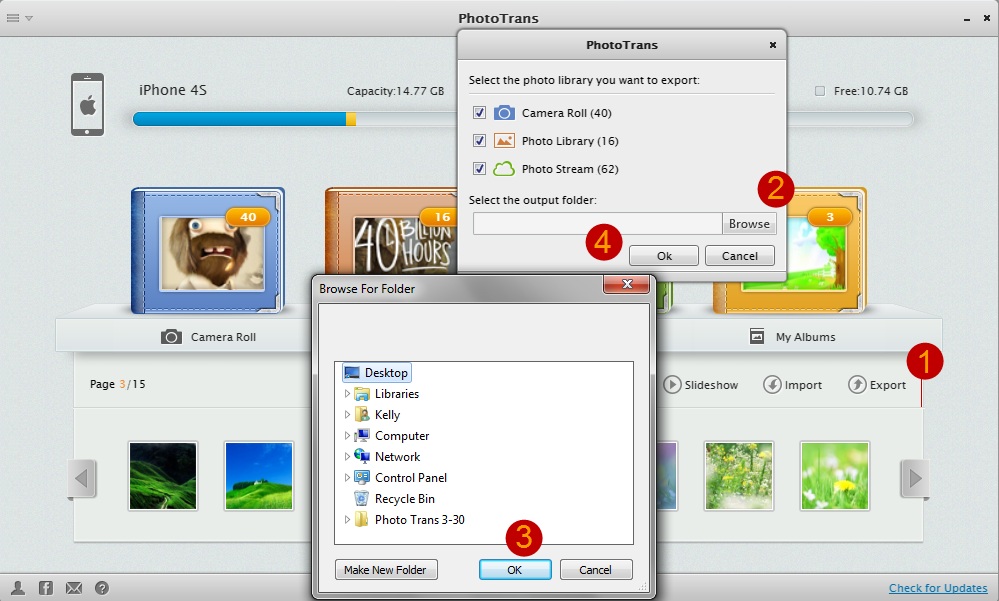 PhotoTrans' unique batch photo transfer allows you to move the whole library all at once. Thanks to modern USB 3.0 and Lightning interface technology, the transferring speed is as 3X as fast.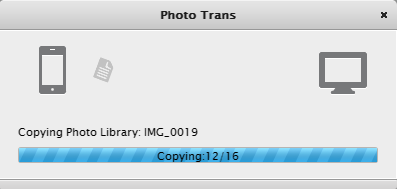 Quick Tip 2: How to Import Photos from Computer to Device
On the home screen, click Import: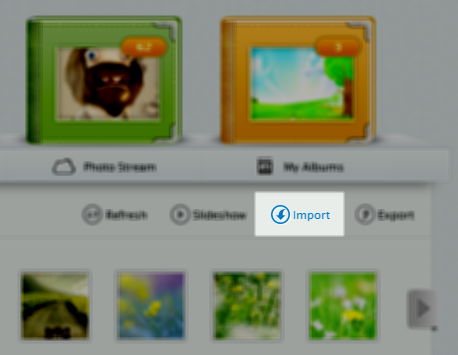 Choose if you want to transfer by photo or by folder > If by photo, click OK to continue > Select the photo (s) you want to transfer > Click Open (then the selected photos will be imported to Photo Library):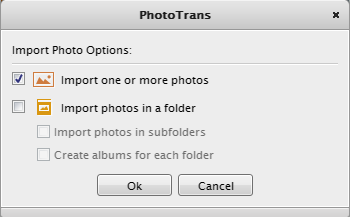 If by photo folder, you can choose if let PhotoTrans search the pictures in the subfolder by checking or unchecking "If search photos in a subfolder?" option > Click OK to continue > Select the folder you want to transfer > Click Open (then the selected folder will be imported to My Albums):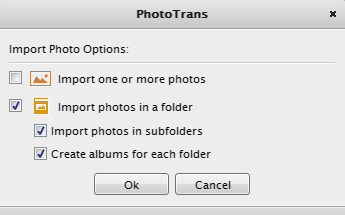 Tip: Importing photos to iPhone, iPad, iPod touch with PhotoTrans, you will not lose or erase original photo library. Best of all, you are now even set free from variety of iTunes limits, such as adding iPhone photos from any computer you want.
Quick Tip 3: How to Watch Photos on a Computer
To display photos on your computer, you can select a photo from home screen > Click Slideshow (or double click on the photo):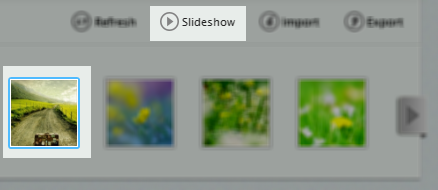 In the Slideshow screen, you can view the photos in original size, zoom in / out, slide to previous / next photo, set on auto-play, rotate, and export the photo.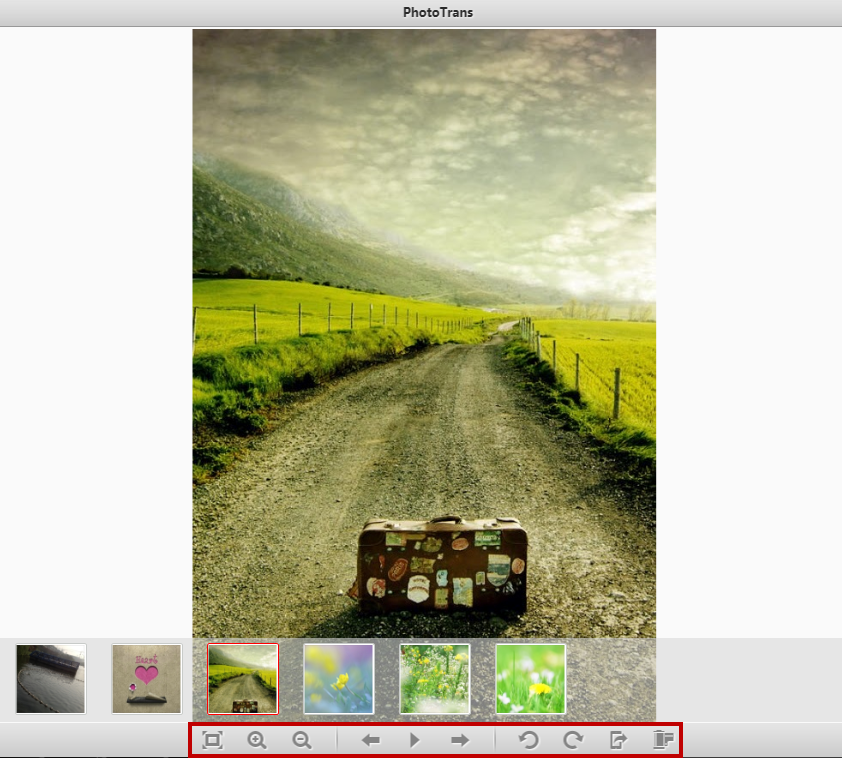 Tip: If you rotate a photo and export it to computer, then it will be saved as after rotating.
PhotoTrans supports the whole photo library on your device, including Camera Roll, Photo Library, Photo Stream, My Albums. Because each category serves in a different way, so PhotoTrans gives you different access permissions to each of them. For instance:
Part 2: Camera Roll
For the photos in this folder, you can export to computer, or view it in a slideshow: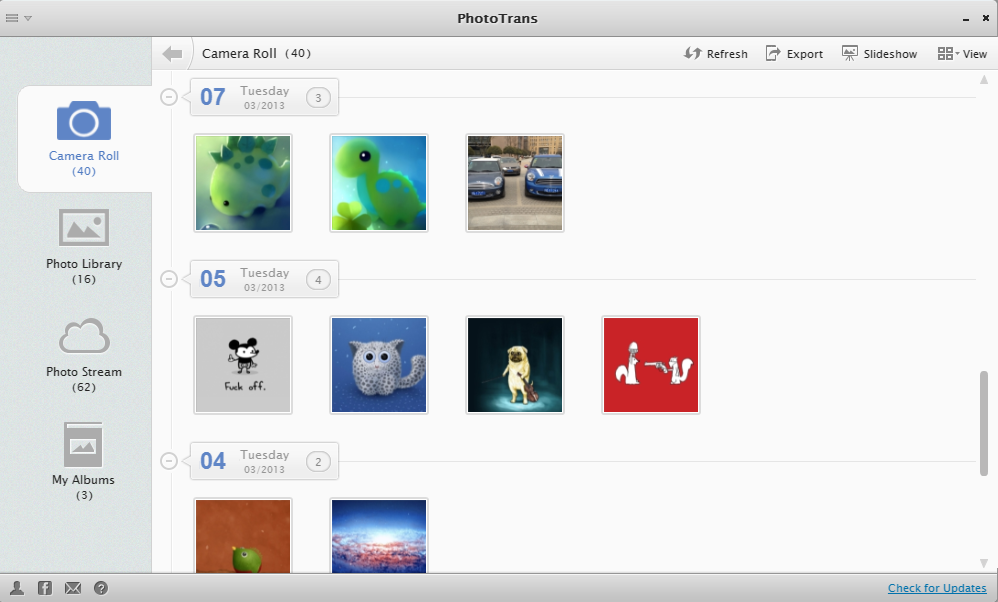 PhotoTrans displays your photo gallary by time-line by default. You can click the Plus / Minor tab to collapse or expand.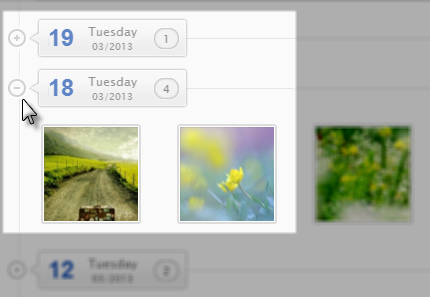 You can also view the gallary as thumbnail: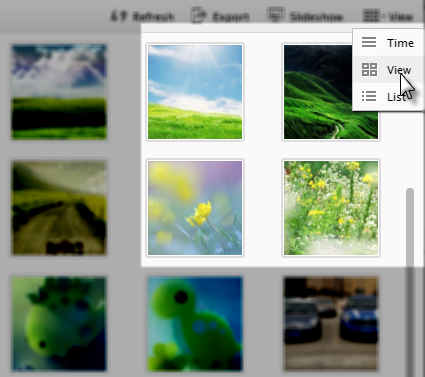 Or by details:

Part 3: Photo Library
You can import, export, delete photos or add them to another album. Or you can also view them in a slideshow.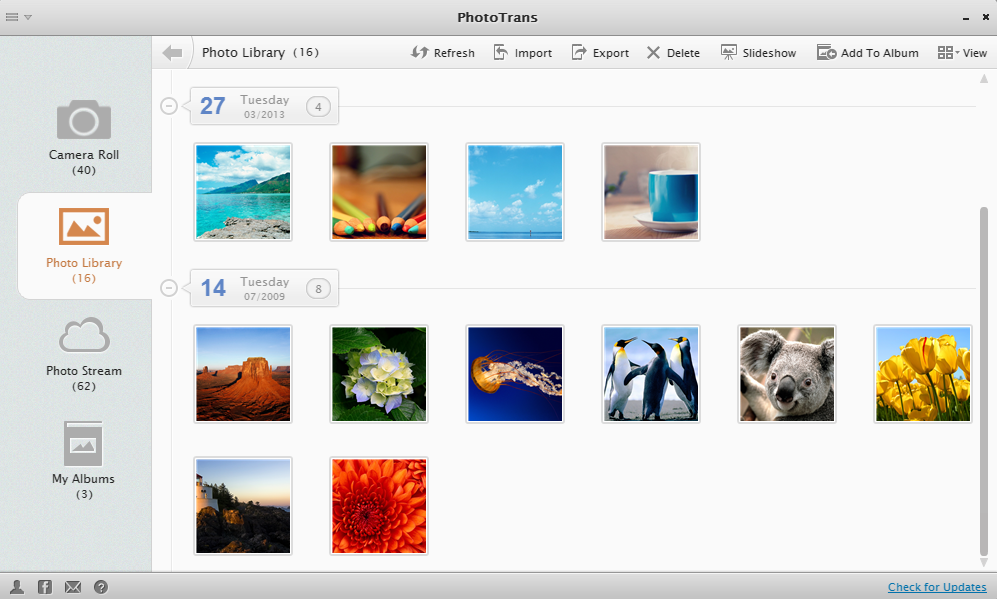 Part 4: Photo Stream
You can export or display the photos in Photo Stream: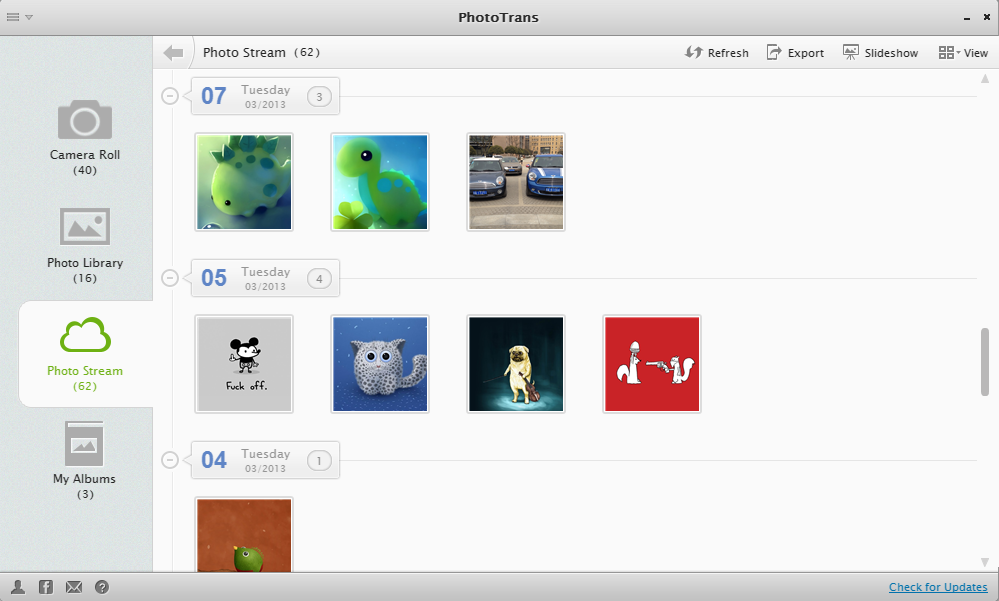 Part 5: My Albums
In the root screen, you can create, rename, import, export and delete an album (The album created by device cannot be removed. To do so, you need to operate deleting on the device).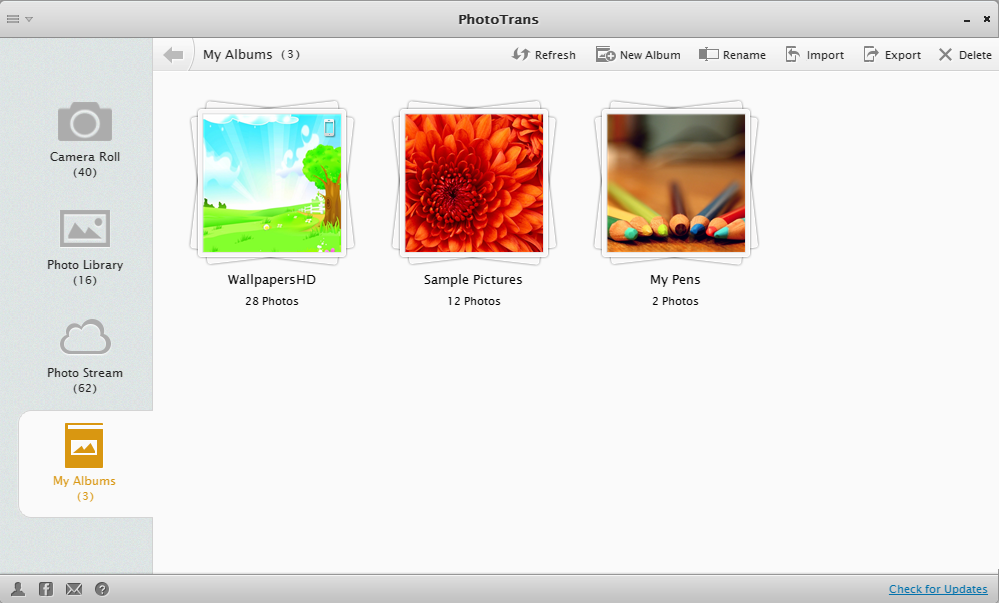 Quick Tip 4: How to Create a New Album
Click New Album > Enter a name for this album > Click OK: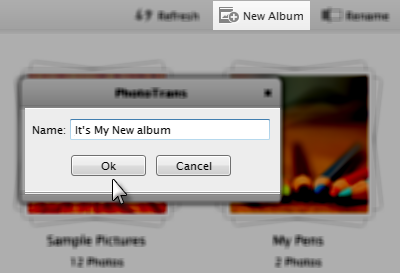 To put photos in that album, you can double click it:

Click Import > Select the photos you want to add > Click OK: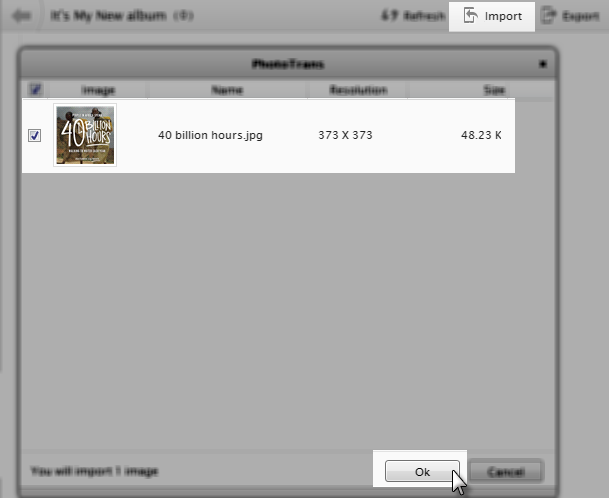 Now you'll see the new album on your device: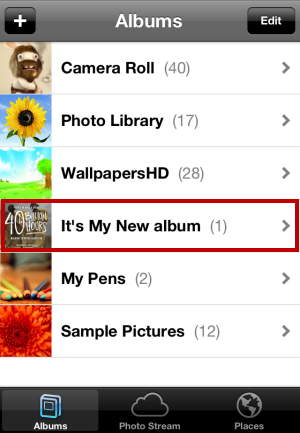 Tip 1: The reason PhotoTrans brings this feature is that organizing photos and albums on an idevice is very confusing. For example, you can only add the photos to the albums that created by device. While PhotoTrans just gives you more freedom.
Tip 2: There're two kinds of album. Album A is created by device, album B is imported by a third party software (you can see a device mark on album A). For the photos in a album created by device, you can export them to computer or view them in a slideshow. For the photos within an imported album, you can add, delete or export or view them in a slideshow.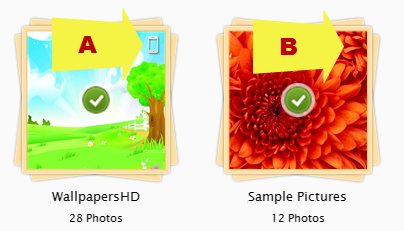 Other Useful Software for Your iPhone, iPad and iPod touch:
Except PhotoTrans, we also work hard to provide you with other useful and high-quality products, such as:
More iPhone iPad Photos Related Guides You May Like