How to Fix iPhone Photos Not Showing Up in iPhoto/Photos on Mac
Some of iPhone photos not showing up in iPhoto (Photos) on Mac after iOS 10/11 or even the latest iOS 12 upgrade? Read this post to learn some quick solutions.
By
Joy Taylor
|
Posted on: Dec. 05, 2017,
Last Updated: Dec. 20, 2018
Read in:
Read This Article in
Question: "Camera roll is about 4.4GB, and I want to save my pictures to the MacBook Pro. I connect my iPhone to MacBook Pro and iPhoto shows iPhone 6s yet displays the loading message. No photos are uploaded. I have just updated my iPhone to iOS 12, is that the problem?"
— A User from Apple Support Communities
iPhoto or the upgraded Photos app on Yosemite and later is the default app on Mac to transfer photos from iPhone to Mac. However, some users have met the same problem as the above user asked – photos on iPhone will not show up on Mac in iPhoto/Photos when connected the iPhone. This may also happen to users who have just updated to iOS 10, iOS 11 or even the latest iOS 12. In this guide, we will show you some easy tips to fix iPhone photos not showing up in iPhotos on Mac.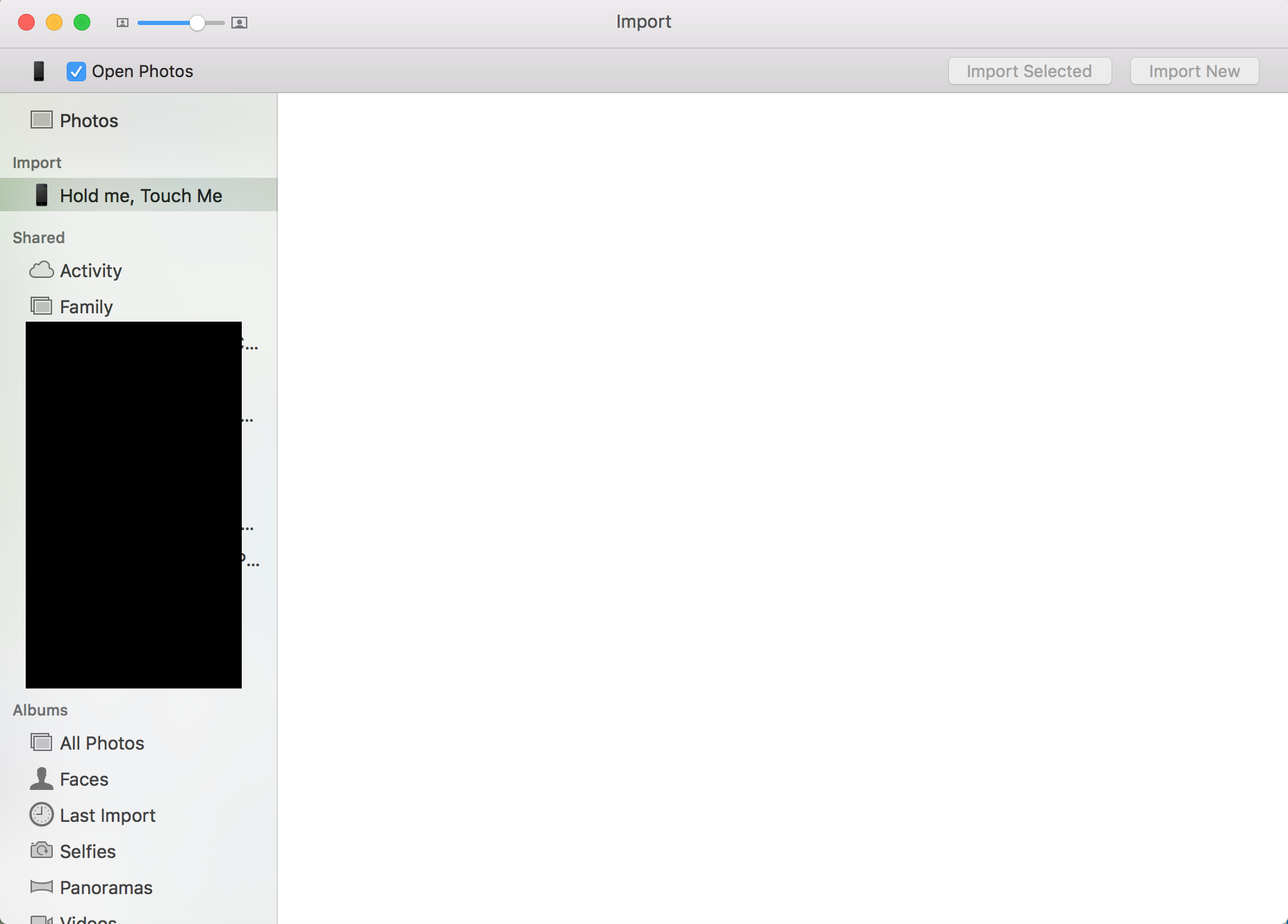 Photos Not Showing Up in iPhoto/Photos
Also Read: How to Transfer Photo Albums from iPhone to Computer >
Fixes to iPhone Photos Not Showing up in iPhoto or Photos on Mac
Here we collect some common fixes to this issue that once worked for some users.
Update your Mac and your iPhone system to the latest version. If possible update iPhoto to Photos (for Mac OS X Yosemite and later).
Unplug your iPhone, and quit iPhoto/Photos as well as iTunes. Then plug the iPhone back and restart iPhoto/Photos.
Turn off your Mac and restart again, also restart your iPhone.
Unlock your iPhone, and when you plug in with it a pop-up will show on your iPhone and ask whether to Trust or Don't Trust this computer. Tap on Trust.
If you use any other photo storage device on your Mac like DropBox, which can be conflicting with iPhoto. You should close DropBox or just remove it.
If you enabled iCloud Photo Library on your Mac and iPhone your photos might already be on your computer. That's why those photos do not show up in iPhoto.
A Better Solution: Export Your iPhone Photos with an iPhoto/Photo Alternative
If photos still not show up on your Mac, you can try an alternative tool – AnyTrans for iOS to transfer your iPhone photos to Mac. With AnyTrans for iOS, managing iPhone photos on Mac/PC computer will become much easier and quicker.
1. It just needs a few clicks to makes your iPhone photos show up on PC/Mac and allows you to import photos from iPhone to the computer, including Camera Roll, Photo Library, Photo Share, Photo Stream, Live Photos, Screenshot, Albums, etc.
2. Guarantee you fast transferring speed. AnyTrans for iOS allows you to migrate your entire iPhone photos to Mac with lightning speed – transferring 100 pictures in only 3.4 seconds
3. You are also enabled to transfer photos from iPhone to iPhone or from computer to iPhone without erasing. Now take a tour with AnyTrans for iOS >
To Import Photos from iPhone to Mac Instead of iPhoto/Photos:
Step 1Open AnyTrans for iOS and connect with your iPhone > Click Photos and select a category or more.
Step 2For example, select Photo Library. Here you will see buttons at the top right corner, click the Send to Computer button to import photos from iPhone to Mac.
Also Read: How to Delete Photos from iPhone Photo Library >
The Bottom Line
If photos not showing up in iPhoto and you want to transfer iPhone photos to Mac, you can try AnyTrans for iOS. If you have any problems with this guide, please contact our support team via email.