How to Delete Text Messages on iPhone 6/6s in 4 Ways
Q: "I am trying to delete individual messages from messages rather than the whole conversation but I am not getting the option and the only thing I can do is delete the whole conversation. I also want the messages permanently deleted from my iPhone so no one can recover them. I am using an iPhone […]
By
Faye Clarke
|
Posted on: Nov. 05, 2018,
Last Updated: Oct. 21, 2019
Q: "I am trying to delete individual messages from messages rather than the whole conversation but I am not getting the option and the only thing I can do is delete the whole conversation. I also want the messages permanently deleted from my iPhone so no one can recover them. I am using an iPhone 6s, iOS 9."
— A User from Apple Support Communities
For iPhone users, almost everyone receives many text messages or iMessages from others, some are from our family or friends, some are service messages, and the others are advertising or junk messages. We may delete those unwanted messages at once after reading it, while most of time we forgot to delete them and keep them in messages box, and then one day we find there are too many junk messages on our iPhone. At this moment, you may wonder how to delete messages on iPhone, or how to delete multiple messages at once. In this guide, we will focus on how to delete text messages on iPhone 6/6s, read this guide to get four solutions to delete messages from your iPhone 6/6s and even for permanently deletion.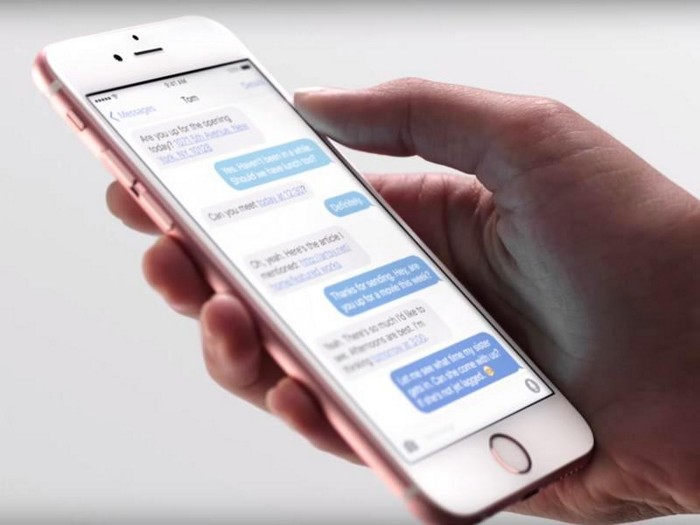 Image Credit: zomazi.com
The new iPhone 8 and iPhone Plus will hit the stores next week, if you are planning to get one, then you may be interested in this guide: How to Transfer Data to New iPhone 8 (Plus) >
Also Read: How to Transfer Text Messages from iPhone to Computer >
Method 1. How to Delete Messages on iPhone 6/6s within the iMessages App
Notice: iMessage app enables you to remove multiple messages only by selecting one by one manually. If there are hundreds of messages, or more to delete, using it would be such a waste of time. Besides, deleting messages in iMessage does not mean removed messages don't existed any more. They would exist on iPhone 6/6s till to be overwritten. If your plan is deleting all messages at once, or permanently, please move to method two.
Deleting messages on iPhone 6/6s in the iMessage app is always the first way we would think of. So follow the steps below to make it.
Step 1. Go to Messages app from the home screen.
Step 2. Tap "Edit" button on the top-left.
Step 3. Select the messages you want to delete.
Step 4. Click the Trash Can icon on the bottom-right to delete multiple message.
Method 2. How to Delete Messages on iPhone 6/6s with PhoneClean
PhoneClean is the world's first iOS cleaning & optimization tool that is capable of clearing unwanted files from iPhone, iPad safely and easily.
1. Permanently delete text messages from iPhone 6/6s (Plus) and make sure the deleted items cannot be recovered.
2. Massively or selectively delete messages threads from iPhone 6/6s as you need.
3. Besides messages, it also helps delete notes, call history, and voicemails from iPhone 6/6s.
4. Clear unneeded junk files like app junks, user caches, large and old files, Safari history, cookies and more from iPhone 6/6s to free up space.
Step 1. Download and install PhoneClean on your computer. Open up it, and connect your iPhone 6/6s (Plus) to computer via a USB cable. Select Privacy Clean, and click Scan button.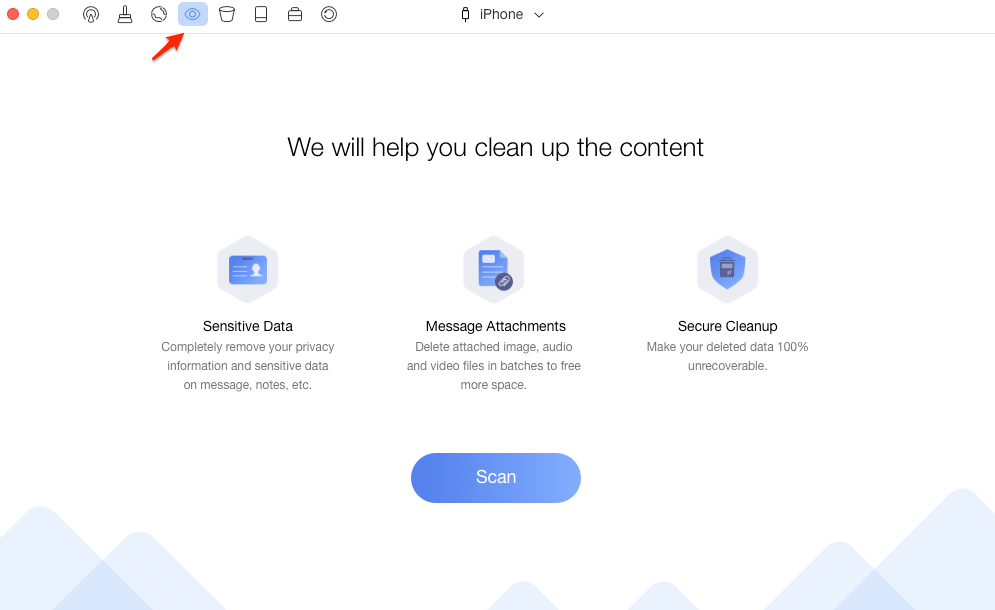 How to Delete Messages on iPhone 6/6s (Plus) – Step 1
Step 2. After the scan is over, double click Sensitive Data to view the messages on your iPhone. Choose the messages you want to delete, and then back to the result page.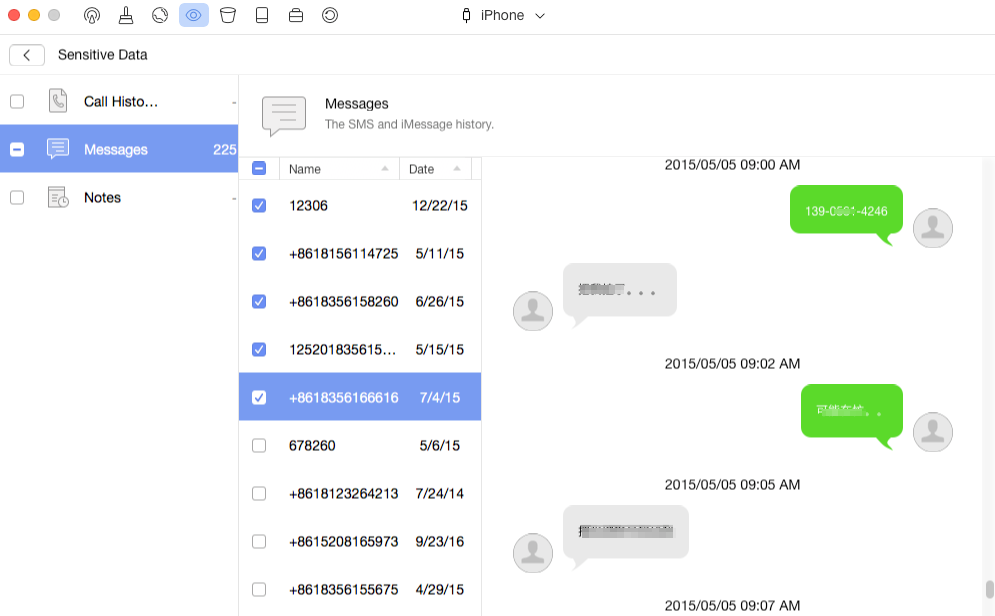 How to Delete Messages on iPhone 6/6s (Plus) – Step 2
Step 3. Click the Clean button to remove messages from iPhone 6/6s.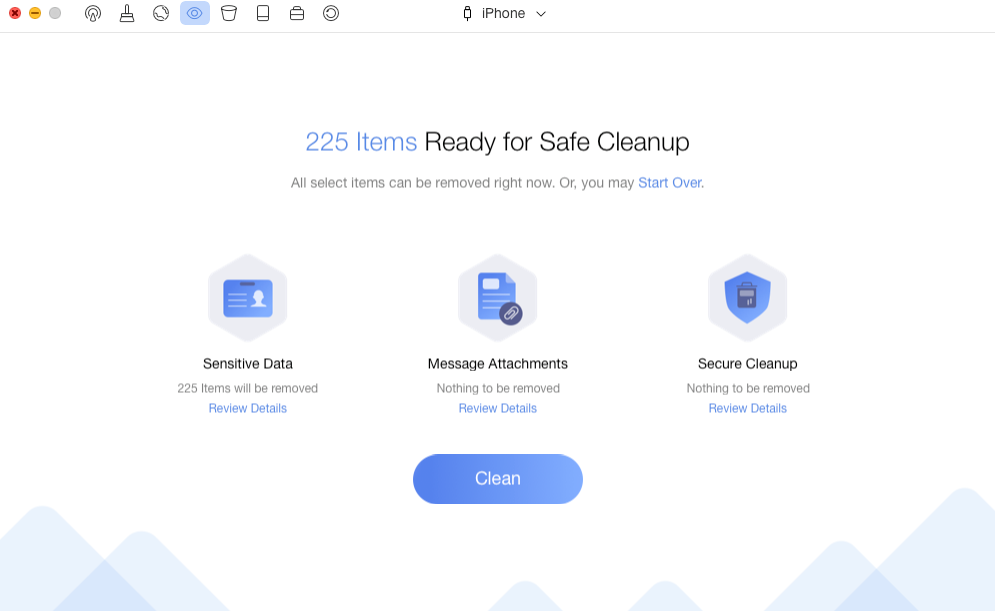 How to Delete Messages on iPhone 6/6s (Plus) – Step 3
If some valuable messages are mistakenly deleted from your iPhone, follow the guide to recover the messages as soon as possible. The sooner you take action, the bigger chance you can get them back successfully.
Method 3. How to Delete a Specific Message of One Person on iPhone 6/6s
If you want to leave your conversation intact, but simply delete a specific message from within it, follow the steps to do that.
1. Enter the conversation that has the messages you want to delete.
2. Tap and hold on a message until the menu pops up. Then tap More.
3. Next to each message, a small circle will appear.
4. Tap the circle next to the messages you want to delete, tap the Trash Can icon on the bottom-left to delete the individual messages.
Method 4. How to Delete All Old Messages from iPhone 6/6s in iOS 8
The new iOS 8 allows you to delete all old messages on your phone all at once.
1. Go to "Settings" app from the homepage.
2. Go to "Messages".
3. Scroll down to "Message History". There are three options: 30 Days, 1 Year, and Forever. You can choose to delete all messages older than 30 days, or all messages older than a year old.
4. Confirm that you want to delete the old messages and attachments by clicking the "Delete" button.
Note: Deleting messages from iPhone is not only an advisable way to free up space but also a good way to keep personal privacy. However, the messages are still stored on the iPhone data base after we delete them from the iPhone, when search the messages from the Spotlight, you can still see the messages. So if you wish to permanently delete messages on iPhone 6/6s, not being recovered and found by others, please refer to method 2.
Also Read: How to Make Your iPhone Run Faster >
The Bottom Line
PhoneClean would be the best tool to speed up and optimize your iPhone 6, why not give a shot on it now? Any question on this guide or PhoneClean is warmly welcomed, at the same time, don't forget to share this guide with your friends.