How to Fix iPhone iPad Screenshot Not Working on iOS 11/iOS 12
Some iPhone users reported that screenshot not working on their iPhone or iPad after updating to iOS 11,4,1 and people may also get this problem after updating to iOS 12. Read this guide to get some quick solutions.

Roger Smith
Posted on: Sep. 13, 2018,
Last Updated: Oct. 24, 2019
iOS 12 is on the way, you are suggested to know the pros and cons of iOS 12, including the iOS 12 bugs and issues you may meet, so that you can make a good decision on whether to update to the new iOS 12 on iPhone iPad.
I upgraded my iPhone 5 to iOS 11.4.1 and now I can't take a screenshot on any screen. It works well before update. Any help is appreciated.
After updating your iPhone or iPad to iOS 11.4.1, it seems to trouble you that screenshot is not working properly. Maybe you tried to take a screenshot but just locked your iPhone or activated Siri. Actually, this is only one of the common iOS problems you may meet on an iPhone iPad. And it often happens after people update their device to new iOS software update, like iOS 11.4.1 or iOS 12.
In this iMobie guide, we will show you how to fix screenshot not working on iPhone iPad with some easy solutions.
How to Fix iPhone iPad Can't Take Screenshot
1. Press down the Power button and Home button simultaneously as usual, but press the Home button one second after pressing the Power button.
2. Restart the iOS device: For iPads, you can Hold down the on/wake button and Home button until the Apple logo appears. However, as Apple has made some changes to buttons of each generation of iPhone, thus the way to restart an iPhone is a little bit different. If it doesn't work, you can force restart your iPhone.
3. Take screenshots with Assistive Touch
Step 1. Enable Assistive Touch on your iPhone/iPad: Setting > General > Accessibility > Assistive Touch. Toggle the button of Assistive touch until it appears green.
Step 2. You will see the Assistive Touch button on your screen. Tap on it > Device > More > Screenshot.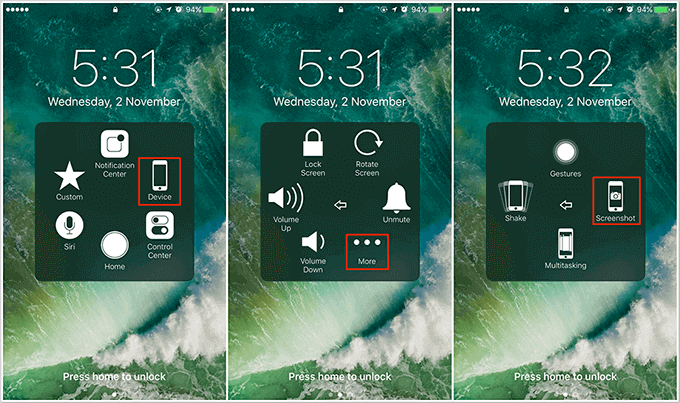 How to Fix iPhone iPad Can't Take Screenshot with Assistive Touch
4. For iPhone 6s and later, you can add Screenshot to 3D Touch Actions to take screenshots: Setting > General > Accessibility > Assistive Touch > enter the Customize the Top Level Menu> 3D Touch Actions > and check the "Screenshot". Then press strongly on the Assistive Touch icon and the screenshot should be taken.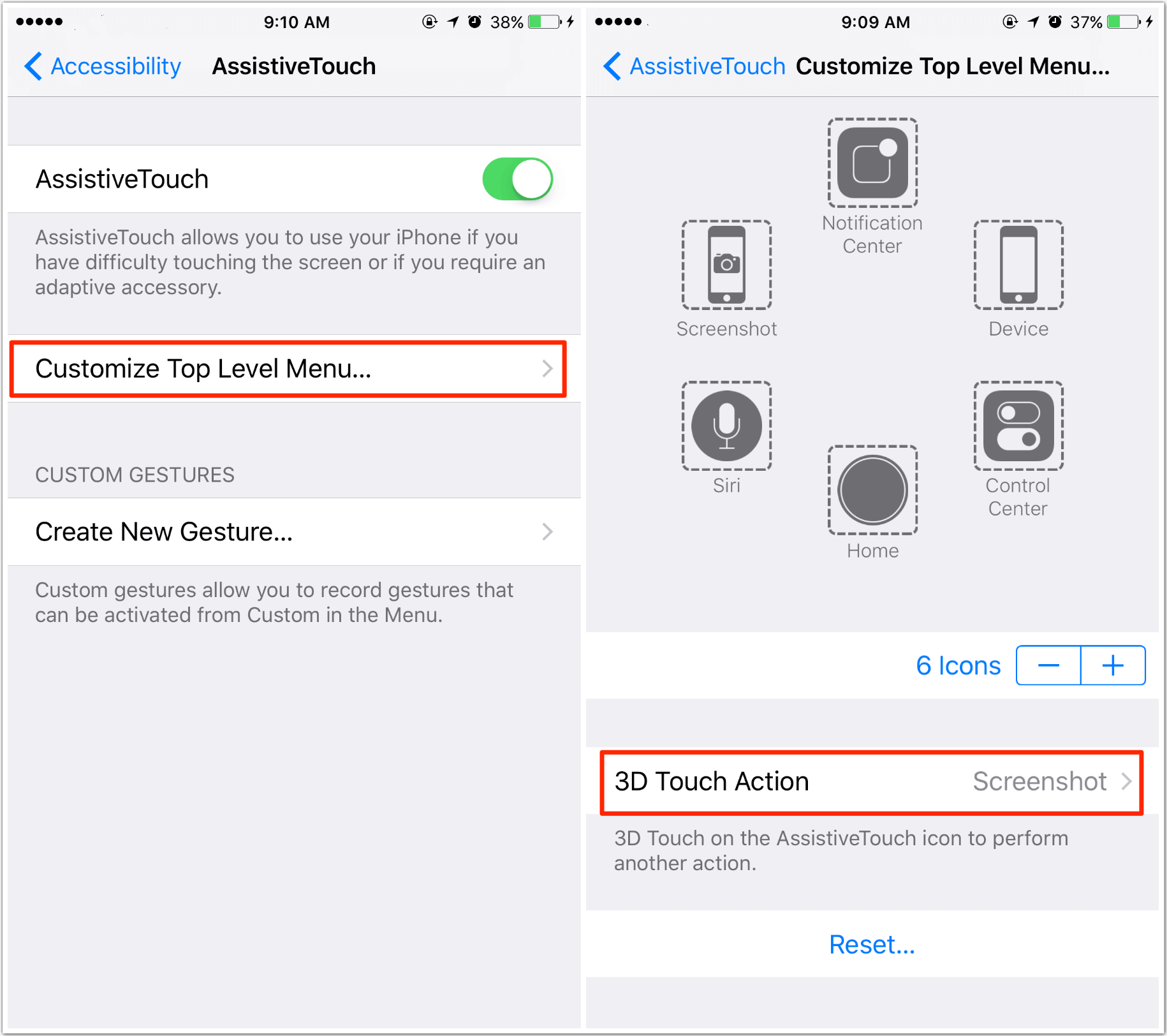 How to Fix iPhone iPad Can't Take Screenshot with 3D Touch Action
Tweet the solutions to help more people fix this iPhone screenshot issues, or share your opinion on this topic.

To manage all photos on your iOS devices like screenshots, camera roll, photo stream, photo library and more, you can try AnyTrans. It is a File Manager for iOS devices, allowing you to transfer screenshots and other photos from iPhone to computer or to another iDevice in a direct way. AnyTrans sorts your photos in Albums and you can find all screenshots without efforts. In addition, you can also transfer photos from computer to iPhone 7 without wiping existing pictures.
To manage your iPhone screenshots/photos, you need to download AnyTrans firstly on your computer. Then run it and connect with your iPhone. Go to the page as below, and choose Photos.
You can click Slofie and choose screenshots or other photos, then click Send to PC/Mac button or to iDevice button to transfer them to the computer or another iDevice.
You May Like: