How to Fix Touch ID Not Working on iPhone iPad After iOS Update
After iOS 12/11. update, find unable to activate touch ID or unable to complete touch ID setup? This guide collects the most common touch ID problems/issues and solutions to help you out.
By
iMobie
|
Posted on: Sep. 06, 2018,
Last Updated: Sep. 03, 2019
Touch ID is a way to secure your iPhone or iPad and make purchases in the App Store or iTunes Store. It is available on iPhone 5s and later as well as iPad mini 3/4, iPad Air 2 and iPad Pro running in iOS 12, iOS 11 and iOS 10.
However, many iPhone users reported that they failed to activate Touch ID after updating to iOS 11 or the latest iOS 12, so to help more people solve this problem, here in this guide, we will show you how to fix Touch ID failed issues which will work on iOS 10/11 even the latest iOS 12.
Don't Miss:  How to Fix: iPhone/iPad Cannot Connect to App Store >
If you don't like this "Press home button to unlock" feature, you can also open your iPhone with "Rest Finger to Open" and "Raise to Wake", which allows you to unlock iPhone with Touch ID (Fingerprint) without pressing the home button. Raise to Wake only works for iPhone SE, iPhone 6s/6s Plus, and iPhone 7/iPhone 7 Plus.
To enable Rest Finger to Open: Settings > General > Accessibility > Home Button > Toggle Rest Finger to Open to ON.
To enable Raise to Wake: Settings > Display & brightness > Toggle Raise to Wake to ON.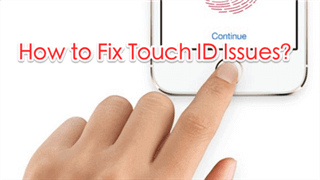 How to Fix Touch ID Not Working on iOS 11/12
Based on the former iOS 8/9/10/11 update experience, there are various types of issues or bugs you may meet when downloading iOS 12, for instance, iPhone frozen during update, Wi-Fi not working after updating, or iMessage problems, etc.
How to Fix Touch ID/Fingerprint Not Working on iOS 11/12
1. Go to Settings > Touch ID & Passcode > Enter your Passcode. Then turn off the iTunes & App Store. Reboot your iPhone or iPad. Go back to Touch ID & Passcode in Settings and turn iTunes & App Store back on. Tap on Add a Fingerprint to add another fingerprint.
2. Remove and re-add fingerprints: Settings > Touch ID & Passcode > Enter the passcode of your device > Scroll down to find fingerprints. Tap on the fingerprint, which you want to delete and then Tap on Delete.
3. During the registration process, make sure your finger surface gets scanned and try the different angle.
4. If your finger is sweat or there is liquid on your iPhone, you need to wipe both your finger and your home button.
5. Force Restart your iPhone or iPad: Hold down the Home and Wake/Sleep buttons at the same time for about 15-20 seconds until the Apple logo appears.
6. If a restart does not help try a Restore. First backup your device using iTunes. Then connect your iDevice to computer and launch iTunes to restore your iPhone.
You May Also Like:
How to Bypass iCloud Activation Lock on iPhone/iPad via 2 Ways >
How to Recover Data from Locked/Disabled iPhone/iPad (Even without Backup) >
How to Fix iPhone iPad Won't Turn On After iOS 10/11 Update >
The Bottom Line
If you meet any other new issues with Touch ID after iOS 11/12 update, you can share with us in the comment section. And any suggestions or fixes for Touch ID failed are welcomed. In case that you may lose some important iOS content when updating to iOS 11/12, we provide you with Three Ways to Retrieve Lost Data on iPhone/iPad.