How to Use Siri
Summary
If you want to use Siri on your iPhone but not use it so well, don't worry! Follow this article carefully, you'll understand how to make full use of iPhone Siri.
Download PhoneClean to your computer before you try to make your iOS device faster with it, and then read this tip on how to use Siri better.
About Siri
Siri is a personal assistant that resides on your iPhone. It responds to the words you speak to it rather than the typed requests. Just like you can talk to your iPhone to command a range of tasks, Siri could also talk back at you with human-like voice. You will find it so interesting to interact with Siri.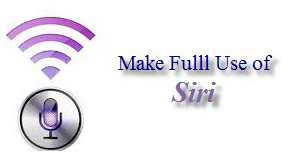 How to Use Siri Better
- Send text messages and e-mails
- Get your texts read to you
- Have your spoken words transcribed into text
- Search the web for anything and everything you want
- Make and access notes
- Initiate phone call and FaceTime video calls
- Access music or podcasts by speaking, as well as control audio playback
- Change events
- Set Alarms
Don't Miss: More Tips on Siri
Set up Siri
You have no idea what exactly Siri could do for you until you try it out by yourself. But before launching Siri, the first thing you need to do is set up Siri on your iPhone.
1. Turn on Siri App if this is the first time you use it.
Tap Settings > Tap General > Slide the button next to "Siri" from the "off" state to the "On" sate. Now Siri on your iPhone is enabled.
2. Checking other settings
- Choose your language you prefer: For example, if you have a special English accent, you have options for English (Australia), English (Canada), English (United Kingdom) or English (United States).
- Select your gender: Siri is capable of telling the voice from male and female.
- Enable Raise to Speak. This setting means you can simply pick up the iPhone when it is awake and hold to your ear as if making a call. Once you do so, Siri will activate.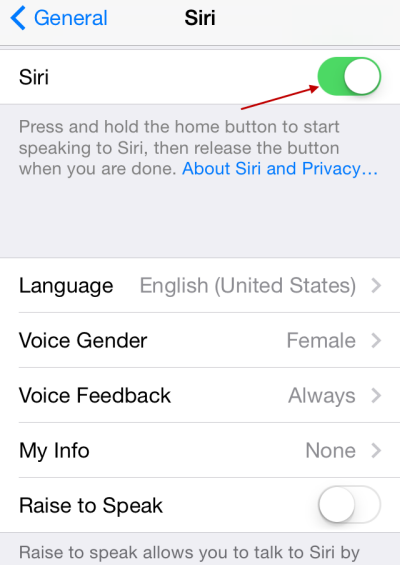 How to Use Siri
Now that you've finished the appropriate settings for Siri, you can start to interact with it for the commands you want it to deliver for you. Start issuing commands by holding the Home Button. If you have an iPhone headset or Bluetooth device, you are allowed to launch Siri by pressing the Phone button. Also, you can choose to launch it by simply holding the phone up to your ear as you've turned on the Raise to Speak.
After reading this tip on how to use Siri, have you got a clear idea about your iPhone Siri? If you have any questions, please leave them in the comments section.
You May Like: How to Turn Off Siri App Suggestions in iOS 10 >
More Related Articles You May Like
Share Your Thoughts With Us