How to Fix "iPhone Reminders Not Working" with 5 Solutions
This guide will show you 5 solutions about how to fix iPhone reminders not working. You can check the solutions one by one to see if they can help you out.

Joy Taylor
Last Updated: Apr. 14, 2020
iPhone App Issues & Tips
Mail Apps Issues
Sound Related Issues
There is no doubt that Reminders is one of the most practical applications on iPhone iPad. It can remind you of any event, such as a meeting, an appointment, a holiday event, etc. It is very important and indispensable, especially for businessmen and those people who are very busy every day. Because Reminders remember all the events and remind you at the right time, it just likes a friend. However, sometimes, you may find that the Reminders on iPhone not working as it used to be. There are many reasons for this error; the following text will show you how to fix iPhone Reminders app not working with 5 solutions.

How to Fix iPhone Reminders Not Working Issue
To fix this iPhone reminders app not working issue, this guide sums up five practical solutions. Let's check one by one.
Also Read: How to Fix iPhone iPad Keeps Restarting Randomly >
Solutions for Fixing iPhone Reminders Not Working
1. Reboot your iPhone. The first method is the simplest, but it works in many times. Try to restart your iPhone by pressing the power button until "slide to power off" appears on the screen. Then slide to power off, after a while, turn it back on.
2. Turn off Reminders app from iCloud, and then turn on it again. This seems stupid, but removing reminders from iCloud will also remove some notification errors, so, this simple solution sometimes works well. To do this, go to Settings > Apple ID > iCloud > Reminders. Turn it off and turn it on.
3. Remove reminders from widgets notification on screen. To do this, you can scroll down from the top of your screen, and scroll down to the bottom of the screen till you see the Edit button. Tap on Edit, you'll see Reminders are listed there, then tap on the "-" button, and hit Remove. Now, the Reminder widget will no longer comes up on that screen.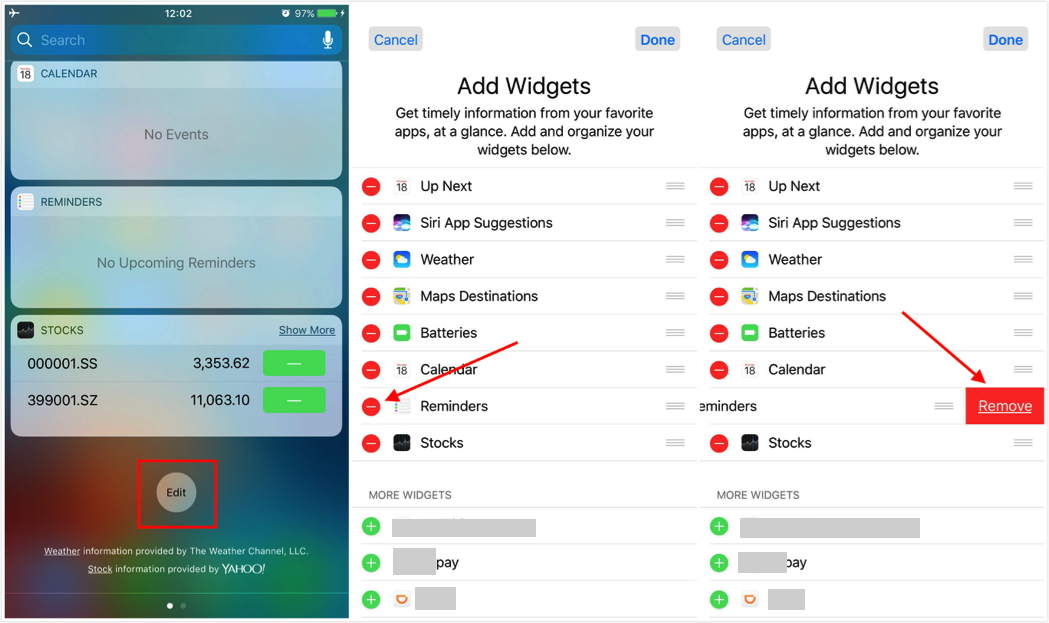 Fix iPhone Reminders Not Working By Removing It from Widgets Notification
Next, you need to make sure that you have Banners or Alerts set for your Reminders under the Notifications Settings. After that, restart your iPhone, now, it can start alerting you again like you are used to.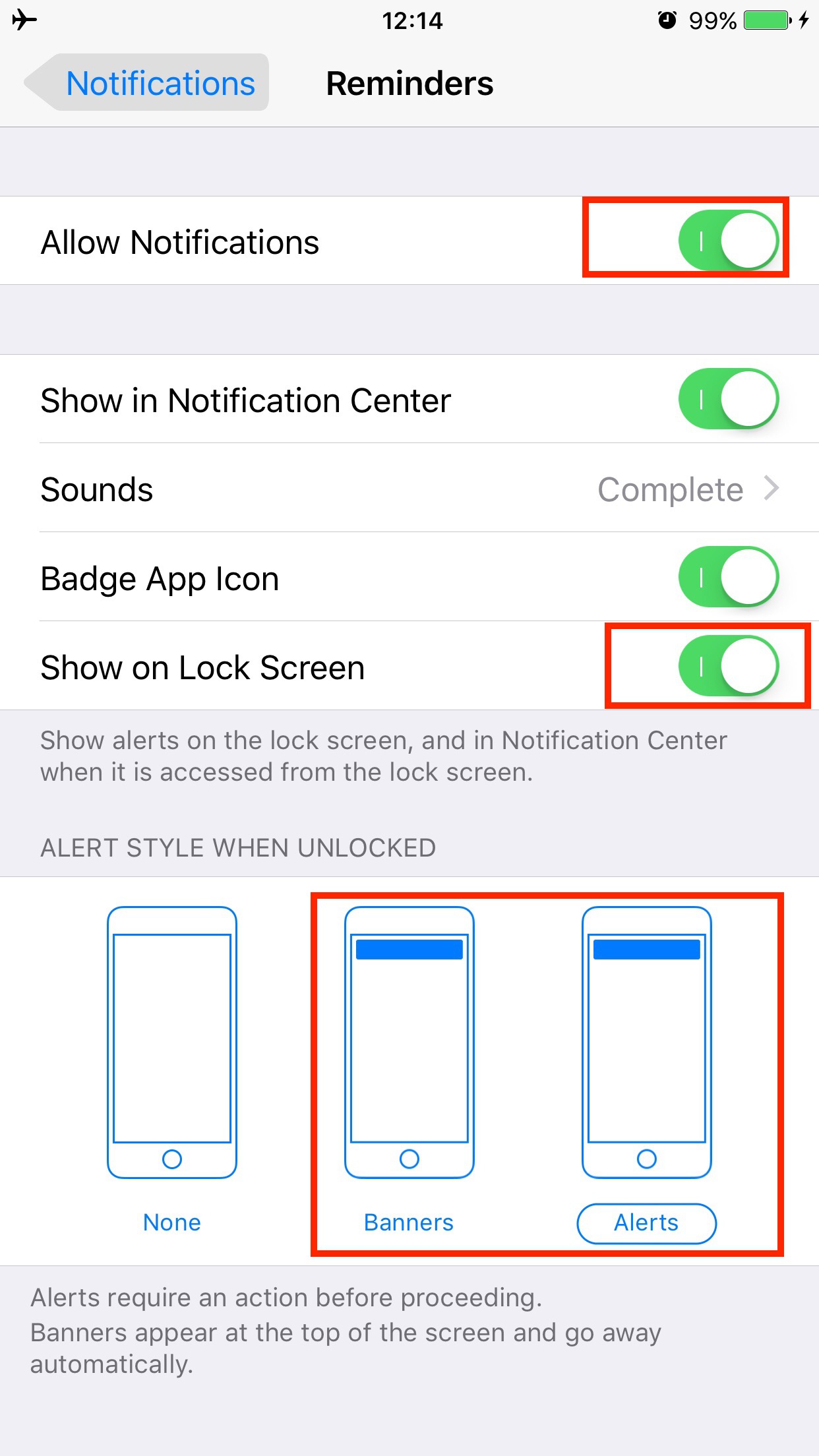 Fix iPhone Reminders Not Working By Checking Notification Settings
4. Reset your iPhone. If the above three solutions can't fix your problem, then you can have a try on resetting your iPhone. This method won't remove any data from your iPhone. Simply go to Settings> General> Reset> Reset All Settings.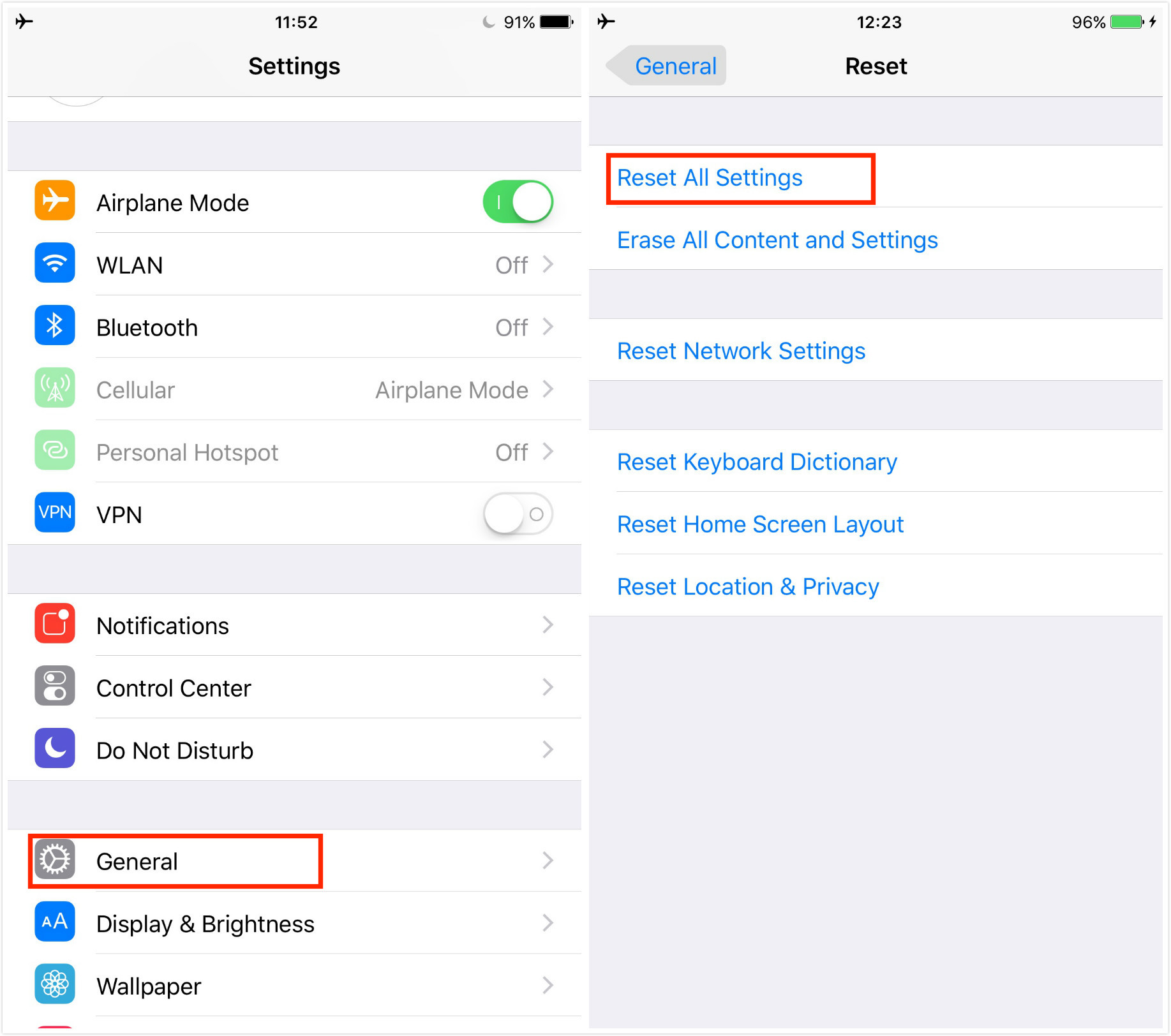 Fix iPhone Reminders Not Working By Resetting iPhone
5. Upgrade to new iPhone or newest iOS. When facing this iPhone reminders not working issue, many iPhone users choose to upgrade their iPhone or the iOS version of their device. You know that the new iPhone X and iPhone 8 were released by Apple for a couple of days, and the newest iOS is open to public now. So, you can have a try to upgrade to iOS 11 or upgrade to the new iPhone X/8. It may fix your problem without any effort.
Bonus Tip: How to Transfer iOS Data in an Easier & Smarter Way
After talking about how to fix iPhone reminders not working issue, in this part, we're going to recommend the best iTunes alternative – AnyTrans, compared with iTunes, AnyTrans dedicates to help iOS users transfer iPhone iPad iPod data in a smarter and easier way. AnyTrans brings you more convenience, like:
It can help you manage and transfer almost all kinds of iOS data such as contacts, notes, reminders, photos, videos, music, ringtones, calendar, iBooks, playlists, etc. More importantly, it won't wipe any data on your iPhone.
It supports transferring data in multi-direction, such as from computer/iTunes to iPhone, from iPhone to computer/iTunes/iCloud, from iCloud to iCloud, from one iOS device to another iOS device, from iPhone/iCloud to external hard drive, etc. In a word, wherever you want to transfer, AnyTrans can do it for you.
If you're new to iPhone, just switching from Android to iPhone, AnyTrans makes it easy for you to move data from your Android phone to new iPhone X/8. It supports all Android phones and all iPhones. Meanwhile, it works well with both Mac and PC computer.
It can help you download any videos from 900+ websites without hassle, such as YouTube, Vimeo, Instagram, etc.
Here is a screenshot of AnyTrans on Windows, if you want to manage and transfer your iOS data in an easier way, you can download AnyTrans to have a try >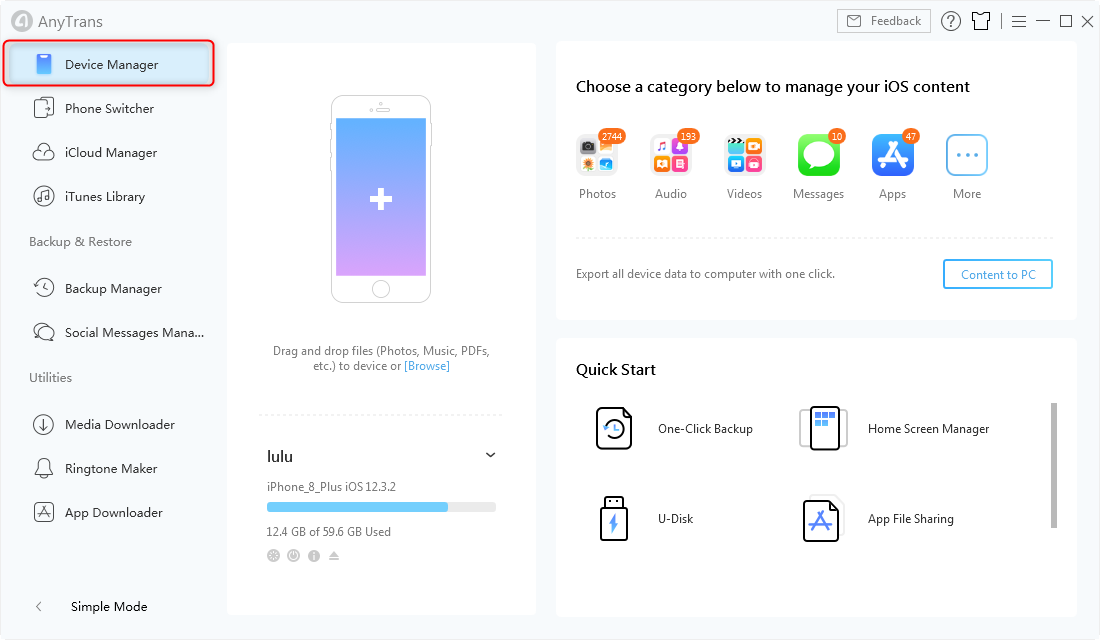 A Screenshot of AnyTrans on Windows

The Bottom Line
That's all for how to fix iPhone reminders app not working issue, if you're facing this problem of reminders on your iPhone not working right now, you can try out the methods above to see if they can help you out. After solving your problem, don't forget to have a try on AnyTrans.