How to Fix the iMessage Not Syncing Between iDevices Issue
If your iMessages stopped synchronizing across your iOS devices, you can find some quick fixes in this iMobie guide.
By
Joy Taylor
|
Posted on: Sep. 11, 2018,
Last Updated: Aug. 16, 2019
iMessage Tips & Issues
If you own multiple iOS devices, say, an iPhone as well as a iPad, you will want to sync iMessage threads across them. However, some iOS users have reported that iMessage does not syncing correctly between iOS devices automatically, especially between iPhone and iPad, after updating their devices to the iOS 12.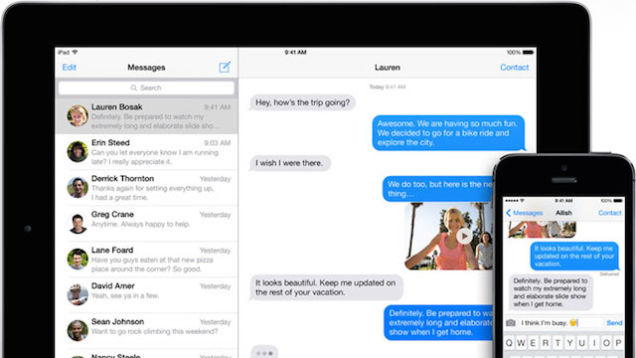 How to Fix iMessage Not Syncing Between Devices
Every iOS update always brings a lot of new features, simultaneously, also accompanied by lots of annoying problems, iOS 12 is with no exception. After new iOS upgrade, if your iMessage is not syncing either, try these quick fixes in this guide to solve the issue.
Also Read: How to Fix iMessages Not Syncing Between Mac and iPhone >
How to Fix iMessage Not Syncing Between iDevices
If the iMessage syncing problem between your iOS devices is not a hardware deficiency, here are some quick tips for you to fix problem:
Make sure iMessage is enabled on both iOS Devices. You could check on your device in: Settings > Messages > iMessage.
Sometimes you just need to reactivate the iMessage function. Try turn off iMessage and turn it on again.
If iMessage is on, Tap on "Send & Receive" > Select your phone number and email address that you want to sync to that device.
Check your network settings and Wi-Fi Proxies to make sure your iDevices connected to network correctly and steadily.
Delete previous iMessage conversations: It has been reported that deleting iMessages threads may fix this problem.
You should know that only new iMessages will sync, the old chats will not.
Also Read: How to Transfer Text Messages from iPhone to iPhone >
A Better Way to Sync iMessages/Messages Between iDevices
If your iMessages is still not syncing between devices after performing the above steps, we also offer you an alternative solution to solve the problem with AnyTrans for iOS. It is an iOS file transfer that can help you transfer messages/iMessages from iDevice to iDevice/computer easily.
Transfer messages and iMessages between any two iDevices (iPhone/iPad/iPod touch). It will not erase any data on target device.
You could transfer iMessage via AnyTrans for iOS both selectively and wholly, which is more flexible.You can first preview and only select the messages you want to transfer.
It also supports users to save iMessages from iPhone to computer in PDF, TEXT or HTML format.
Besides iMessage/text message, AnyTrans for iOS also supports the transfer of photos, musics, contacts, call logs etc.
AnyTrans for iOS is one 100% safe software without the virus, and there have been over 16 million people downloading and using it. Now download AnyTrans for iOS and follow the steps below to know how to sync messages from iPhone to iPad.
Step 1. Launch AnyTrans for iOS > Connect your two iDevices to the computer via USB cables > Choose "Phone Switcher" > Click on the "Phone to iPhone" mode.
Step 2. Confirm the source device and target iDevice > Click the "Next" button to continue.
Step 3. Uncheck "Select All" button, scroll the screen down and check "Messages" only > Click the "Next" button to start transferring.
Once the merging process is finished, you could find that your messages are now in both of your two devices. Besides iMessages, it also copies contacts, music, photos, videos, etc. between two iOS Devices, between iDevice and Mac/PC. It can help you always put your important data in the right place.
The Bottom Line
As you can see, AnyTrans for iOS is a tool that can help you better manage your iOS devices, and it is so easy to operate. If you have any good suggestion to fix the iMessage syncing issue, don't forget to share it with us in the comment section. Meanwhile, you can download AnyTrans for iOS to try it for free.