How to Put iPhone in Recovery Mode
Summary
Here's how to put an iPhone 5/5s/6/6s (Plus) into recovery mode and get it out of recovery mode. Read on this guide to know it.
Download PhoneRescue for iOS to get back your lost but important data from iPhone 6 or iPhone 6s. Now read on this guide on how to put your iPhone 5/5s/6/6s (Plus) in recovery mode.
What is iPhone recovery mode? Whenever iOS installation or upgrade is damaged, your iPhone or iPad automatically goes into the recovery mode. It is a failsafe that is developed for iOS software so that your devices cannot be damaged any further. If you failed to update your iPhone via Software Update over the air,or your iPhone has simply become unresponsive, recovery mode might be just what you need to get things going again.
Also Read:
The Most Common iOS 9/iOS 9.1 Update Issues and Fixes >
The Most Common iOS 11 Problems and Solutions >
When Will You Use Recovery Mode on iPhone
You are simply trying to update to the latest iOS software and your iPhone gets stuck in a continuous restart loop.
You attempted to restore the iPhone from backup, the process didn't complete, and now iTunes doesn't register the device when you connect it to your computer.
Your device stuck on the Apple logo, with no change, for many minutes.
Your iPhone won't turn on when you try to update the new iOS.
You intentionally need to enter recovery mode to solve a problem.
You're trying to jailbreak your iPhone but it goes terribly wrong.
How to Put iPhone 5/5s/6/6s in Recovery Mode
Step 1. Make sure iTunes is running on your PC or Mac.
Step 2. Turn Off your iPhone by pressing and hold down the On/Off button on the right side or top for 3 seconds.
Step 3. Press and hold down the Home button on your iPhone for 10 seconds.
Step 4. Plug your iPhone into your Mac or PC and let go of the Home button when you see the Connect to iTunes screen.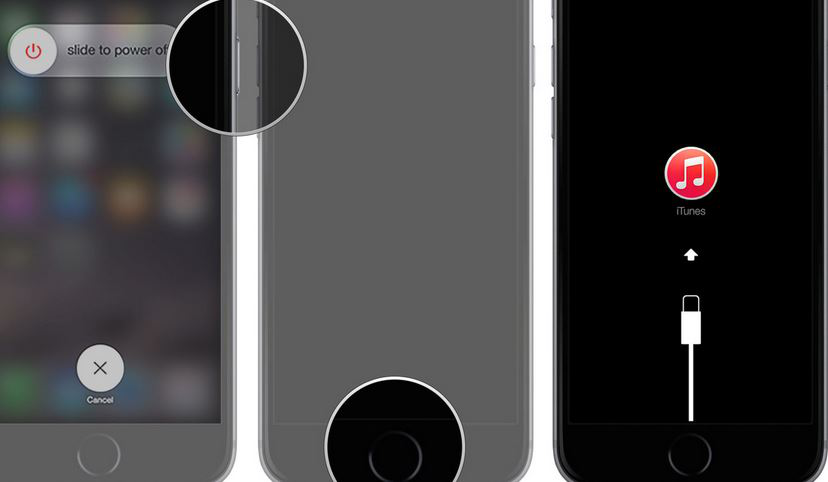 How to Put iPhone 5/5s/6/6s in Recovery Mode
How to Exist Recovery Mode on Your iPhone 5/5s/6/6s
If your iPhone is currently in recovery mode and connected to iTunes, you can get it out of recovery mode by restoring or updating your iPhone:
Step 1. You should see a pop-up screen asking you to "update" or "restore" the device.
Step 2. You can choose Restore or Update your iPhone to the latest iOS. Remember that the existed data will be erased, and you can choose the latest backup to restore.

How to Get Your iPhone Out of Recovery Mode
Or you can get it out of the recovery mode directly:
Step 1. Plug your iPhone into to your computer and iTunes will automatically launch and detects that your device is in recovery mode.
Step 2. Keep holding the On/Off and Home button until the Apple logo appear. Your iPhone will start up and exist the recovery mode.

If you lost some important data when update to iOS 9, you can download PhoneRescue for iOS to scan and recover lost contacts, messages, notes, photos, and more from your iPhone 5/5s/6/6s.
The Bottom Line
If you want to update to iOS 9 on your iPhone iPad or iPod touch, don't forget to check the entry guide for iOS 9 Update. Here you will know everything that matters when download the new iOS.
Share Your Thoughts With Us