How to Delete All Emails on iPhone/iPad
After iOS 10 there has no "Trash All" option for iPhone iPad users to 1-click delete all emails. So how to delete all emails at once on iPhone/iPad in new iOS? The methods works for iPhone 11/XR/Xs/X/9/7/6s/6.

Joy Taylor
Last Updated: Mar. 26, 2020
iPhone Data Deleting Tips
Delete Media Files
Fix iPhone Data Deleting Problems
iOS 12 mail…no delete all. Where has this option gone in iOS 12 Mail? You can no longer delete all in sent mail. Real pain having to delete each one in turn. Is there a way around this anyone please?" David posted its iOS 12 issue on Apple Communities. 
You may be also confused about the iOS Mail problem. Because you cannot 1-click delete all emails on iPhone/iPad in Sent, Drafts, and Inbox just like you did in iOS 9 (iOS 9 offers you an option "Trash All" to remove all emails on "Mail" app, but there is no related option in iOS 13/12/11/10. How can we easily remove all emails to free up your iPhone iPad storage after iOS update? Below we offer you two methods.
Method 1. How to Remove Emails on iPhone One By One
Now it will be a little tedious and annoying to remove all emails in Inbox, Sent and Draft on Mail app in iOS 13/12/11/10. Although the "Trash" and "Junk" folders have the "Delete All" link to help you remove all emails in just 1 click, "Inbox", "Drafts" and "Sent" folder doesn't provide your "Delete All", which means you have to select the emails one by one and then start your deleting.
But you can select more than one email at one operation, and also can achieve deleting multiple emails on iPhone/iPad.
Step 1. Run Emails on your device.
Step 2. Go to Inbox or Sent and tap "Edit" > Select the emails you want to delete and tap "Trash", or "Move" > "Trash" (for iOS 12 users, you also need to tap on "Trash Selected Messages" option).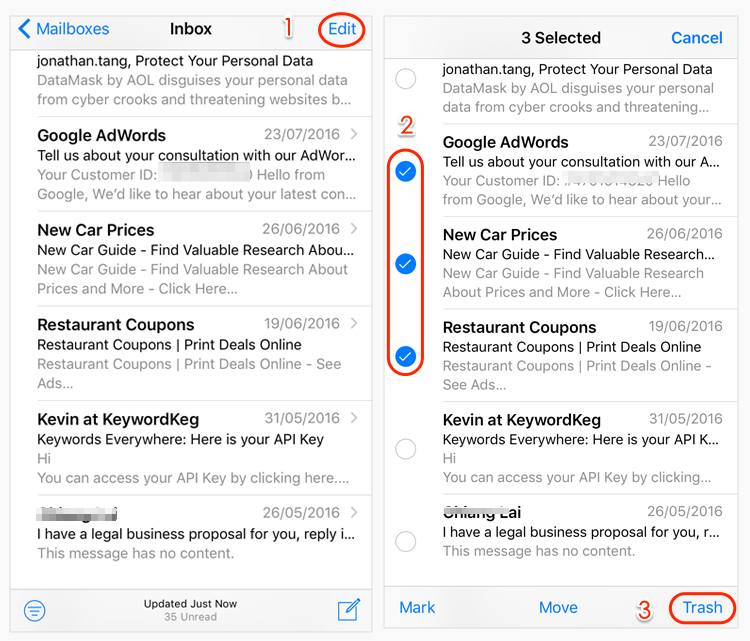 How to Delete All Emails on iPhone/iPad One by One
Method 2. How to Delete All Emails on iPhone
There is a hidden method in iOS to easily delete all emails in Inbox or Draft. And it needs only a few clicks, works on any iPhone, including iPhone 6/6s/7/8/X/Xs/XR/11.
Step 1. Go to Inbox and click Edit.
Go to Inbox or other mailboxes that have no "Delete All", and click Edit on the top corner.
Step 2. Press and hold the "Move" button.
After selecting one email, press and hold the "Move" on the bottom and then uncheck the email you selected. (Make sure not release"Move" until you uncheck all the items you checked before.)
Step 3. You will see the Junk or Trash folder.
It will bring you to a page that allows you to move all emails to another folder, such as Junk and Trash. In this way, you can move all emails to trash.
Step 4. Click Edit and Delete All in the trash.
After moving all emails to trash, just click Edit > "Delete All" in the trash to get rid of all emails in Inbox or other boxes that have no "Trash All".
Step 5.  Clean all emails.
Go to the Trash folder and clean all emails.
The Bottom Line
Maybe the "Trash All" will be back some days later in the next iOS update, and you can suggest Apple do this by email. And welcome any comments on iOS 13/12/11/10 Mail app.