Security Issue Cleanup
Through cleverly discovering and safely removing hidden danger on Mac, MacClean protects your Mac from the potential risk. To ensure good performance on risks scanning, please make sure you have installed and updated MacClean Security Database firstly. Then, please refer to the detailed guide to make good use of MacClean.
Step 1:

Preparations.

Do as following:
Open MacClean from your Dock or Application List
Select Security Issue (1) option
Once you launch MacClean successfully, you will see the main interface as below: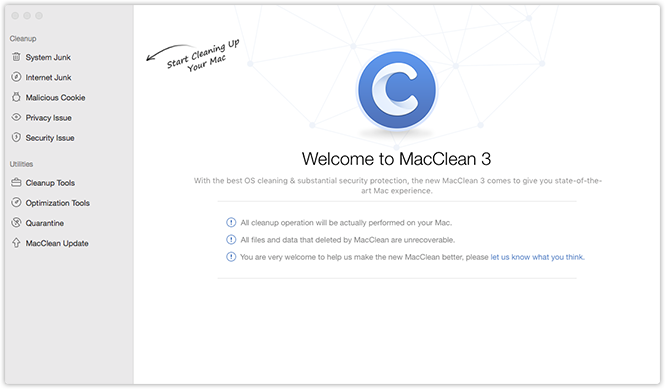 Please select Security Issue. Then, you will see the interface below: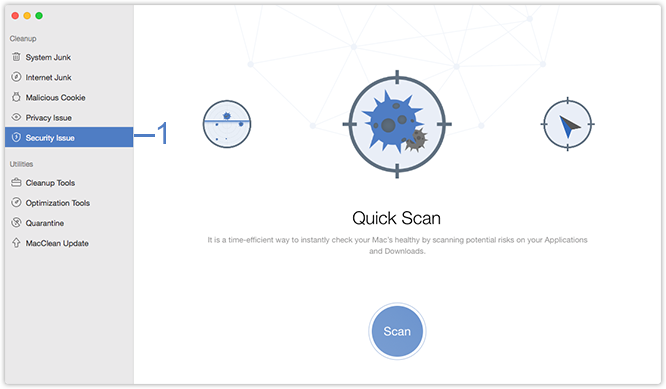 Step 2:

Analysis.

Do as following:
Select a preferred scanning solution
Click Scan button (3)
Wait for the scanning process
MacClean provides 3 scanning solutions to choose the scanning target as you need. To scan your Downloads and Applications folders where risks may usually hide, please select Quick Scan.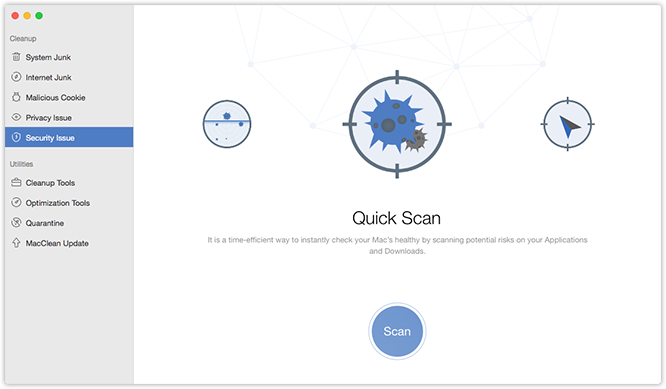 To scan potential risks in a specified folder, please switch to Custom Scan and then click Select (2) to add folder from your computer.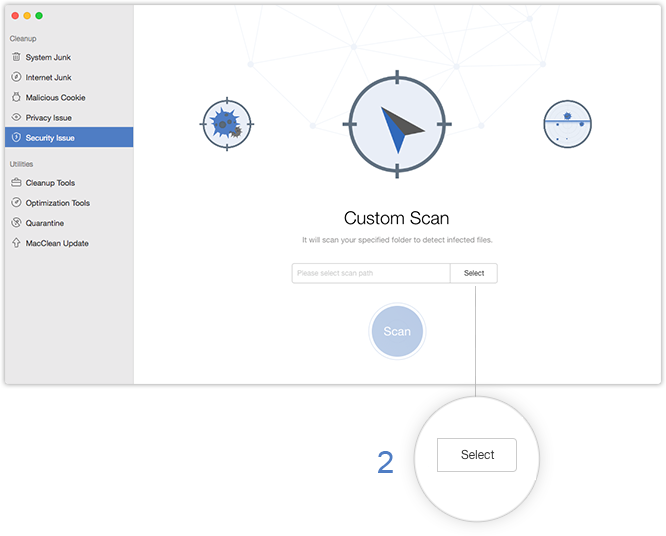 To scan all files on your Mac thoroughly, you can choose Full Scan option. But notice that this process may take longer time to finish. Please keep patient.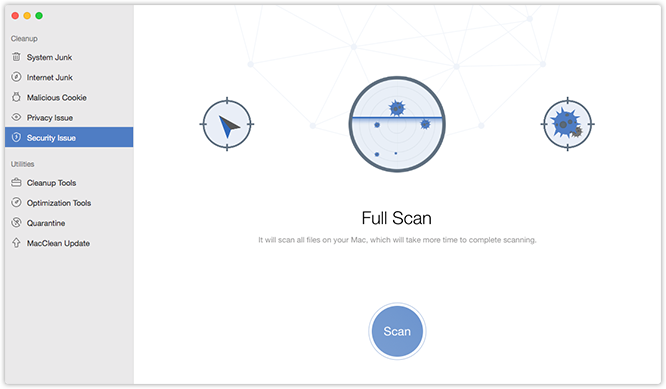 After selecting a preferred scanning solution, please click Scan button (3) to continue.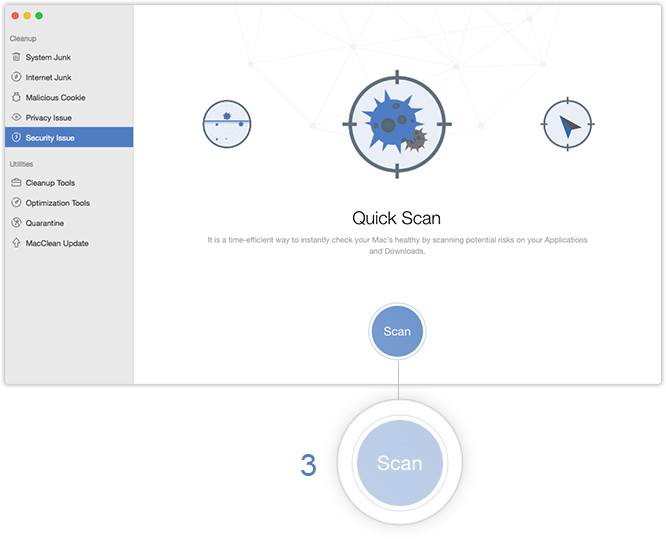 Step 3:

Management.

Do as following:
Check the name and location of the infected files
Clean the infected files or put them into Quarantine
Click Clean button
MacClean will list infected files after the scanning process completes. To locate the infected files, please click

button (4). To prevent any infected file from damaging your Mac, you can simply move it to Quarantine by clicking

button (5). You also can delete the file directly by clicking

button (6).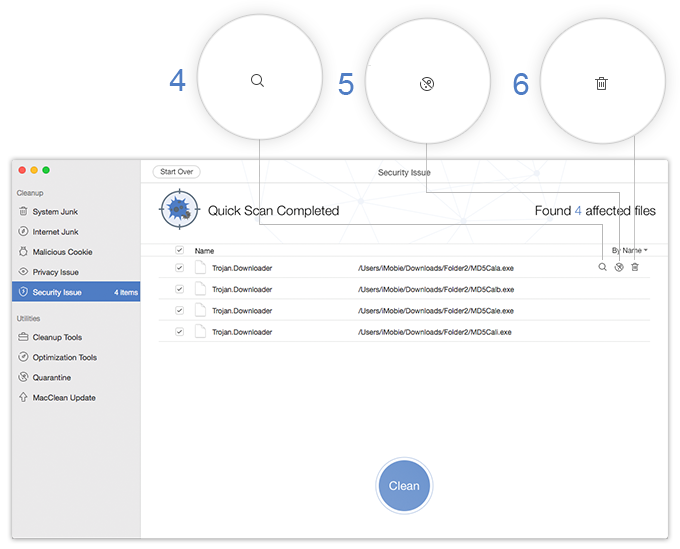 After clicking

button, the infected file will disappear from your list and you can check it under Quarantine.
To clean infected files massively, please tick the box in front of each file and click Clean button (7). And then, please click Yes button (8) to reconfirm the cleaning process.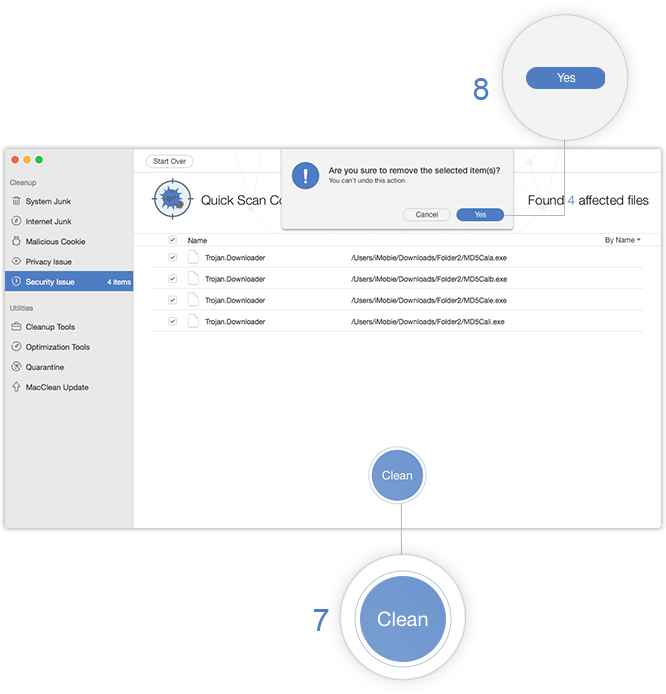 Please notice that once you delete the data with MacClean, it will be erased permanently. Please be cautious before starting the cleaning process.
After finishing cleaning process, you will see the Cleanup Completed page. To go back to previous pages, please click Start Over button (9).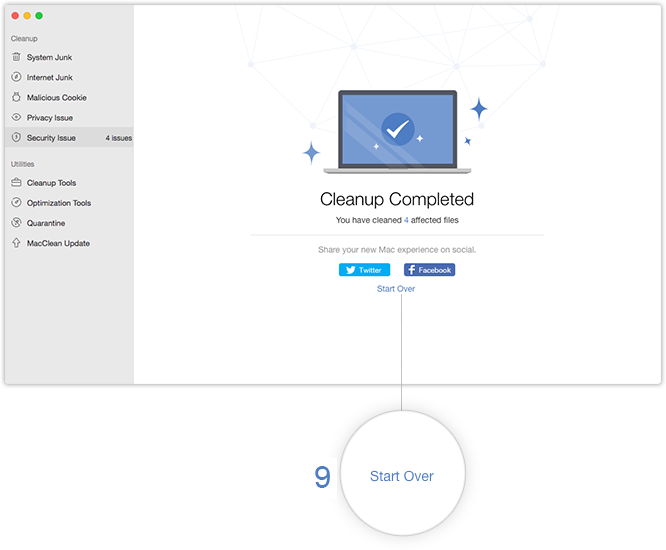 Ask for Help or Contribute to This Guide