How Does iCloud Work on iOS Devices
Summary
iCloud enables you to back up your iOS devices wherever and whenever. Are you wondering about how iCloud work and what iCloud supported system requirement? Please read on this article.
Download the PhoneRescue right now and enjoy its powerful multifunction brings to you. While now, you can read on this article.
The Apple-dubbed "iCloud" is the latest incarnation of the Apple Company's cloud storage service and computing system. The cloud storage service could allow Apple users to save, back up, and achieve a wealth of data information and multimedia wherever you are and whatever device you take. iCloud provides an easy and reliable Back Up solution for users to back up their iOS devices.
iCloud backed-up information includes everything from device settings, such as your chosen wallpaper, documents and apps, to direct purchases from the App Store, the iTunes Store, iBooks and contacts, text messages, photos. Although it's not necessary, it offers a quick and easy way to completely restore an iOS devices.
More iCloud Back Up information, view the What Does iCloud Back Up.
iCloud backs up your iOS device data daily over Wi-Fi when your device is turned on, locked, and connected to a power source. It means that set up iCloud on your devices, and the rest is automatic.
While if you don't use the automatic backup feature, you won't have a backup of your device stored anywhere. At this time, you need to back up your iOS device manually.
How to Back Up to iCloud Automatically and Wirelessly
Tap Settings > Tap iCloud > Storage & Backup, then turn on iCloud Backup.
How to Back Up to iCloud Manually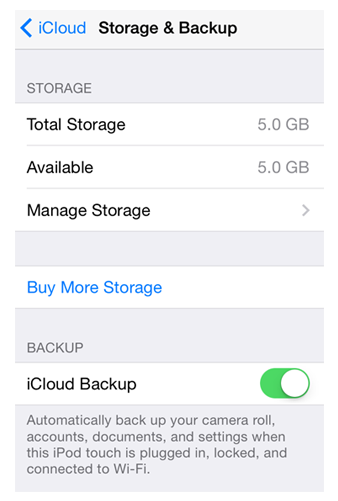 Backup to iCloud Automatically
- Launch the "Settings" app.
- Tap on "iCloud" and scroll to the bottom, then tap on "Storage & Backup".
- Navigate down and tap on "Back Up Now" just below the toggle switch.
Note that Apple says if you don't back up your device to iCloud for 180 days or more, they will delete your device's iCloud backup files.
iCloud Supported Requirements
To make full use of all iCloud features and give you the best iCloud experience, you should meet following requirements.
Apple ID
The Apple ID is an email address and password you use to access iCloud. Your iCloud account will use the same Apple ID and password. And you can also use to access other Apple resources, including the Apple Online Store, the iTunes online store, the App Store, the Mac App Store.
iOS, Mac OS X, or Windows
Your devices must have one of the following operating systems:
iPhone, iPod touch, or iPad: iOS 5 or later, iPhone 3GS or later, iPod touch (3rd generation or later), iPad, or iPad mini
Mac: OS X Lion 10.7.5 or later
Windows: Windows 7 or Windows 8 and iCloud Control Panel
Note
Some iCloud features require iOS 7 and OS X Mavericks. Some features require a Wi-Fi connection. Some features are not available in all countries. Access to some services is limited to 10 devices.
About the specific minimum system requirements for each iCloud feature, you can refer to Apple Official Website.
Once you've been sure that your iOS devices, Mac and PC meet above system requirements, you can do the next – set up iCloud. Whether you're on an iPhone, iPad, iPod Touch, Mac, PC or Apple TV, it will be quick and easy to set up in a few steps. More setup instructions, we'll discuss later.
Eventually, after backing up your iOS devices to iCloud, sign in to iCloud.com from your Mac or PC and you can access vital iCloud features like Find My iPhone, Mail, Calendar, Contacts, iWork for iCloud beta, and more. Then you can enjoy iCloud's powerful features of restoring, photo sharing, iwork, find my iPhone etc.
More features about iCloud, welcome to visit our iCloud page.
If you want to know about how to restore your iOS device from an icloud backup, you can view How to Back Up & Restore iPhone, iPad with iCloud.
Top Posts on Recovering iPhone Lost Data:
More Related Articles You May Like
Share Your Thoughts With Us