How to Fix iPhone Passcode Not Working
This guide is focused on helping you solve iPhone passcode not working. We've listed 6 possible ways, you can choose the right one according to your needs. Keep reading and check more details!

Joy Taylor
Last Updated: Jun. 11, 2020
iPhone Network & Password Issues
Network Issues
Password Issues
There are many possible factors leading to the iPhone password not working. It could be an iOS software glitch. For example, according to the user's feedback, many iPhone passcode not working accidents came after new iOS upgrading; It could also be some faulty operation, such as entering a password wrongly over ten times by naughty kids, or inadvertently in your pocket, etc.
Finding the reason is not what we focus on in this guide. The more important thing is how to fix this iPhone passcode not working issue. We have listed all the possible solutions, you could have a try on them and choose the perfect one for your situation.
Method 1. Fix by Rebooting iPhone
The first solution does not require too much. Sometimes mobile phone problems can be easily solved by rebooting the device. So if you updated the iPhone to a new iOS version and found the screen passcode not working, long-press the side button to reboot your iPhone. Then restart your iPhone and see if the screen password is working.
Method 2. Fix by Restoring iPhone with iTunes
If you have synced your iPhone with iTunes, this way works for you. As restoring iPhone would erase all the settings, which include your iPhone screen password, you wouldn't be bothered any longer. Here are the detailed steps of how to erase your iPhone and restore it with iTunes backup:
Step 1. Connect your iPhone to the computer you have synced with.
Step 2. Open iTunes. If asked for a passcode, try another computer you've synced with, or enter recovery mode as the fourth part instructs.
Step 3. Wait for iTunes to sync your device and make a backup.
Step 4. After the sync and backup have finished, click Restore iPhone.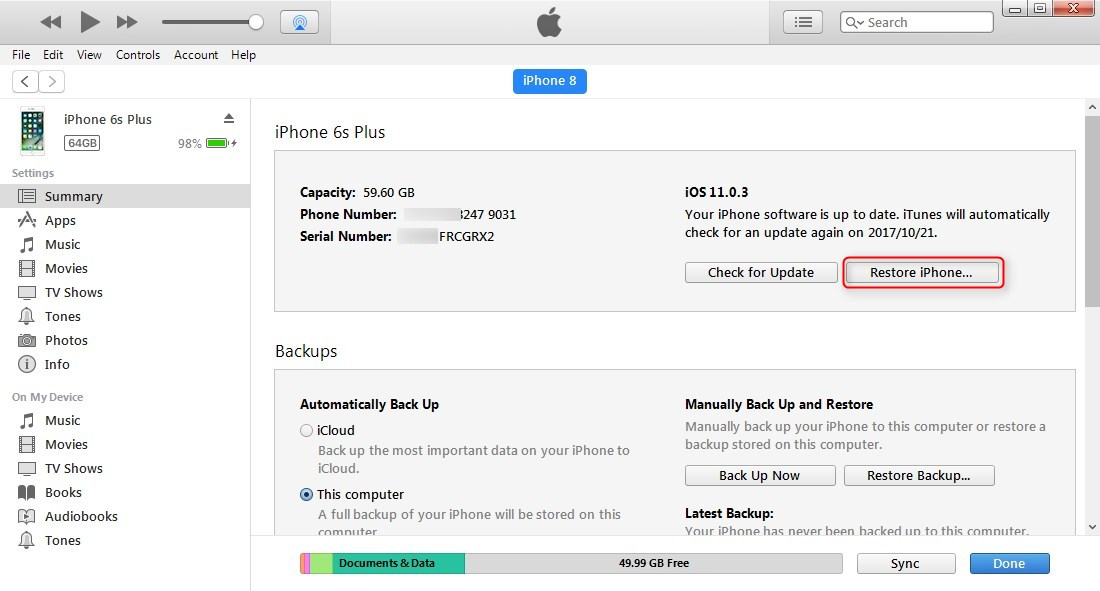 Restoring the iPhone with iTunes
Step 5. When you are at the Set Up screen while restoring your iOS device, tap Restore from iTunes backup.
Step 6. Select your device in iTunes. Look at the date and size of each backup and pick the most relevant one. After the iPhone is set up, you can make your new passcode in Settings.
Method 3. Fix by Erasing iPhone with iCloud
To remove the iPhone password, another way you could try is to remotely erase your iPhone with iCloud. Here we will show you how.
Step 1. Go to iCloud.com on your computer or another iPhone/iPad.
Step 2. If required, sign in with your Apple ID.
Step 3. Then at the top of the browser, select All Devices. You can see all the devices under the same Apple ID.
Step 4. Select the device you want to erase.
Step 5. Then tap on Erase iPhone, which will erase your whole device, including its passcode.
Step 6. Now you can either restore the iPhone from a backup or set it up as new.
If your iPhone isn't connected to a Wi-Fi or cellular network, you can't erase it with Find My iPhone.
Method 4. Fix by Entering Recovery Mode
If you have never synced iPhone with iTunes, or set up Find My iPhone in iCloud, then you need recovery mode to erase the old password and make a new one.
Step 1. Connect your iPhone to computer > Open iTunes.
Step 2. After the iPhone is connected, force restart it:
On an iPhone 11/Xs/Xr/X/8 or iPhone 8 Plus: Press and quickly release the Volume Up button. Then press and quickly release the Volume Down button. Finally, press and hold the Side button until you see the recovery-mode screen.
On an iPhone 7 or iPhone 7 Plus: Press and hold both the Side and Volume Down buttons at the same time. Keep holding them until you see the recovery-mode screen.
On an iPhone 6s and earlier, iPad, or iPod touch: Press and hold both the Home and the Top (or Side) buttons at the same time. Keep holding them until you see the recovery-mode screen.
Step 3. When you see the option to Restore or Update, choose Restore > iTunes will download software for your iPhone. If it takes more than 15 minutes, your device will exit recovery mode and you'll need to repeat steps 2 and 3.
Entering Recovery Mode and Restore the iPhone
Step 4. Wait for the process to finish. Then you can set up your iPhone.
Method 5. Remove iPhone Screen Passcode with AnyUnlock
Besides the official methods we've mentioned before, there are some third-party tools that can also help you to remove iPhone screen password. AnyUnlock, developed by iMobie, is specialized in the removal of iOS device passcode, including iPhone screen password, Apple ID, iTunes backup password, and Screen Time password. Now free download AnyUnlock and follow the steps below to unlock your iPhone password.
Step 1. Launch AnyUnlock on your computer. Click "Unlock Screen Passcode".
Step 2. Connect your device to the computer, click "Start".
Step 3. Download the iOS firmware, this is for unlocking the screen passcode. It might take a long time to download the package, so please just keep patient.
Step 4. When the firmware downloading is finished, click the "Unlock Now" option. Then it will unlock the screen passcode automatically. Please do not disconnect your device until it restarts.
Step 5. And when the recovery process is completed, you will see the "Screen passcode removed successfully" interface.
1) All the existing content and settings on your device will be erased once the removing process is completed, please make sure you've made backups of your device. 2) After unlocking, your iOS system version will be updated to the latest version. 3) If Find My iPhone on the device is turned on, you need to enter the iCloud account password to set the phone after unlocking.
Watch the video guide of unlocking iPhone password with AnyUnlock on YouTube!
Method 6. Remove Screen Lock with PhoneRescue for iOS
There are a lot of third-party tools developed for iPhone password removal. Apart from AnyUnlock, we also suggest you try PhoneRescue for iOS. It supports to restore the iPhone Screen Lock Passcode with a few clicks. No matter what the situation you were encountering, you can revive your iPhone easily.
Step 1. Preparations.
Install PhoneRescue for iOS on your computer.
Connect iOS device to computer with the USB cable.
Choose Device Rescuer – Lock Screen Passcode option.
If you remove the lock screen passcode, all the device data will be erased after the device restarts. And your iOS system will also update to the latest version.
Step 2. Downloading.
Click button & Select option
Enter Recovery mode & download the patched firmware.
Please follow the 3-step instruction in the window to enter the "Recovery" mode.
After entering the "Recovery" mode, the interface below will display. Please select the matched info for your device and click "Download" button to download the firmware.
Step 3. Removal.
Waiting for the removing Lock Screen Passcode process.
Set up your iOS device.
After downloading the firmware package, PhoneRescue will remove the lock screen passcode automatically. Please do not disconnect your device until it restarts.
And when the recovery process is complete, you will see the complete page below. To go back to the previous page, you can click

 button. If you want to go back to the homepage, please click 

 button.
The Bottom Line
As you can see, there are three different but all practical ways to help you with iPhone passcode, not the working issue. According to your own situation, choose the best one. If you have any questions about these methods or have some other new ones, please leave your messages in the comments below.