Backup iPhone 6/6s to Computer
How to backup iPhone 6/6s? This guide will tell you how to backup iPhone 6/6s to computer in 3 ways.
By
Joy Taylor
|
Posted on: Nov. 23, 2017,
Last Updated: Dec. 21, 2018
Backing up your iPhone 6/6s regularly is a good habit. It can be a lifesaver if you accidentally lose important data. What' more, the new iOS 11 is expected to be released this fall. You'd better backup your iPhone 6/6s before the update because the data loss happens every year after updating to new iOS version.
iTunes program is not an alien to most of us, and it is the free and traditional way to backup an iPhone beside iCloud service (if you need to backup your iPhone 6s to the cloud base). In this guide, we will show you step-by-step instructions on how to backup iPhone 6 and iPhone 6s  using iTunes, iCloud and an easy-to-handle iTunes alternative.
Also Read: How to Transfer iPhone Messages to Computer As Backup >
Part 1. How to Backup iPhone 6/6s Using iTunes
If you want to selectively transfer important files from iPhone 6 to computer as a backup, like Contacts, Music, Text Messages, Photos, etc., then please refer to Part 3 to get the method.
1. Download and install the latest iTunes on your PC or Mac. Here we will show you how to backup iPhone 6/6s with iTunes on a Mac computer, and the steps are almost identical on a Windows PC.
2. Connect your iPhone to computer and run iTunes. Click the Device tab, and choose Summary. Here you will see the Backups section. Tap on Back Up Now, and iTunes will start backing up your iPhone 6/6s to Mac/PC.
3. To check whether the backup process completed successfully, just check the date and time below Latest Backup.
4. And your iTunes backup files can be found in Edit > Preferences > Device. (You are not allowed to view or access your iTunes backup files here.)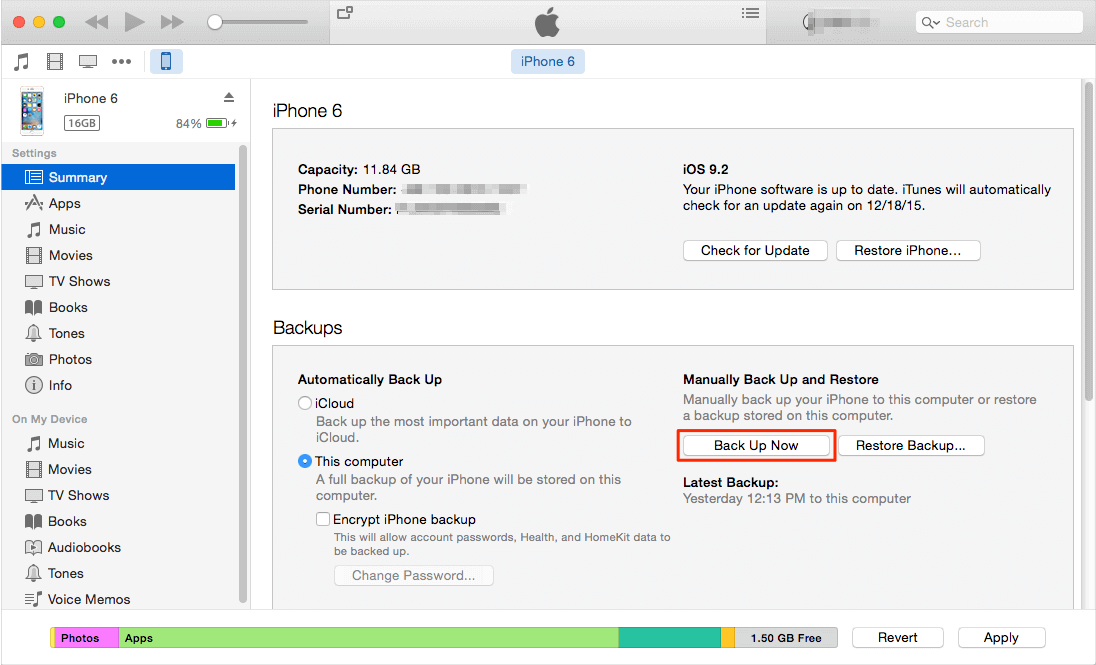 Backup iPhone 6/6s to Computer using iTunes
Note:
1. iTunes gives you the ability to encrypt your iPhone backup, try to keep it in mind firmly. If you forgot iTunes backup password unfortunately, you'll not be allowed to unlock your backup file.
2. The iTunes backup files are stored in your computer hard drive but are not readable. And as Apple said, an iTunes backup includes nearly all of your device's data and settings. But notice that an iTunes backup doesn't include:
Content from the iTunes and App Stores, or PDFs downloaded directly to iBooks
Content synced from iTunes, like imported MP3s or CDs, videos, books, and photos
Photos already stored in the cloud, like My Photo Stream, and iCloud Photo Library
Part 2. How to Backup iPhone 6/6s Using iCloud
Confused about the complicated features of iTunes and prefer to backup your iPhone 6/6s with iCloud? You've come to the right place and we'll show you detailed steps to backup iPhone 6/6s via iCloud.
1. Connect your iPhone 6/6s to a stable Wi-Fi network.
2. Tap Settings > your iCloud account > iCloud. If you're using iOS 10.2 or earlier, go to Settings, then scroll down and tap iCloud.
3. Turn on iCloud Backup if it isn't already turned on.
4. Tap Back Up Now and stay connected to your Wi-Fi network. (iCloud Backup will also occur when connected to power, locked and on WLAN.)
5. After the backing up process, you can go to check the date and time below Back Up Now to ensure the backup is finished.
Your photos can take huge space on your iCloud storage while every iCloud account has only 5 GB free storage. If you need more storage to backup iPhone data, then you'll need to pay $0.99 for 50GB, $2.99 for 200GB and $9.99 for 2TB per month. (If you purchased a 1TB monthly plan before June 5, 2017, then your account was automatically upgraded to a 2TB monthly plan.)
Part 3. Backup iPhone 6/6s to Computer with An iTunes Alternative
AnyTrans for iOS is the all-purpose iOS file management tool: expand your control over your iOS data beyond what is normally possible, without jailbreaking your iDevice. It is regarded as the best iTunes alternative that does a great job on backing up, transferring, and managing data on your iDevice (iOS 9/iPhone 6s/iPad Pro Included). With AnyTrans for iOS, you can transfer photos from iPhone 6 to computer, music (even the non-purchased items), videos, ringtones, voice memos, voicemail, messages, contacts, notes and more from iPhone 6/6s to computer as backup, and you can view the specific data anytime you like.
1. Download AnyTrans for iOS to Windows or Mac computer, run it and plug in your iPhone 6/6s to the computer.
2. You can use the shortcut button to backup all iPhone content to computer: Click the Content to Computer button > Select files you need to backup from iPhone 6/6s to computer > Set the destination on computer > Click Right Arrow to start a transfer.
3. Alternatively, you can backup selected iPhone 6/6s data to computer with AnyTrans for iOS. We take photos as an example. Click Device Manager > Photos > Camera Roll > Select the pictures you want to backup > Click the To Mac tab on the right-hand corner.
4. Backup iPhone 6/6s to iTunes with AnyTrans for iOS. Click the Backup Manager tab > Click the Backup Button to start backing up your iPhone 6/6s > AnyTrans for iOS will make an iTunes backup for your iPhone. After it is done, you can view your backup files in details.
The Bottom Line
It is obvious that AnyTrans for iOS meets all your needs on backing up an iPhone 6/6s to computer. It also helps transfer data between two iDevices, which allows you to move all data from an old iPhone to new iPhone easily. Now start taking a tour >