Basic Information of DroidKit
Know everything you need to help you use DroidKit easier.
Compatibility of Computer System
| | |
| --- | --- |
| Windows | Windows 11, 10, 8, 7, Vista (both 32bit and 64bit) |
| macOS | macOS 10.11 and later |
Supported Device Types of Different Functions
iMobie takes your satisfaction in priority. We sincerely hope you would have a happy experience with DroidKit. Thus, we highly recommend you to read the detailed functions and restrictions before choosing DroidKit.
Functions
Supported Device
Supported Data Types
Data Recovery
All Android 5 and later & iOS 9 and later devices
Photos
Videos
Audio
Messages & Attachments
WhatsApp Attachments
LINE Attachments
Contacts(Number/Email/Address)
Call Logs
Calendar
Documents
Books
ZIP Files
APK Files
Data Extractor
All Samsung Devices
Same as above
Screen Unlocker
All Android 5 and later & iOS 9 and later devices
/
System Fix
All Samsung Devices
/
FRP Bypass
Samsung, Xiaomi and OPPO Devices with Android Version 6 to 13.
/
System Reinstall
All Samsung Devices
/
System Cleaner
All Android 5 and later & iOS 9 and later devices
/
Some Functional Restrictions & Details
Data Recovery from SD Card
All SD Cards (Only Windows Version Available Currently )
Photos
Videos
Audio
Documents
Books
ZIP Files
APK Files
Data Extractor from System Crashed Device
All Samsung Devices
Same as 13 data types above
Data Extractor from Google Account
Google Account
WhatsApp & Attachments
Messages & Attachments
Call Logs
Wi-Fi Passwords
Photos
Contacts(Number/Email/Address)
Calendar
Data Extractor from SIM Card
All SIM Cards
Contacts(Number/Email/Address)
Data Manager
All Android 5 and later & iOS 9 and later devices
Photos, Audio, Videos, Ringtones, Contacts, Messages, Call Log, Calendar, Document, Books, Apps, APK Files, ZIP Files, WhatsApp
Differences between Free & Activated Version
Functions
Benefits
Free Version
Activated Version
Data Recovery
Scan Device Data
Preview Data Data
Recover Device Data
Data Extractor
Download Google Data
Preview Google/SIM Card Data
Export Google/SIM Card Data
Extract Data from System Crash Device
Screen Unlocker
Matched Device
Remove Lock Screen
System Fix
Download Fix Package
Fix System
FRP Bypass
Matched Device
Bypass FRP Lock
System Reinstall
Auto-match Firmware
Download Firmware Package
Reinstall/Upgrade OS
3 (times)
Unlimited
System Cleaner
Scan System
Find Junk
Clean Junk
3 (times)
Unlimited
Data Manager
Browse and Edit Android Content
Delete Android Content in Batch
Export Android Content to Computer
50 items
Unlimited
Add computer/Android Device content to Android Device
50 items
Unlimited
Migrate iPhone/Android content to new Android
Backup WhatsApp and WhatsApp data to computer
Transfer WhatsApp from iPhone/Android to Android
Restore WhatsApp backup to computer or Android device
Settings
To make good use of DroidKit, please learn how to set up DroidKit prior to your use. DroidKit supports 12 languages (English, French, German, Japanese, Spanish, Arabic, Italian, Portuguese, traditional Chinese, Korean, Dutch and Turkish). You can choose preferred language when you firstly launch DroidKit or change it from the menu bar.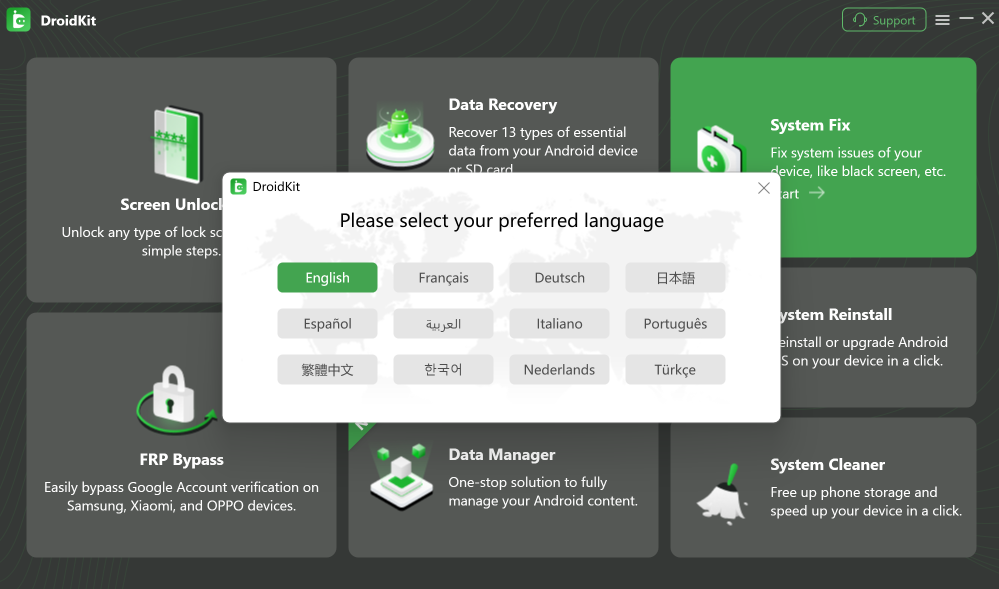 Activating Instructions
If DroidKit meets your expectation luckily, welcome to download and give it a try. To enjoy all benefits of activated version, you need to purchase DroidKit (See Pricing). After completing the payment, you will receive Account and Activation Code within several seconds to minutes. Please click "Activate" button.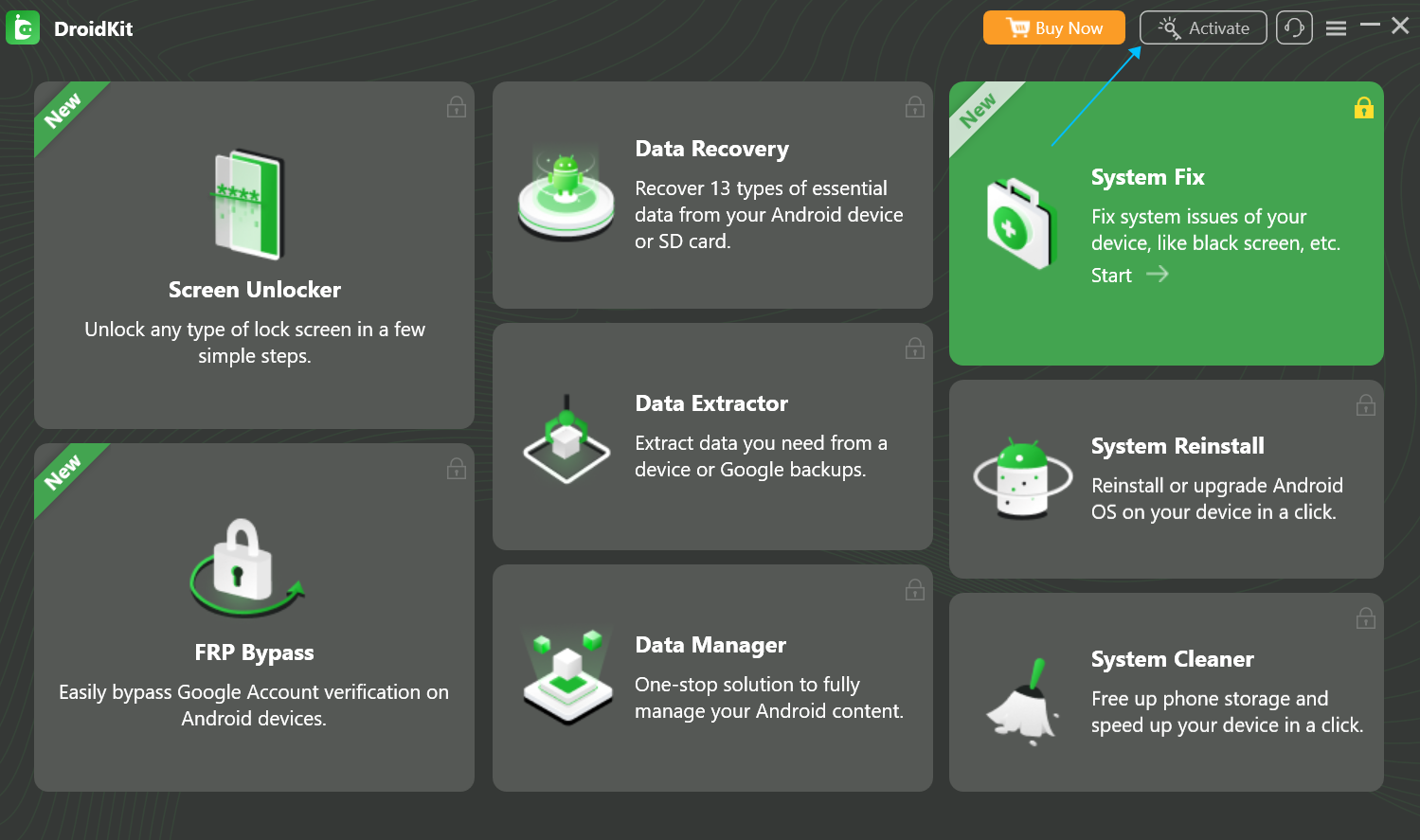 You can view the detailed different benefits between Free and Pro version. Then, please click "Activate Now" button to enter email address and the activation code you received. Please copy & paste the Activation Code to avoid any typing mistakes. Please also connect your computer to the Internet when activating DroidKit.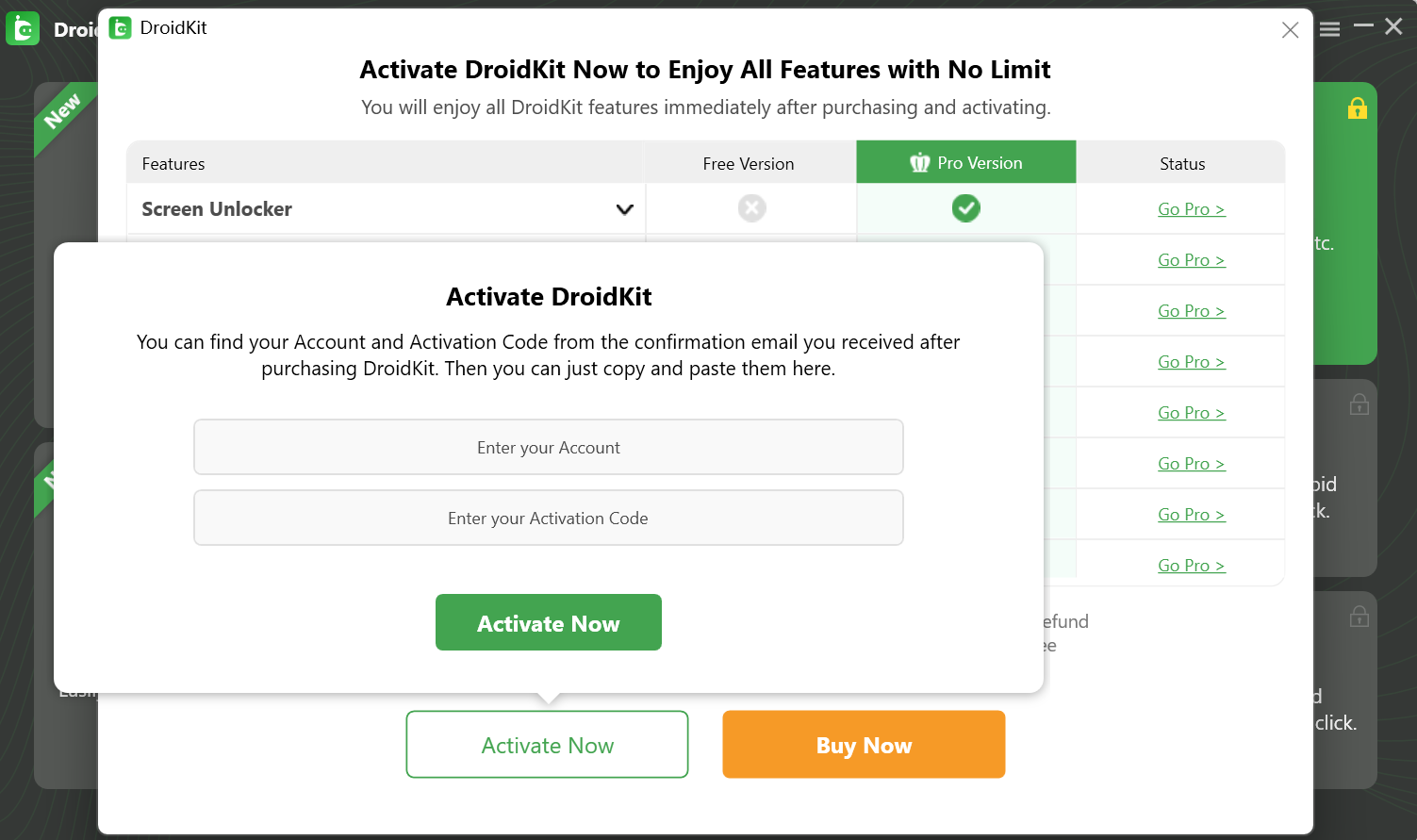 If you purchase multiple functions, you can choose to activate all of them or not based on your actual demand.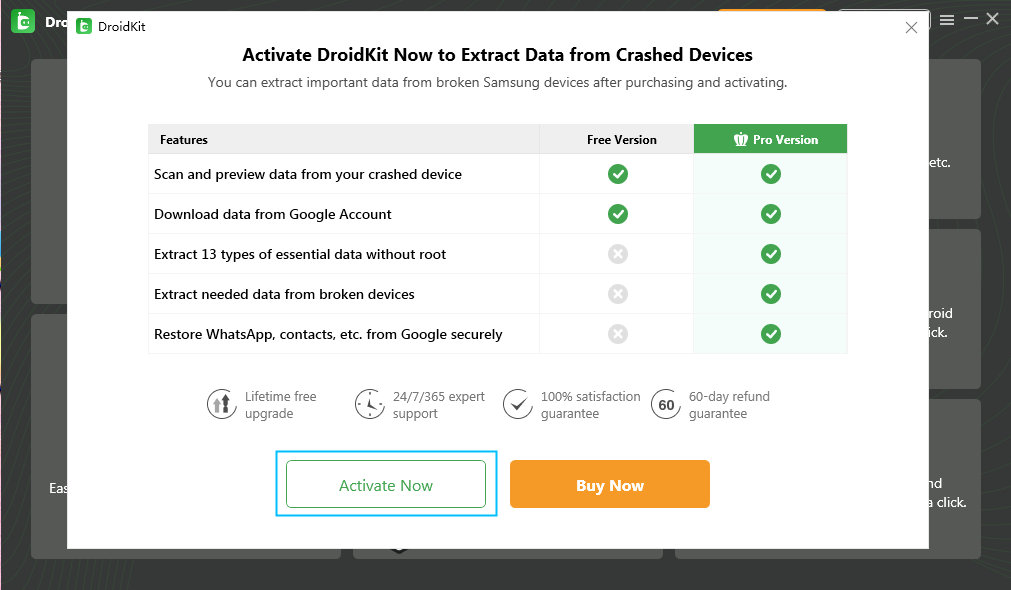 Then, please click "Activate Now" button. After completing activating process successfully, you will see the interface below.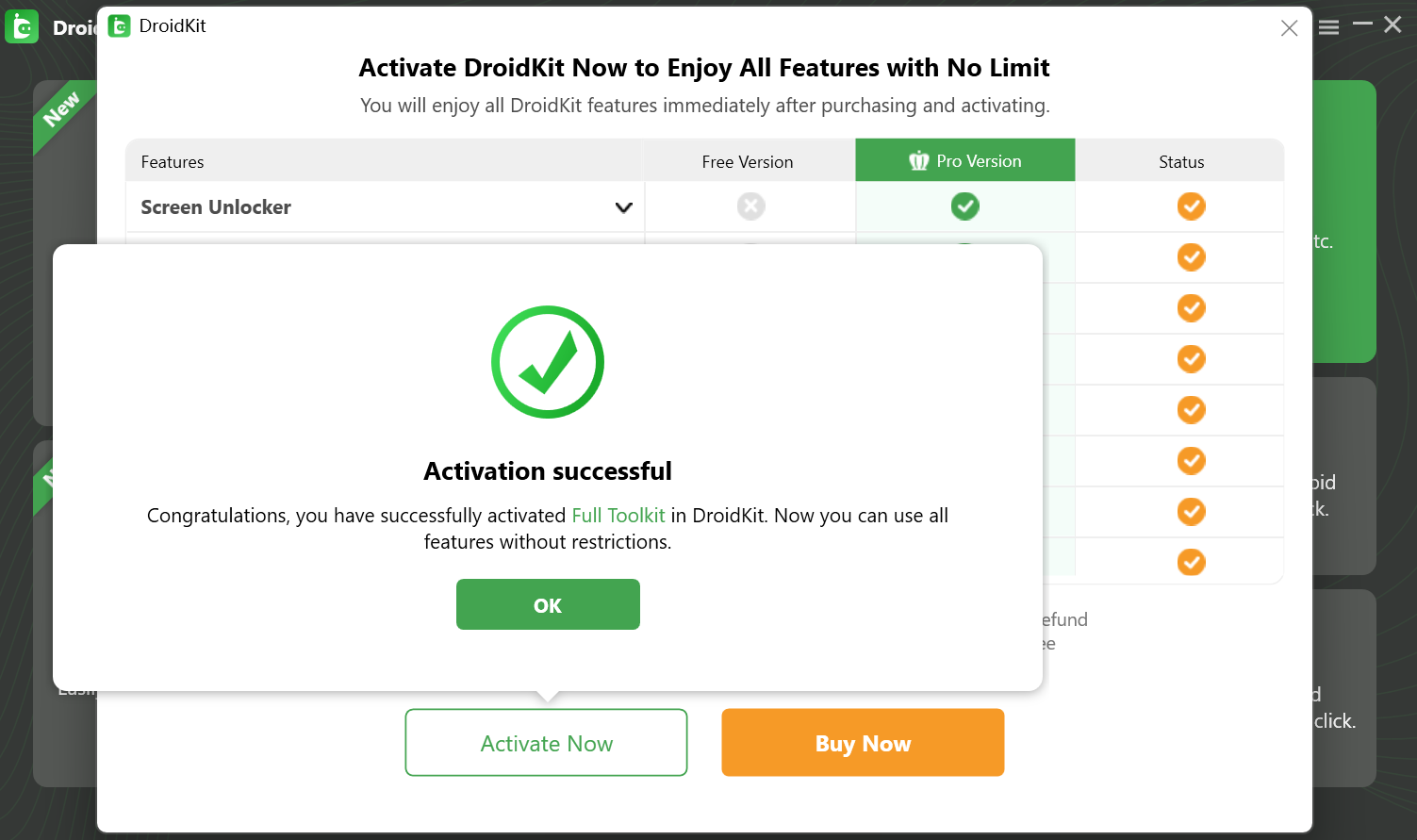 If you still did not receive Activation Code afer completing payment, please contact Support Team to get solution immediately. All you request will be replied within 24 hours on work days and 48 hours on weekends.