5 Best iPhone File Manager to Organize Your Files and Documents
To help you mange your iPhone iPad files in an easy and practical way, here are 5 best iPhone files manger tools you can check, and choose the perfect one for yourself.

Joy Taylor
Last Updated: Apr. 28, 2020
Common iPhone Tips
Since there various iOS data types stored on your iPhone, like contacts, messages, photos, songs, notes, calendars, books, and more, a powerful iPhone files manager would be so indispensable in your daily iOS lives, to help you organize those data perfectly.
Apple official provides users with iTunes to transfer, manage, and sync iPhone iPad data, running on Windows and Mac. But you must know that iTunes is not so easy-to-operate because of its unfriendly interface. Besides, it will erase the current files on your iPhone while you sync with iTunes.
But since iOS 11, Apple also introduced its mobile app Files to make the job much easier. However it seems working only for like Word, Excel, PDF, such files viewing, and you can do nothing else. Seriously not very useful.
So we need to find more iPhone file manager to replace them. There are plenty of apps specifically designed to let you organize your files in accordance with your requirement out there, for desktop and mobile. However, not all of them are cut to the job. So our team has served you with the 5 excellent choices among them. Check them one by one now.
Best iPhone File Manager – AnyTrans
AnyTrans is an all-in-one iPhone file manager, but also for iPad iPod touch, running on Windows and Mac. Whatever you want with your iPhone data and files, it can help you make it.
Features & Functions:
1. iTunes Library – No data erasing
Under iTunes Library tab, AnyTrans will show you all media files stored in your iTunes; And you can copy these media files to another destination on the computer, or directly move them to your iPhone.
You must know that iTunes syncing will erase the existed data on iPhone, however, using AnyTrans to sync files in iTunes Library will never remove anything.
2. Backup Manager – Access iTunes backup files easily
AnyTrans Backup Manager is a place where you can find all of your iTunes backups, and view any items in any backup, which iTunes does not support, and export them. Besides, you can also make a new backup with it.
3. Air Backup Manager – Backup your iPhone automatically
With the help of Air Backup Manager, you won't back up your iPhone manually anymore, because AnyTrans will backup it automatically as long as the time is up and your iPhone is connected over the same WiFi as the computer.
4. Device Manager – The best part for your iPhone file managing
Device Manager is divided into two pages – the shortcut and the category. On the shortcut page, it is not about some single data type, but you can merge different devices, clone one iPhone to another, add new content, transfer contents on iPhone to iTunes, PC, Mac, or even another iPhone iPad.
While on the category page, you can access any single data type and items on your iPhone. Also, you can operate them with renaming, creating, adding, transferring, deleting, and more.
5. iOS Mover – The best iPhone switcher
iOS Mover is specifically designed for Android users when they plan to switch to iPhone. Not just the whole device switching, you can also select single data types, even items to move from Android to iPhone.
6. iCloud Manager – Manage iCloud contents
Apple iCloud enables users to store their data and files, while does not support accessing these items in iCloud, unless restoring, at the cost of exited data being erased. While with AnyTrans iCloud Manager, you will never encounter such annoying things anymore. You can view any item you want in the iCloud, and iCloud backups. Also, you can download them to your computer.
With so many outstanding features in AnyTrans, you can surely manage your iPhone files perfectly. Why not give it a try now?
Best iPhone File Manager – TunesGo
TunesGo is also a desktop application for your iPhone iPad file managing. Like AnyTrans, TunesGo also provides you various options for your iOS data organizing. With it, you can rebuild the iTunes Library, transfer iTunes media to your iPhone iPad, backup to computer, and transfer data between iDevices.
Besides, it also enables you to specifically manage Music, Photos, Videos, Contacts, Messages, Apps, with adding, exporting, deleting, and more options.
Pro:
Almost cover all ideas you want with your iOS data and files.
Cons:
Not including all data types, like notes, calendars, etc.
You must wonder if there are some mobile iPhone iPad file manager apps. Surely there are 3 apps listed in the following. But you need to know that, compared to desktop ones, mobile apps will have some drawbacks in functions.
Best iPhone File Manager – File Manager App
File Manager can help you organize your files and documents smartly.You can quickly find and access the local files on your iPhone iPad, with the built-in searching feature. File Manager app also enables you to visit Dropbox for cloud items, and your image gallery for all photos. Surely, if you cannot find some of your files, you probably need to get the pro version for more features.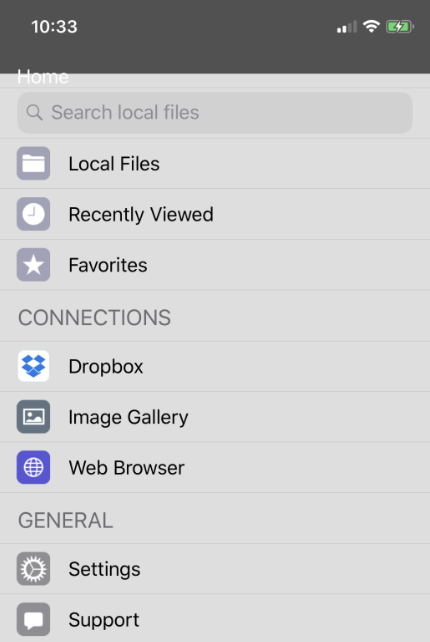 Pros:
Easily access local files with the searching option.
Items in Dropbox and photos in image gallery are supported.
Cons:
More advanced features are only supported in the pro version.
Mainly working for iPhone iPad files accessing, but finding no such editing and transferring functions for users.
Best iPhone File Manager – Documents 6
Compared to File Manager app, Documents 6 provides us more. You can easily find all music files in iPod Library, photos in Photo Album, and various PDF files. There are Upload, Share, Copy, Delete, Rename, Move, Zip, and Duplicate options you can choose to edit them. Also, it offers the connections to Dropbox, Google Drive, Box, and OneDrive, and you can sync iPhone iPad files to these clouds.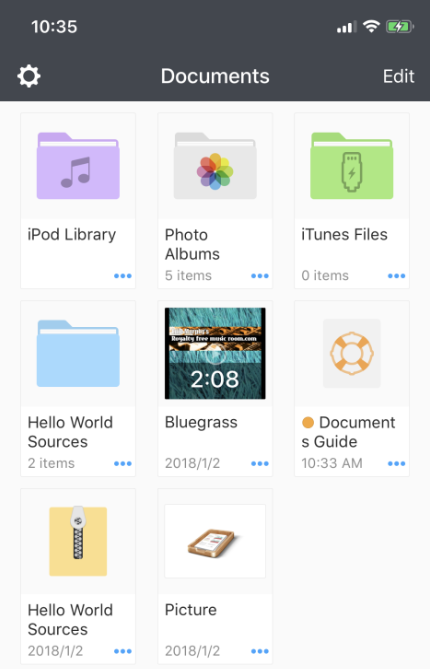 Pro:
Not just display files on iPhone iPad, but also enable users to do more about these files, such as sharing, uploading, deleting, etc.
Cons:
Not including all iOS data types, such as contacts, messages, notes, and more.
Not supporting iCloud.
Only cloud syncing, there are no features like syncing between iOS device, between iPhone iPad and PC/Mac.
Best iPhone File Manager – FileApp
Just like Windows Explorer or Finder on the Mac, this app lets you store iOS files and folders on your iPhone.
Under Files category you can view, store and manage all files and folders; Every file, like Office Word, PDF, or PPT, you can tap it to open, or swipe left for more options, like deleting; Under All Files, you can browse all your files in one view, by type, date, or name; Photos will import photos and videos from camera roll and photo albums; File Sharing helps you share files with your computer via USB or WiFi.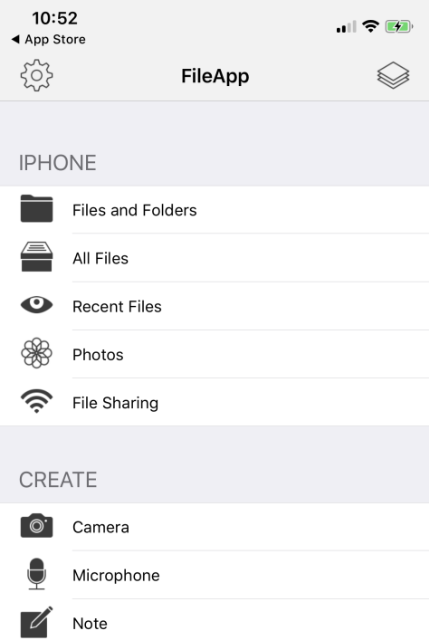 Pros:
Various editing options for your iPhone iPad files.
Easily access iPhone iPad photos and photo videos.
Cons:
No direct options for photos, like renaming, deleting, moving, etc.
File Sharing is a little complicated.
Not all iOS data types are included.
The Bottom Line
It is pretty clear that desktop applications are much more powerful in functions than mobile iPhone file managers. Especially with AnyTrans, you can do anything you want with your all iOS data, transferring, managing, backing up, and syncing. Why not give it a try, and start your easy iOS journey right away?