How to Fix iPhone GPS Not Working on iOS 13/iOS 14 Beta
iPhone GPS not working? Follow this guide to grab several ways to easily solve GPS not working on iPhone 6/6s/7/8/X/Xs/XR/11 issue.

Joy Taylor
Last Updated: Mar. 22, 2022
iPhone Default App Issues
Safari & Calendar Issues
Location Related Issues
Most of the time, the iPhone works perfectly for us, but occasionally it is also hard to avoid some small iPhone problems, such as Wi-Fi problems, Bluetooth issues, GPS issues, etc. And recently iPhone GPS issues happen much more frequently than before, according to the help of asking emails from our users, complaining about iPhone GPS not working and lots of them said that iPhone 6 GPS not working. So to help solve such issues, we write this post.
No GPS signal;
GPS not updating your location;
GPS showing the wrong location;
Compass pointing in the wrong direction;
Apps can't find your location, etc.
However, on the matter which symptom happens to your iPhone GPS, you can try the following methods to get iPhone GPS (iPhone 6/6s/7/8/X/Xs/XR/11/12) working fine again, also apply to the latest iOS 14 or iOS 14 beta.
Also Read: How to Fix: iOS No Service Bug >

Common Fixes to iPhone GPS Not Working
1. Make Sure iPhone Signal is Good
The most common reason why GPS not working on iPhone 6/6s/7/8/X/Xs/XR/11 is the bad signal. When you're in a metal building, or somewhere where radio signals can't penetrate, then apps will have problems obtaining a solid GPS signal. So if you're in such a place, go to some places where iPhone can obtain a better signal.
2. Check out the Location Services
In iPhone settings, if the function – Location Services is not enabled, GPS cannot work either. To enable it, go to Setting > Privacy > Location Service > Toggle it on.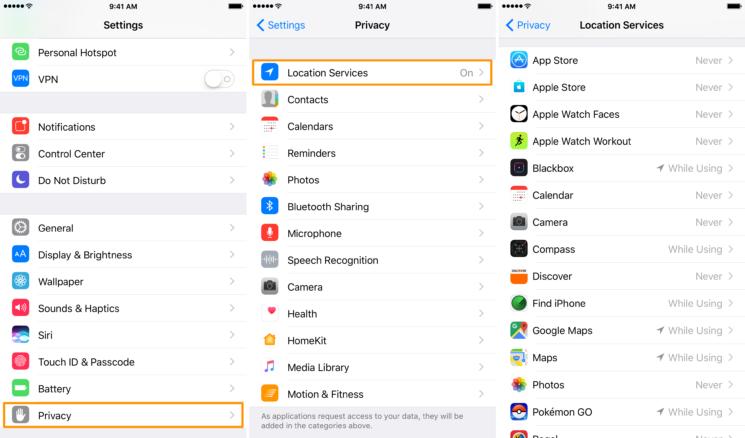 How to Fix iPhone GPS Not Working – Method 2
For the specific app, after tap it, there will be three options:
1. Never, meaning always keeping the app from getting your location.
2. While using the app, meaning allowing the app to obtain your location only when open it in the foreground.
3. Always, meaning the app will obtain your location whether it is on, off, or in the background.
Some apps actually require having your location "always", and if you set the "while using the app" option for them, they won't work correctly. Make sure you have the correct setting for each app.
3. Refresh Location Services
If the Location Service originally is on, and GPS not working on iPhone happens, either, try turning it off, and reactivate it after a few minutes.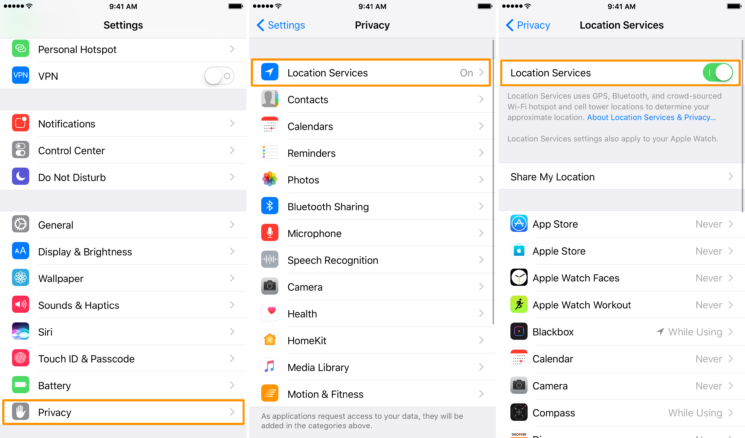 How to Fix iPhone GPS Not Working – Method 3
4. Reset All Location and Network
If none of the above three methods works for your iPhone GPS not working problem, there could be something wrong with your iPhone location or network information. To fix this, you need to reset location or network data, going to Setting > General > Reset > Tap Reset Networking Settings or Reset Location & Privacy.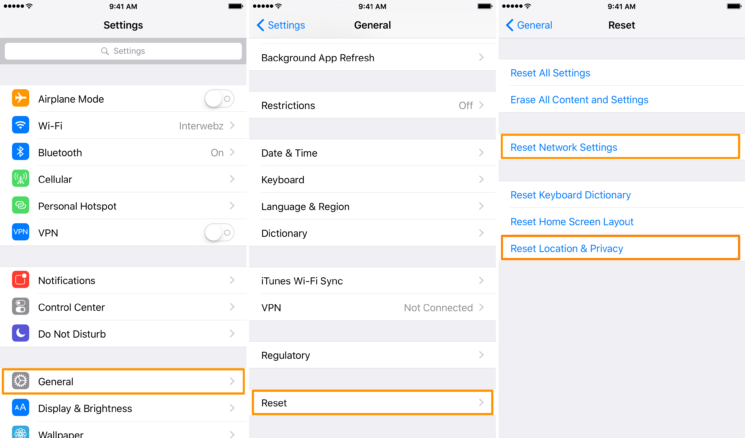 How to Fix iPhone GPS Not Working – Method 4
5. Soft Reset iPhone
Sometimes there may be some software issue with your iPhone, so we can try to soft reset the device. Follow the steps below to perform a soft reset. Soft resetting will not wipe out your iPhone data.
Press and hold the "Sleep/Wake" button and "Home" button simultaneously > Keep pressing them for 10 seconds > After you see the appearing Apple logo, you can release both buttons > The starting up the process of the iPhone will begin and you will see the home screen soon.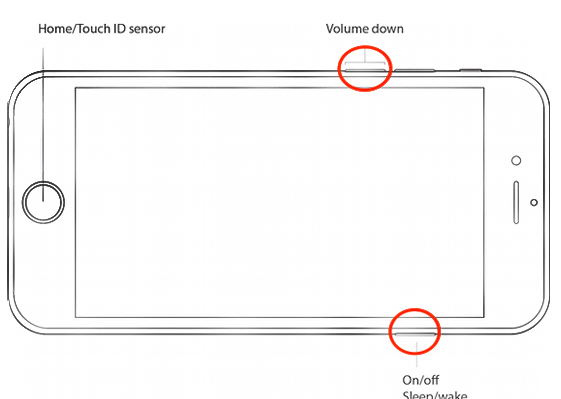 How to Fix iPhone GPS Not Working – Method 5
6. Restore iPhone
If all the above methods still don't work, the last way is to restore your iPhone, nuke everything, and start over. But just remember to backup your iPhone before restoring.

How to Fix iPhone GPS Not Working – Method 6
7. Downgrade iOS
There is also an occasion where GPS not working on iPhone happens after iOS updating, especially for the iPhone 6. In such a situation, the solution is downgrading to the previous iOS.  AnyFix – iOS System Recovery can also help you easily downgrade to the previous iOS as you need, and please keep reading to learn more about this tool.
Can't Miss: How to Fix: iPhone/iPad Keeps Restarting >

Fix iPhone GPS Not Working and Other iOS Problems with AnyFix
AnyFix is a professional iOS system recovery tool as well as iTunes error repair software. It is able to fix 150+ iOS related issues as well as 200+ iTunes problems. you can try this tool to fix your iPhone GPS problems or other issues.
It is also featured with some other functions: downgrade or update the iPhone to any iOS version it supports; 1 click to enter or exit recovery mode; reset iPhone with or without a passcode. Now download AnyFix on your computer to get your iPhone out trouble!
Step 1. Open AnyFix and connect with your iPhone. Choose System Repair.
Step 2. Select iPhone Problems to continue.
Step 3. Choose a repair mode to start. The Standard Repair mode will not erase any data on your iPhone. Then AnyFix will download firmware, and start to repair your iPhone issues.
The Bottom Line
With these seven methods, you can totally figure out how to fix iPhone GPS not working problem. For any questions when applying these solutions, please leave your message in the comments. We also appreciate your practical new methods.