Summary
After updating to iOS 10/11/11.1/11.2/11.3, Bluetooth not working? You can get some quick solutions in this guide to fix the common Bluetooth issues on iOS 10/11/11.1/11.2/11.3.

by Joy Follow @iMobie_Inc
AnyTrans - All-in-One iOS Manager
If Bluetooth not working you can use AnyTrans to transfer music, photos, videos, contacts and more from one iPhone to another. Download it have a try after reading this post.

Free Download
The iOS 10 is powerful and said to be the Biggest Release on Apple's official site, and now iOS 11 has been released which adds some new features, and also fixes some bugs. However we should remind you that no update is perfect and no one can promise you everything is good even after grabbing the newer iOS 11 update – iOS 11.1/11.2/11.3. We previously show you the possible message problems, iPhone no service you may meet with solutions, and here we will show you step-by-step tutorial to fix Bluetooth not working on iPhone iPad after installing iOS 11/11.1/11.2/11.3. Those method also works to fix iOS 10 Bluetooth Issues.
If you are not so sure about whether to download the latest version of iOS, you may want to read this guide. And for those who lose important data like contacts, messages, notes and more, try How to Recover Data After iOS Update guide.
Part 1. Common iOS 10/11/11.1/11.2/11.3 Bluetooth Issues You May Encounter
In beginning Bluetooth may just working well on your iDevice. But after upgrading to iOS 10/11 or the newest iOS 11.3, some unexpected problems occur. Issues like broken Bluetooth connections, failed Bluetooth paring, and Bluetooth audio in the car are frequently reported. We summarize the Bluetooth issues you may encounter.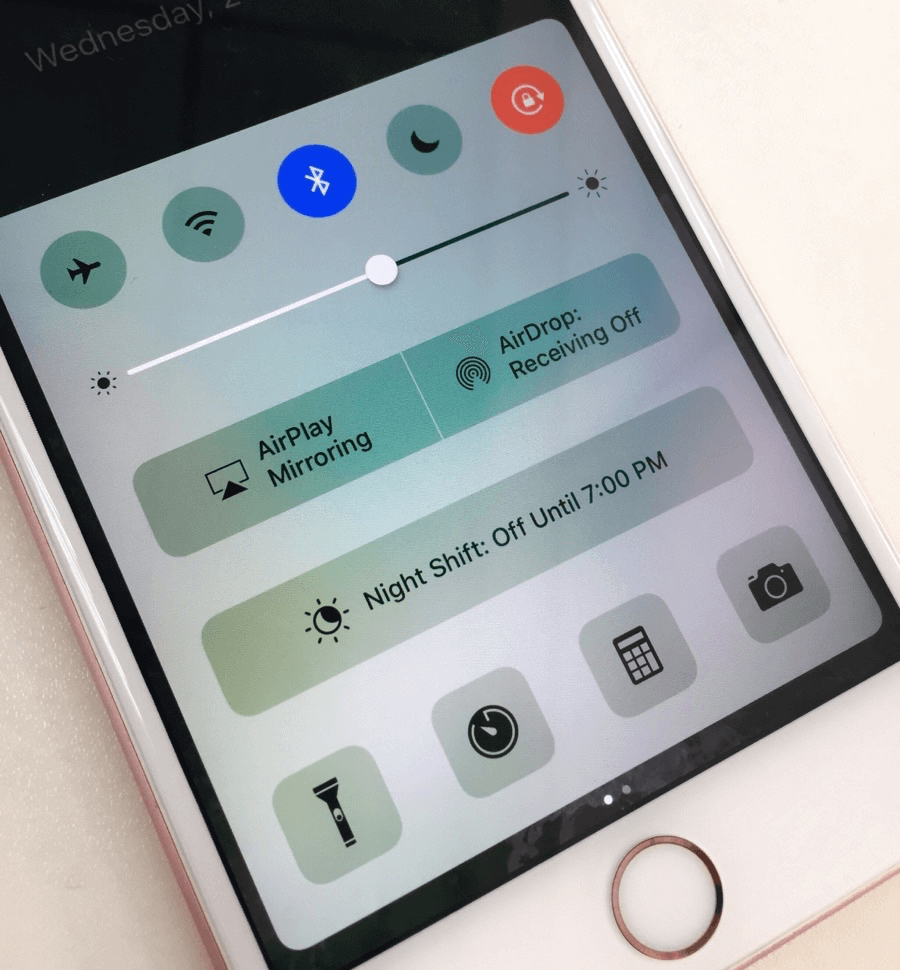 iOS 10/11 Bluetooth Not Working on iPhone/iPad
iOS 10/11 Bluetooth Not Finding iPhone/iPad
iPhone/iPad Bluetooth Won't Connect
Bluetooth Won't Turn on on iPhone/iPad
iPhone Bluetooth Not Connecting to Car
Bluetooth Audio Stutters on iPhone/iPad
Fail to Initiate Calls Over Bluetooth on iPhone/iPad
iOS 10/11 Bluetooth Suddenly Disconnecting on Car
iOS 10/11 Bluetooth Connection Drops Frequently
Part 2. Fix Bluetooth Issues on iOS 10/11/11.1/11.2/11.3
We've listed the most common Bluetooth issues on your iPhone or iPad that you may meet with iOS 10/11/11.1/11.2/11.3 upgrade. In this part, we will walk you through the potential solutions to make Bluetooth workable on your iPhone or iPad.
1. Check your Bluetooth on iPhone or iPad and make sure it is turn on.
2. Confirm your iOS device and Bluetooth accessory are close to each other.
3. Turn off Bluetooth and restart your iPhone, iPad and your car.
4. Re-pair the iDevice or car you Connect: Settings > Bluetooth > Choose the device you are having issues with > Tap on the info button next to the device > Tap on Forget This Device.
5. Make sure your Bluetooth accessory is turned on and connected to power or fully charged.
6. Once un-pair the Bluetooth Accessory and then put back in discovery mode, and then make pair and connect again.
7. Reset Network Settings: Settings > General > Reset > Reset Network Settings.
8. Try restoring your iPhone iPad: You can restore your device from iTunes or iCloud. Remember to back up your iPhone because it will wipe existing data.
9. If still not working, contact Apple Support or visit an Apple Store.
Can't Miss: How to Fix: iPhone iPad Wi-Fi Not Working >

The above are some Bluetooth issues on iPhone iPad running iOS 10/11/11.1/11.2/11.3 and the potential solutions to fix them. If you are suffering with a new Bluetooth issue or have some useful ideas, please share with us in Comment Section. For more iOS update problems, please refer to The Most Common iOS Update Problems.
Join the Discussion on Bluetooth Issues