Summary
Your iPhone got stuck in Apple logo while or after updating to iOS 10.3.3 or iOS 11/11.1/11.2/11.3? This tutorial tells you some basic tips to fix this kind of issue.


Free Download
Recently some iPhone iPad users complained on twitter and said, their devices stuck on Apple logo after updating to iOS 10.3.3 and even iOS 11, just like the screenshot shows below: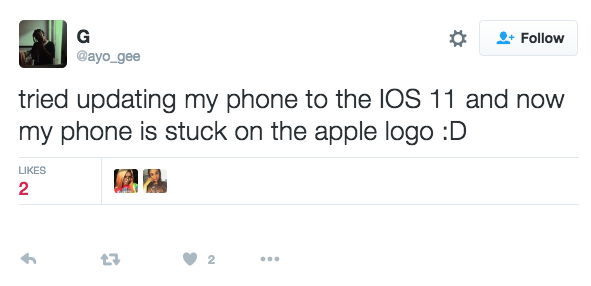 Twitter @ayo_gee reported iPhone stuck on Apple logo – iOS 11
You may be one of Apple users attracted by the new features of iOS 10.3.3 or the newest iOS 11.3 and now you try to update your device. But while updating, you device stuck on Apple logo and cannot work. So how to quickly get out of this bad situation? In this post, we give you some tips that you can easily follow and have a try.
Don't Miss: How to Update Carrier Settings on iPhone/iPad >
Notice: If your device can be recognized by iTunes after being connected to computer with USB data cable, backup your device to iTunes. Because some tips below may erase your device.
1. Force Restart iPhone iPad
Have you tried to power off your device to clean all processes on your iOS device? If you can't power off your device by press "Power/Sleep" button, you can try to force restart your device to get your device out off "stuck on Apple logo".
To Force Restart an iPhone or iPad:
Step 1. Press and hold on "Power/Sleep" and "Home" buttons for at least 10 seconds
Step 2. Release buttons until the Apple logo appears on your device.
Step 3. If it still doesn't work, jump to the next tip.
2. Restore in Recovery Mode
If restarting can't help you get out of the problem "iPhone stuck on Apple logo", you may need to restore your device in Recovery Mode.
Step 1. Run iTunes, hold on "Home" button and connect your device to iTunes on computer.
Step 2. Release button after you see your iOS device screen appears "Connect to iTunes". And iTunes will pop up a window saying it has detected an iPhone (iPad or iPod) in recovery mode.
Step 3. Click your device icon on iTunes. And restore your device.
3. Use iOS Repair Tools
Some recovery tools could help you fix this iOS issue. For example, by using iOS repair tools like PhoneRescue for iOS, you can get your device out of stuck on "Apple Logo", "Restarting Loop" or "Connect to iTunes". But before you use this tool, you should know that it would erase all data and settings on your device.
4. Contact Apple for Help
If you have tried all tips above to fix your iOS stuck problem, now you can contact Apple support team online for help. For some hardware problems, you can take it to local Apple Authorized Service Provider and get a repair.
Tip: This guide shows you how to fix iPhone iPad stuck on Apple logo after updating to iOS 10.3.3 or iOS 11, if you want to know more about problems & solutions in iOS 11, you can refer to this guide: The Most Common iOS 11 Update Problems and Solutions >

The Bottom Line
In addition to the ways mentioned above, there are some other methods you can have a try, including changing another USB cable, updating to latest iTunes, pressing volume up/down etc. If you have some good ideas of fixing Apple logo issue on iPhone, iPad or iPod touch in iOS 10 or iOS 11, be free to share them on the bellow comment section to help other readers.
iPhone iPad Stuck on Apple Logo While or After Updating to iOS 10.3.3/11