Summary
Want to get ways to solve press home to upgrade problem? Check this guide to fix this issue on iPhone iPad in iOS 10/iOS 11 with ease.

PhoneRescue® for iOS - #1 iPhone iPad Repair Tool
Download PhoneRescue for iOS to get back lost iOS data and repair your breakdown iOS device due to a failed recovery, iOS 10/11 upgrade error or jailbreak collapse.

Free Download
Q: I recently update my iPhone 5 IOS from 10.0.1 to the latest IOS 10.0.2. After the phone restart, i got message Press Home To Upgrade. After i press Home, it not do anything. Home Button was work, and don't have any problem. but when trying to update and it ask to press Home Button, it won't do anything, and now it stuck there.
- from Discussion.Apple
When we upgrade our iPhone iPad iPod to the new iOS version (For now, the newest one - iOS 11 is coming), there sometimes occur various problems and issues, even after upgrading, such as iPhone iPad not charging, iPhone iPad stuck in recovery mode, iPhone iPad data lost/disappeared, and the one above - press home to upgrade problem, etc.
In this tutorial, we will ficus on the issue "press home to upgrade", and provide you with several practical methods to fix it on iPhone iPad in iOS 10/iOS 11. Read on and check them now.
How to Fix "Press Home to Upgrade" Issue on iPhone iPad
This problems is annoying because its message tells you to press the Home button to start upgrading, but when you really do it as it says, the device has no response at all, and is stuck there. To fix it, do as the following methods one by one.
Solution 1. Restart your iPhone iPad. Take restarting action for like 4-5 times, it will show up the passcode entering screen finally sometimes, according to some users.
Solution 2. Try press Home button on iPhone, and click Try Again on iTunes. If nothing happens, then try disconnecting from computer iPhone.
Solution 3. If they both do not work for iPhone stuck press home to upgrade screen, you need try recover mode to fix it, and set up device again.
1. Make sure the iTunes is the latest version.
2. If iTunes is already open, close it. Connect your device to your computer and open iTunes again.
3. Once your device is connected, force restart it with these steps:
A. On an iPhone 6s and earlier, iPad, or iPod touch: Press and hold the Sleep/Wake and Home buttons at the same time. Don't release the buttons when you see the Apple logo. Keep holding both buttons until you see the recovery mode screen.
B. On an iPhone 7 or iPhone 7 Plus: Press and hold the Sleep/Wake and Volume Down buttons at the same time. Don't release the buttons when you see the Apple logo. Keep holding both buttons until you see the recovery mode screen.
4. When you see the option to Restore or Update, choose Update. iTunes will try to re-install iOS without erasing your data. Wait for iTunes downloading the software for your device. If the download takes more than 15 minutes and your device exits recovery mode, let the download finish, then repeat these steps.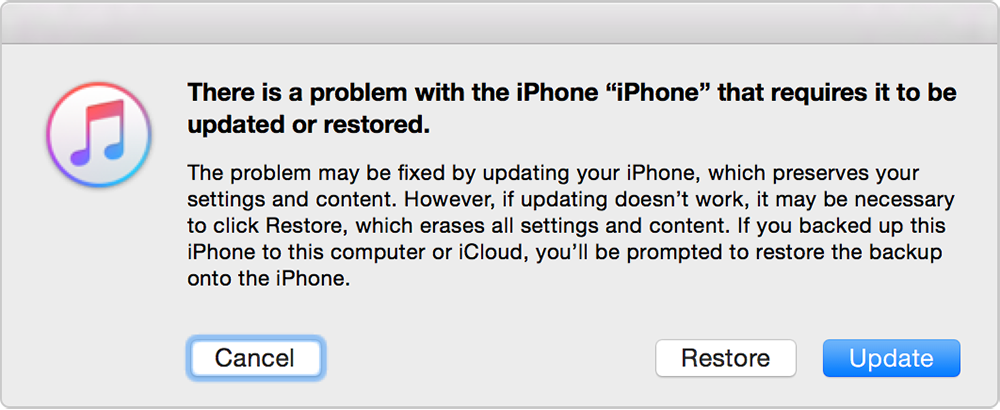 5. After the Update or Restore completes, set up your device.
Bonus Tip: How to Fix iPhone iPad Stuck in Recovery Mode Loop
For the third way above, or other occasions, such as factory reset and wrong operation during jailbreak, there is a possibility that your iPhone iPad stuck in recovery mode. For this problem, we will tell you how to fix it in the following.
To fix this recovery mode loop issue, you can try PhoneRescue. More than mobile data recovery, PhoneRescue for iOS also serves as the best iOS problems repair tool. It is capable of solving stuck in recovery Mode, black screen, Apple logo, and so on. So why not give it a try now before talking about the detailed steps.
Step 1. Run it on your computer > Connect device to it > Choose iOS Repair Tool options at its homepage.
Step 2. Choose Standard Mode, and do as its instruction to get your iPhone iPad out of recovery mode.

The Bottom Line
With these three ways, you can totally figure out the issue of press home to upgrade. If you have any question about it, you can leave your words in the comments below.
More iOS 11 Upgrade Related Articles: