Summary
It is very likely that you may meet a Software Update Failed error when download iOS 11/11.1/11.2/11.3, or iOS 11.4. Read to learn how to avoid or fix this issue.

by Joy Follow @iMobie_Inc
PhoneRescue® for iOS – Repair Crashed iPhone iPad
Download PhoneRescue for iOS to get back lost iOS data and repair your dead iOS device due to a failed recovery, iOS 11 upgrade error or jailbreak collapse.

Free Download
The new iOS 11 has been released to public for sometime. Apple continually releases iOS 11.1, iOS 11.2, iOS 11.3 and iOS 11.4 to improve performance. A great number of iPhone users rushed to download the span-new iOS 11 after Apple officially releases it. Those people are very likely to see "Software Update Failed" error, and it also happens when try to install iOS 11.4 over the air.
This unwelcome error is not new in iOS 11, and it is one of the most common issues when downloading new iOS version. On previous iOS 11 update, this article shows you how to resolve iOS 11 Software Update Failed error. This error message has greeted many users when they trying to get the new iOS. There's good news, this article shows you how to resolve iOS 11 Software Update Failed error, including iOS 11 - iOS 11.4.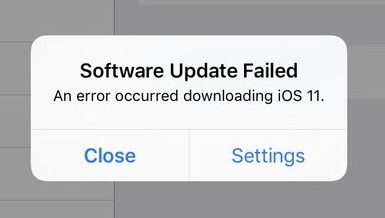 iOS 11 Software Update Failed Error
Also Read: How to Fix "Press Home to Upgrade" Issue >
How to Fix iOS 11 Software Update Failed Error on iPhone iPad
Now we will show you four options to solve the Software Update Failed iOS 11 on your iPhone or iPad Over the Air. Hope one of them helps you on this issue.
Option 1: Close and Try Again
On the "Software Update Failed" pop-up, you will see two options: "Close" and "Settings". Tap on the "Close" button to exit this error message, and wait for few minutes, and then tap on "Download and Install" again. This time if it still stuck on that error screen, close it and try again.
Option 2: Wait for Few Hours
Although the new iOS is shiny and very attractive, you won't need to rush to the great mass fervor of downloading new iOS. Just wait for few hours and even several days, it will be much smoother to download iOS over the air. In the meanwhile, there are many things to do: back up your iDevice, reclaim enough storage space, or read iOS reviews online.
Option 3: Try Updating via iTunes
Because the "Software Update Failed" error seems to only happen to users who upgrade on iDevice directly, you can try upgrading to iOS 11/11.1/11.2/11.3 or the latest iOS 11.4 by using iTunes on computer. We've heard many users successfully download new iOS on computer instead of OTA.
Option 4: For Advanced Users Only - Upgrade with IPSW File
This method is for advanced users who are familiar with firmware files and want to manually update to iOS 11/11.1/11.2/11.3/11.4 with IPSW file. This option can be the best way to bypass the "Software Update Failed" error message. Before you do this, remember to fully backup your iPhone.
Download the correct IPSW file.
Open iTunes, and connect your iPhone to computer.
In the Summary, you should see the "Restore iPhone…" button.
Hold down the Shift key and click on Restore iPhone….
Select the downloaded IPSW file.
The iTunes restore will install the iOS version you choose on your iDevice.
Then, restore from the backup you just created to get all data back.
Option 5: Restart your Wi-Fi and make sure you have a strong and stable Internet connection.
Option 6: Reset your Network Settings by opening Settings > General > Reset > Reset Network Settings.
Option 7: Reboot your iPhone or iPad.

New iOS upgrade is always accompanied with risk and various bugs, so we prepare you How to Fix "iPhone iPad Data Lost/Disappeared" After iOS 11 Update in case of data lost due to iOS 11/11.1/11.2/11.3 or iOS 11.4 upgrading.
More iOS 11 Upgrade Related Articles: